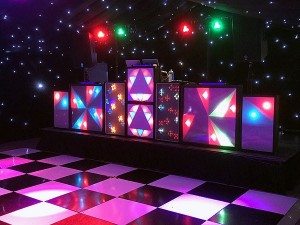 Do you remember the sights and sounds of the mobile disco of your youth?
Re-live those early days of mobile disco with the Retro Roadshow, a genuine retro disco experience which is ideal for themed parties!
The disco setup of the '70s, '80s and '90s consisted of big, carpet covered boxes full of proper light bulbs (many of them actually home-made by the DJ), which weighed a ton and kept you warm in the winter (and boiling in the summer!).
Although I also cater for parties from the 1950's and 1960's with this setup, mobile disco as we know it now didn't actually exist as such in those days. Roger Squire (considered to be the father of the mobile disco) pioneered mobile roadshows back in 1966 with the first setups consisting of turntables, speakers and flashing lights and oversaw the rapid expansion of the "mobile discotheque".
More information about the history of the mobile disco can be found here.
Retro Disco
I have a collection of lighting equipment from the 1980's (in fact most of the light screens are my original setup from 1988…some of them hand-build by me), all now lovingly restored and ready for the next 30 years of service. The Retro Roadshow now looks brighter and more vibrant than ever before!
Of course, you can select to have the modern lighting at your retro party too – that's entirely up to you. The "Retro Roadshow" is only ever used when specifically requested for a party.  My usual party setup uses modern lighting fixtures.
Wow Wayne many thanks for Saturday night.
You were fantastic just as we had hoped for and more. Everyone is raving about you. Already recommended you to someone hope she comes to you. You'll be there should we get Married.
Thanks again you were awesome.
Tracey Gabriel
Introducing….The Cube!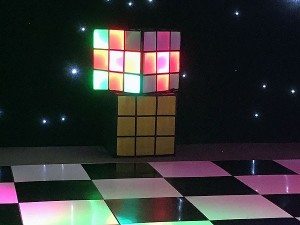 A modern day twist on a retro fixture which looks brilliant at '80s themed nights – The Cube has been built from scratch (as we used to back in the day if we wanted a new light effect).
Powered by modern day LED lighting instead of incandescent bulbs (it'd get too hot if using real bulbs due to its shape), The Cube flashes like an '80s dance floor.  Wirelessly controlled, it can be positioned anywhere in your function room where there's a power socket.
The Music
I was born in the '70s so my own personal music tastes obviously stem from the songs I heard during my youth. This was very much guided by my parents' own love of the 1950s and 1960s, and my own choices from the '70s and '80s. Those four decades are my absolute favourites for music.
Because of it's modular design, the retro setup can fit in spaces from just 6 feet in width to the full sized 16 feet show, so it's suitable for most venues.
The music these days is now played from computers (some of the music has been transferred from vinyl though….scratches 'n' all!).
Whilst I started my career using 7″ and 12″ vinyl singles, it's just not practical to haul crates of records into a venue these days (plus….I'm not getting any younger!). Digital playout systems are also a lot more reliable and give me the flexibility to obtain the more obscure tracks should I need them without having to hunt for years around second hand record fairs.
Hi Wayne, Thank you ever so much. Everyone has complimented you and we were very pleased! If we ever need a DJ again we will certainly call you and recommend your services.
Claire Fairfold
Standard adult party
Evening disco of up to 5 hours (additional hours charged at £50 per hour)

Full sound and lighting setup, plus me as your DJ for the evening

Access to online planning tools

£50 deposit with final balance due 30 days before the date of the party
Extras
Mini kids party (Up to an hour of fun and games for the kids including sweets and medals): £80
Confetti cannon (Professional grade confetti showers ideal for the entrance at a surprise party:) £30 each

Early setup: £15 per hour from setup time to the time the disco is required. Please note that the disco equipment is inactive during this time with no lighting or sound
Prices stated above are the average prices for each service. Factors such as needing sound systems in different rooms, difficult or problematic access or very early setups may increase the price.
Prices above do not apply to Christmas Eve and New Year's Eve.
Please get in touch for a specific price for your party.
Please note that due to the size and weight of the Retro Roadshow, parties in upstairs function rooms will not be catered for unless a lift is available at your venue.