Wedding DJ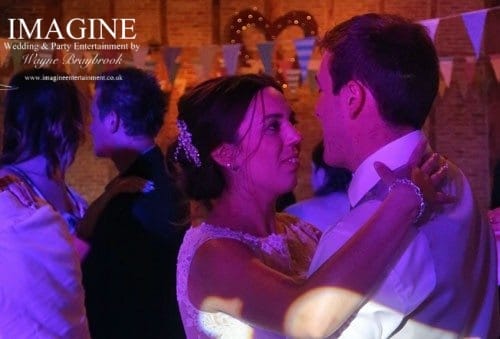 It's your big day! You've dreamed about it for years…you've planned everything down to the last detail and you expect your wedding DJ to help you to end your day in style.
You can trust me to provide your wedding reception entertainment safe in the knowledge that it's going to be what YOU want!
I have a proven track record of providing exactly the right entertainment at wedding and civil partnership receptions, and take the time to listen to what it is YOU want from the your wedding entertainment whether that's just for the evening, or the entire reception.
I also like to help create those special "spotlight" moments for you to help to highlight those memorable parts of the day. As well as the more traditional events such as the cake cutting and the introduction of the first dance, I've also recently been asked to highlight events such as:
The re-enactment of the bride's parents' first dance, as their wedding DJ back in the 1980s didn't have the correct song on the night
An impromptu serenade from military officers to a bride
The hosting of the "Shoe Game" during an international wedding
The organisation of a grand exit involving a giant human tunnel
And imagine the shared emotions between you and your guests at the end of the evening when they form the "circle of love" around you on the dance floor.
We just wanted to send you a quick email to say thanks for being our DJ on Saturday and doing a perfect job. From the number of hangovers on Sunday, it sounded like everyone had a great time! We certainly did! Hope you enjoyed yourself too. Thanks for keeping the party going and exposing a few of my friends secret love of the Spice Girls! Who knew?! If there are any websites you'd like me to write a 5 star review for you, please send me as many links as you want, as and when they come up and I'll be more than happy to. Thanks again Wayne! Becky & Rich Claxton
It's all about you!
I'm not the stereotypical wedding DJ that plays the same old songs at every wedding and spends a lot of time on the microphone. I take the time to listen to what you want for your big day and aim to exceed those expectations…it's how I earned my reputation and it's not something I'm willing to lose.
I believe in offering a quality service over and above other run-of-the-mill DJs. I'm not a hobbyist that sees your wedding day as just another date on the calendar. To me, each and every wedding I entertain at is important and I strive to make the entertainment at your reception as unique as your big day itself.
I use the personal approach and I'm contactable to answer any questions you might have at most times of the day (even if it's only a short SMS reply at 1am!). If I've never worked in your chosen venue before, I'll make every effort to perform a site visit before your big day to ensure there's no surprises regarding what I can and can't do for your big day.
I want everything to be perfect for your big day as much as you do!
In short, the success of your wedding entertainment is as important to me as it is to you. I take great pride in providing the very best service I can, and my reputation absolutely relies on that fact.
Maybe you don't want to hear "cheesy" music?
Maybe you want certain family traditions catered for during the evening?
Maybe you have a specific dress code you'd like me to respect?
Maybe you'd like interactive games during the evening for a little adult fun?
Maybe you'd like music from foreign countries to cater for travelling guests?
I can work with all of these requirements and more, and have done so on many occasions in the past. Just let me know what you're looking for and I'll do my very best to help
Did you really say "No cheesy music" above?
Yes I did!
Unfortunately in recent years, wedding DJs have gained a reputation for playing the same old songs and action dances at every wedding. Whist that may be true for some – it's certainly not the way I work.
It's YOUR choice, and if you don't want to hear cheesy music – I won't play it….it's as simple as that.
On the other side of the coin if you want the "party classics", I'm more than happy to accommodate them. My job as your wedding DJ is to provide the entertainment you want on your big day – it's as simple as that!
But don't worry – we'll talk about what you want before your wedding to establish exactly what your requirements for the evening's entertainment and if you don't want something played…trust me, it won't be!
How am I different from the rest?
Want to meet me before booking? Not a problem at all – in fact I prefer it that way!
After all, as your wedding DJ I'm there for around a third of your day. It's important to know I'm going to be the right match for your wedding reception.
I'll play the music that you and your guests want to hear
I certainly won't churn out a generic wedding playlist regardless of your musical tastes!
You can have as much or as little say in the playlist as you want
It's your wedding, your way! You can specify the whole playlist or just a few favourites.
I'll do my very best to make your wedding reception special
Maybe you have ideas of something different to do during the evening such as games or interactive entertainment….I'll work with you to make your dreams come true.
I'll bring back ups of the essential equipment so that your party can continue regardless of mechanical breakdowns
I wouldn't dream of something going wrong and ending the party early!
I'll dress to impress!
Whether you want me to work in formal wear, fancy dress or something else….I'll gladly work with you
I'll use lighting and effects suitable for your wedding and your venue
I have many configurations of lighting and setups available and I'll work with you to create a look that's right for your wedding.
Excellent communication from the moment we booked Elys Imagine Disco. Nothing was too much trouble for Wayne the DJ. Wayne added to the ingredients which made our Wedding a very special and perfect day. We would highly recommend Ely's Imagine Disco and will definitely book again in the future Tracy & Steve Embleton
So, what does the disco look like?
Modern equipment allows the disco to be discrete and where possible, blend in with the surroundings of your venue. This can be particularly important where the equipment is there during the wedding breakfast.
I have many different configurations of equipment which I'm able to use for your wedding reception, from very discrete mini setups to the all singing and dancing night-club effects. Below are just a few examples from recent weddings. This is obviously something which is planned and discussed with you before your wedding so the setup may look completely different for your big day.
Coming soon for weddings from January 2018
Coming soon…..an ALL WHITE setup. Every piece of visible equipment including speakers will be white – perfect to match with your venue decoration.
The all white setup will be available for weddings from January 2018 as part of the Standard package.
Wayne is absolutely fantastic, super nice chap and incredible value for money! I could not recommend him enough. He did our wedding at The Old Hall and definitely went the extra mile. Nothing was too much to ask!
From the crazy late texts at night, the reassuring meetings, the super user friendly online playlist tool to the organisation of a really fun question/answer game for the bride and groom that went down like an absolute charm and that people are still laughing about to date!
That allowed for unforgettable pictures of our guests cracking up! Wayne even brushed up his French skills for the benefit of my own family. Just first class!
Margot & Mike Rowland
Do you offer any "extras"?
Yes I do, but I won't "sell" these to you….I don't work that way. For more information on any of the following items, please ask.
I can offer the following extras for your wedding reception:
Mini kids party of up to an hour to entertain the younger guests
Ideal for those from 6 years and over with music they'll love, games, medals and sweets!
L.O.V.E letters
They're a marmite thing! My LOVE letters are made from pearl acrylic and stand at just 1m tall. Unlike other LOVE letters though, mine are part of the disco lighting during the evening and will act in the same way as the other lighting used for the evening reception.
Confetti canons
Ideal for the first dance for a photo opportunity (I'll work with your photographer to make sure he/she gets the best shot), or to invite your guests to join you on the dance floor during the first dance. Note that confetti canons can only be used with permission of your wedding venue (they make a LOT of mess!)
All white setup
You've probably spent an awful lot of money on chair covers, drapes and other associated items to dress your venue in a specific way. I can offer an all white disco setup with all visible equipment (lights, speakers and booth) in white as opposed to the usual black so that it blends into it's surroundings.
What I don't offer is karaoke (because I really don't like it), or venue uplighting (because most wedding venues these days have their own systems installed).
Wedding DJ options
Evening wedding reception
This includes the disco, full playlist input, lighting, effects and sound system to suit your needs and your venue…in fact everything you need for the evening party
Attended wedding breakfast service
This service includes the disco being "on site" for the wedding breakfast including me as your MC to make announcements, provide microphones for speeches and to provide background music
Unattended wedding breakfast service
For this service, I will provide a powered speaker pre-loaded with the background music of your choice, remote control (to control the music, volume etc.) and wireless microphones for speeches, plus full usage instructions. I will then arrive after the wedding breakfast to setup and provide the reception disco.
That all sounds great – how do I book?
I've tried to keep the booking process as simple as possible, but there are certain things that have to be done.
To book, get in touch to confirm your date is still available. I'll then send you a booking contract confirming the details of your party which you can either electronically sign or print out and return to me in the old fashioned way. I also require a non-refundable deposit of £50 to secure your date.
Once the signed contract and deposit are in place, I'll email to confirm your party is booked and we can start planning a party to remember for all the right reasons!
Bronze
Evening disco of up to 4 hours (additional hours charged at £50 per hour)

Standard black disco setup

1m Pearl Acrylic LOVE letters as part of the disco lighting
Pre-wedding meetings

Access to planning tools

Web link to send to guests with your invitations to make requests before the big day

£50 deposit with final balance due 30 days before the date of your reception
Evening disco of up to 4 hours (additional hours charged at £50 per hour)

Choice of standard black or Totally white wedding setup

1m Pearl Acrylic LOVE letters as part of the disco lighting

Pre-wedding meetings

Full access to planning tools

Web link to send to guests with your invitations to make requests before the big day

£50 deposit with final balance due 30 days before the date of your reception
Attended wedding breakfast service

Background music of your choice

Choice of either the standard black setup or the all white wedding setup

Formal announcements, grand entrance, introduction of speeches

Microphones for speeches

Complimentary mini kids party

Equipment set up before the start of the wedding reception

Evening party of up to 5 hours

Pre-wedding meetings

Complimentary LOVE letters as part of the disco lighting

£50 deposit with the balance due 30 days before the date of your reception
Extras
where not included in package
Unattended wedding breakfast: £150

1m acrylic LOVE letters: £150

Confetti cannons: £30 each

Mini kids party before main reception: £80

Totally white wedding setup: £100

Projected monogram with your names and date of wedding: £100

Early setup: £15 per hour from setup time to the time the disco is required. Note that the disco will be left "inactive" during this time with no lights or music
Prices stated above are the average prices for each service. Factors such as needing sound systems in different rooms, difficult or problematic access or very early setups may increase the price.
Prices above do not apply to dates such as Christmas Eve and New Year's Eve.
Please get in touch for a specific price for your wedding.