Wedding Entertainment
It's all about YOU!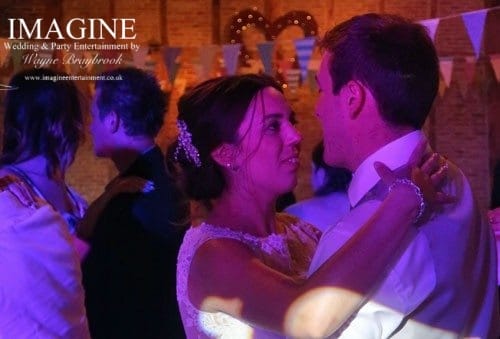 It's your big day! You've dreamed about it for years…you've planned everything down to the last detail and you expect your wedding DJ to help you to end your day in style.
My service aims to provide a fun and relaxed wedding experience.
I specialise in offering a relaxed and informal wedding DJ service aimed at brides and grooms who aren't looking to be constrained by the more formal timelines and traditions that weddings can impose.
Your wedding day is supposed to be a celebration after all, not a day of the rigid timelines and stuffy formalities of years gone by!
Don't misunderstand that though – I'll happily work with whatever timeline you may have and can even help you to create one (after all, your day needs some sort of structure). But at the same time I won't be watching the clock and fretting that your first dance is five minutes overdue or that the Best Man has overrun on his speech by 2 minutes! I prefer instead to allow you to relax and enjoy your day for the special and unique occasion it is.
What is the meaning behind some of the traditions seen at weddings?
And rest assured, with the experience of providing the entertainment for hundreds of wedding couples over the years you're in safe hands when you hire me to entertain at YOUR special day!
Whether you're looking for a DJ to provide the soundtrack for your entire day including the ceremony and wedding breakfast, or just an evening reception to remember for years to come, I'll work with you to provide the perfect entertainment experience without the stuffiness.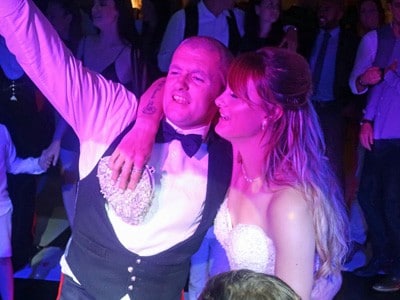 To me, each and every wedding I entertain at is important and I strive to make the entertainment at your reception as unique as your big day itself.
That may be as simple as working to a colour scheme or a theme you may have in mind, it may be that you or one of your guests has a condition which is triggered by certain types of lighting and I need to programme the lighting to accommodate that, it may simply mean there's a certain genre or era of music you'd like played for the evening.
I work very closely with you before the big day either with an optional meeting over a coffee, or via emails, texts and private messages….however you feel comfortable in communicating, to make sure I understand exactly what you're looking for from YOUR wedding entertainment.
It's one of the reasons most of my work comes from recommendations from previous customers and venues.
I use the personal approach and I'm always contactable to answer any questions you might have, no matter how big or small they may seem. If I've never worked in your chosen venue before, I'll make every effort to perform a site visit before your big day to ensure there's no surprises regarding what I can and can't do on the day itself.
I want everything to be perfect for your big day as much as you do!
What does the disco look like?
The set ups I use for weddings vary enormously. I have several different configurations of sound and lighting equipment which I can use to suit your personal tastes, and to suit your venue (for instance, it's rarely a good idea to have a massive and blinding light-show in a small oak-panelled room in a stately home!).
Unlike some though, I don't charge dependent on the equipment I bring to your wedding reception. I will always use a range of professional grade sound and lighting equipment which is suitable for the size, style and location of your wedding reception.
The images below are some recent set ups I've used at weddings, and are for illustrative purposes only. New equipment arrives and older equipment is retired on a regular basis.
Wayne is absolutely fantastic, super nice chap and incredible value for money! I could not recommend him enough. He did our wedding at The Old Hall and definitely went the extra mile. Nothing was too much to ask!
Margot & Mike Rowland
Hi Wayne
Thanks so much mate, you were absolutely brilliant and Afton was very pleased.
Ended up being quite a late one, we went to bed at 3am!!!!
Afton & Tom Reynolds
Thanks for keeping the party going and exposing a few of my friends secret love of the Spice Girls!
Who knew?
Becky & Rich Claxton
Check my availability or ask me a question