Fun and friendly mobile disco in Cambridgeshire, Norfolk, Suffolk & Hertfordshire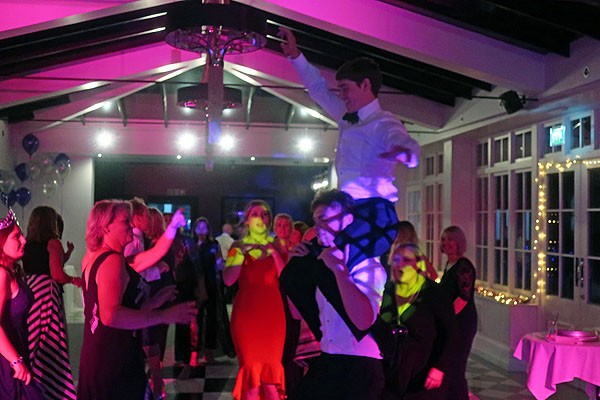 Although my main business is weddings, I also provide disco entertainment for milestone birthdays such as 40th's, 50th's and 60th's, wedding anniversaries, retirement parties and corporate events.
With my wealth of experience as a wedding DJ, you can expect a professional and reliable service from me for all other types of party as well.
A mobile disco that works WITH you
When you hire me to provide your party entertainment, I'll give you access to my online planning tools so that you can give me ideas about the music you like and don't like, tell me about any important events that will happen during the evening (maybe things like cutting birthday cakes, speeches, presentations….only you know what you're planning at your party).
What you can be guaranteed of is that I'll do my very best to ensure your party runs exactly the way you want it to!
You're more than welcome to specify the entire evening's playlist should you wish, or you can leave the music up to my experience of keeping dance floors busy for more years than I'd like to remember….the choice is yours.
Whether you're looking for a party with the latest chart hits at full volume, or maybe something a little more sedate (I've been known in the past to provide music and lighting for ballroom evenings for example), I'll work with you to make sure I'm doing what you're expecting.
Why not get in touch for an informal chat about YOUR party?
80s themed nights are a speciality and I even have an original 1980s light show to set the theme of the event!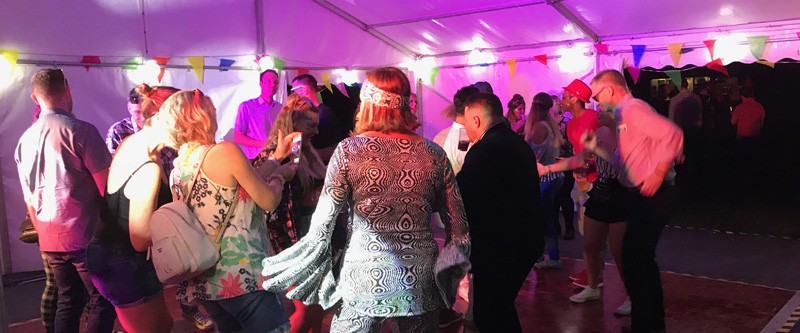 What does the disco look like?
In these days of modern LED lighting and digital sound equipment, the disco is very compact and until in full swing…..doesn't look very big.
Below are just a few recent examples of the disco equipment in-situ to give you an idea of how it could look for your party.
Reasons to book
Friendly, experienced and professional DJ with many years of experience
Access to online party planning tools, allowing you to choose your favourite songs before the night
Fully insured and tested
Choice of either modern day or Retro setups
Willing to listen to YOUR party ideas to make your occasion unique and special
That all sounds brilliant! How much does it cost?
That's the all-important question. It costs a lot to run a mobile disco service in this day and age and I try to keep my prices competitive….but still have to earn a living from what I do. 
My price is based on a 5-hour party ending at midnight. Whilst I'm happy to work past midnight without turning into a pumpkin, surcharges will apply….and please check with your venue that their license allows this!
My fee for an adult party of up to 5 hours in length is just £450
All bookings require a booking contract to be signed and payment of a non-refundable deposit of £50. The balance of payment is due 14 days before the date of your party. Accepted payment methods are Bank Transfer, or Credit/Debit card via PayPal (no PayPal account is required). Sorry, I don't accept cheques or cash on the day.
Saturday night was Emma and Jason's 10th anniversary party at Ely Golf Club, a venue I always enjoy working in. It's a really nice venue with friendly staff and an excellent chef.
read more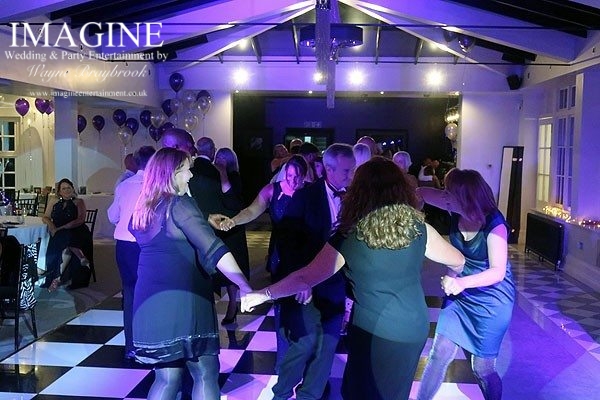 "Wayne did a fantastic job at my party – would highly recommend ."
Sue
50th birthday party at Swynford Manor Suffolk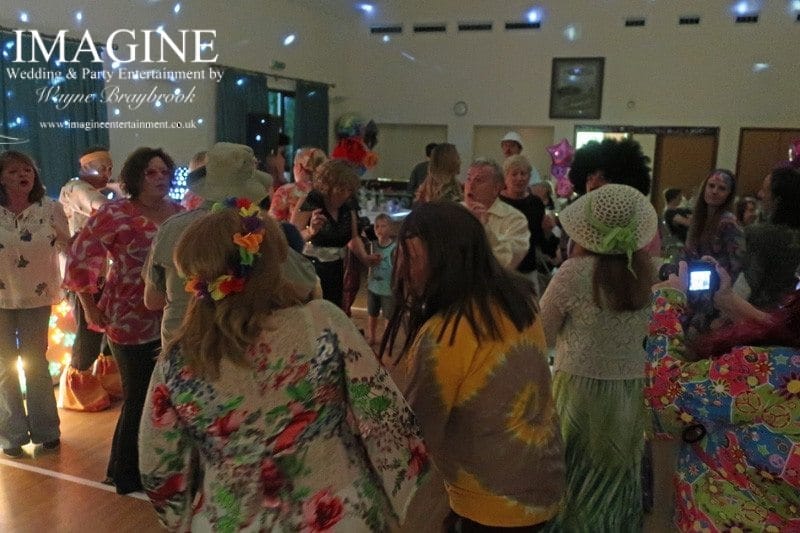 "Thank you so much Wayne for the most fantastic evening. I had the best time ever and have been left with some amazing memories. You are a brilliant DJ and the music just flowed. You responded so well to the audience and created a fantastic party atmosphere. Everyone loved the retro disco it just brought back so many memories. "
Julie
60th birthday party, Moulton village hall