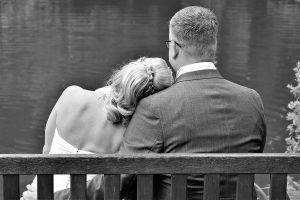 Congratulations….you've done it! You've become husband and wife (or husband and husband or wife and wife).
The stressful part is done and dusted. The legal formalities are over…RELAX!
The rest of your special day should be something to enjoy and not worry about!
I meet a LOT of brides and grooms (and other variants) in a typical year before their big day. Nearly all of them are stressing how things are going to pan out on the day itself and spend ages trying to manage the timings of the day in minute detail.
You really needn't worry!
Honestly…you can trust me….I'm a DJ 😉
Once the legal formalities of your wedding are out of the way, the rest of the day is to be enjoyed. Take it from someone who attends around 50 weddings a year.
You've hired specialist suppliers to provide their services for the rest of the day….and it's our time to do what we do the best!
Will your guests notice that your photos are running 20 minutes late?  NO!
Will your guests realise that the wedding breakfast is 10 minutes behind time? NO!
Will your guests know that your evening DJ has played the first dance a little later than planned? NO!
Weddings are very stressful days to organise! I get that. I regularly work with a lot of couples and indeed wedding planners. Your expectations are high and things absolutely MUST run to schedule on the day….or must they?
It's well known within the industry that wedding times are "-ish". The wedding breakfast will be at 4 'o' clock-ish, the speeches will be at 5 'o' clock-ish, the first dance will be at 7:30-ish. There's really no point in trying to regiment everything to the exact minute or second because things will inevitably slip and once one thing slips….it's a cascade effect.
I have a very important tip that I offer to ALL wedding couples…
Take just 10 minutes out.
It sounds simple doesn't it.Take 10 minutes as a newly-wed couple to go for a walk, sit on a park bench, feed the ducks…whatever takes your fancy! Take those 10 minutes to be ALONE as a couple…believe me….you'll appreciate it.
Why?
I got married to my lovely lady wife 19 years ago. The day went by so fast that it's just a blur. We both woke up the next morning and asked what had actually happened.
And it's not just us….many couples I've spoken to as a DJ after the big day have said the same!
On the day itself you get so caught up in everything that's going on around you that you really don't get the opportunity to appreciate everything you've worked so hard for.
By taking those 10 minutes "out" of the day alone, you get the time to reflect on the occasion and appreciate your love for one-another…it really IS that simple, and it makes one hell of a difference which will stay with you for a lifetime!
So…once you've said "I Do" and the official photos have been taken…disappear!
It only needs to be for 10 minutes. Your guests really won't notice that you've gone, you'll have a few moments of peace & quiet alone on your big day, and you'll appreciate it both the next morning and for years to come!