And our survey says....
The results from my latest wedding questionnaire are in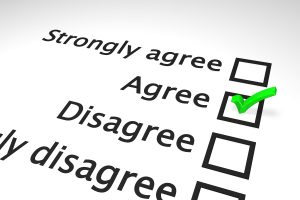 Those that follow me on Social Media will have recently seen that I conducted a survey to see what brides and grooms were looking for from their wedding entertainment and how important different aspects of the entertainment provided were.
The survey was aimed at ALL recently married couples, regardless of whether they used me for their wedding entertainment or somebody else. To me, it's important to get the wider picture and from speaking to my customers after their event, I already know what I'm doing right and wrong.
I like to know what brides and grooms are looking for when they book their entertainment so that I can tailor and update my services to match their requirements (this job isn't just standing in the corner and playing music!).
The other reason for the survey (which I run annually), is to see whether what we as professional DJs are taught by various gurus and training courses we attend are actually true to what's happening in the "real world".
The survey consisted of 9 multiple choice questions with a final tenth question which was a free text box asking the question "would you have done anything different on your big day?". I've received 53 responses so far (the survey is still open if you'd like to take part!), and the results so far reflect my own experience of providing wedding entertainment as opposed to what the "guru's" say we're supposed to be doing.
Question 10 (the free text one) is too complicated to analyse and discuss in a blog post at the moment (there are 53 very different responses), but the first 9 are listed below with their results.
So…the results:
Question 1: What services were you looking for from your Wedding DJ?
The reasoning behind this question: I offer services which cover everything from the full day including the actual ceremony, to just the evening only. I need to know where to best target my efforts, or where I need to work harder to attract customers.
100% of respondents said they'd used an "Evening Only" service, i.e. the evening reception.
My most popular service is indeed just for the evening reception, but I also provide a LOT of all day (including the ceremony) and part day (from the start of the wedding breakfast) services as well. It may well be that the all day and part day options are only starting to become more popular (I've certainly seen a rise in the use of these services over the past couple of years)
Question 2: What first influenced you in your choice of DJ?
To me, this question is vitally important. I only have one chance to impress future customers and it's important that I get it right!
57% of respondents said that word of mouth or a personal recommendation was the reason for booking
0% said they booked due to the online presence (i.e. website/social media offerings)
14% said they booked because of their DJs reviews
14% said they booked purely on price
15% said they had to book their venue's resident DJ
This reflects my own experiences…so keep the recommendations going! Most of my work comes from word of mouth recommendations from previous customers which means I'm doing something right.
By the way – you don't HAVE to use your venue's resident DJ – no matter what your venue say! It comes under restrictive trade practice laws!
Question 3: How important was it that your DJ had worked in your venue previously?
I work in a lot of venues on a regular basis, not through recommendations from the venue but from word of mouth recommendations from previous customers. Knowledge of a venue is thought to be important to us because we know how things work, what the house rules are and any oddities associated with working there such as sound limiting equipment, more time needed to setup due to awkward access etc.
14% of respondents thought that it was extremely important that their DJ had worked in their venue before
14% thought it was very important
43% thought it was not so important, whist
29% didn't think it was important at all.
This one was a bit of a shock. ALL venues have different rules from a supplier side of things as to how we work, what we're allowed to do and how they expect us to do things.
Question 4: How important was the look of the disco equipment to you?
This question was a real eye-opener. As DJs, we're taught NOT to show pictures of how the setup looks – apparently customers really aren't that interested. The survey results prove otherwise and as a result, I've already started showing images on my website of how the equipment "could" look at your wedding.
29% of respondents said it was extremely important
43% said it was very important
28% said it was somewhat important
From those results, it means that you as a customer wants to know how the disco equipment is going to look during YOUR wedding – and I fully understand that. I've just made changes to my "Your Wedding" page to reflect this
Question 5: Did you meet with your DJ before your wedding?
I'm a "people person". I like to meet up before the wedding to make sure I'm going to be doing things the way YOU want them done. I can learn an awful lot from meeting up with you before your wedding to go through your plans, and those weddings always seem to run a lot smoother as a result. However, it's OPTIONAL and not something that's enforced. People are getting busier and times are changing….I only meet up with around half of my wedding couples before their big day in recent years.
57% of respondents said they'd met with their DJ before the day, whilst
43% didn't meet up
This reflects exactly what I'm seeing myself at the moment, and I feel that pre-wedding meetings will become rarer as the preference for electronic communication becomes more popular.
Question 6: If you met with your DJ before your wedding, how important was this to you?
The question says it all and there's no need to expand on the reasons for asking it
14% said that it was extremely important to meet with their DJ
43% said it was very important
29% felt that it was somewhat important, whist
14% felt that it wasn't important at all.
Question 7: Did you have the ability to manage your playlist, i.e. pick songs to be played and not played?
I offer an online event management system which gives couples the option to plan their entertainment from just a few favourite tracks to the entire playlist (I play what YOU want to hear). I'm looking into several different and better options for this at the moment so this one was important to me as a business
100% of respondents had the option of managing their playlists
Question 8: How important was the option to be able to have input into your playlist?
As mentioned for question 7 – I'm looking into different options for playlist management at the moment so it's important to know how important this is to brides and grooms
43% of respondents said it was extremely important to be able to manage their playlists, whilst
57% said it was very important.
To me – this is a big result. The management of playlists to brides and grooms is obviously very important so I'll continue to look into some of the newer methods of doing this (and some of them are impressive and expensive!)
Question 9: What was the lasting impression of your wedding entertainment once the day was over?
This question was to gauge how customers think about their wedding DJ. For us, weddings are very long and stressful events (we only get one chance to get it right). An all day wedding can mean 18 hours on-site alone, without including the planning meetings and backroom preparation (we really DON'T turn up and press play on the day!)
Thankfully, whoever the respondents chose for their wedding entertainment the lasting impression was good 🙂
86% of respondents said that their wedding entertainment was above average expectations, whilst
14% said that their wedding entertainment was average
As someone who does this for a living, it'd be nice to see "above average" for 100% of responses but it's a very perceptive experience unfortunately.
The conclusion?
Thankfully it doesn't appear that I need to change too much in the way that I personally work, although ideas have already been taken on board and are being worked on behind the scenes at the moment, because I want to be the BEST wedding DJ available!
Evening receptions are the most popular choice for using a DJ
Brides and grooms think the setup is important (already dealt with that one!)
Playlist management is important
Meeting your wedding DJ is important (although becoming less important)
Expectations are quite rightly, high!
Are your opinions different? Why not take the survey and let me know?
Check my availability or ask me a question
Let's talk about YOUR plans! Why not get in touch to see what I can do for your special day