Back to the '80s
A look back at Dave's birthday bash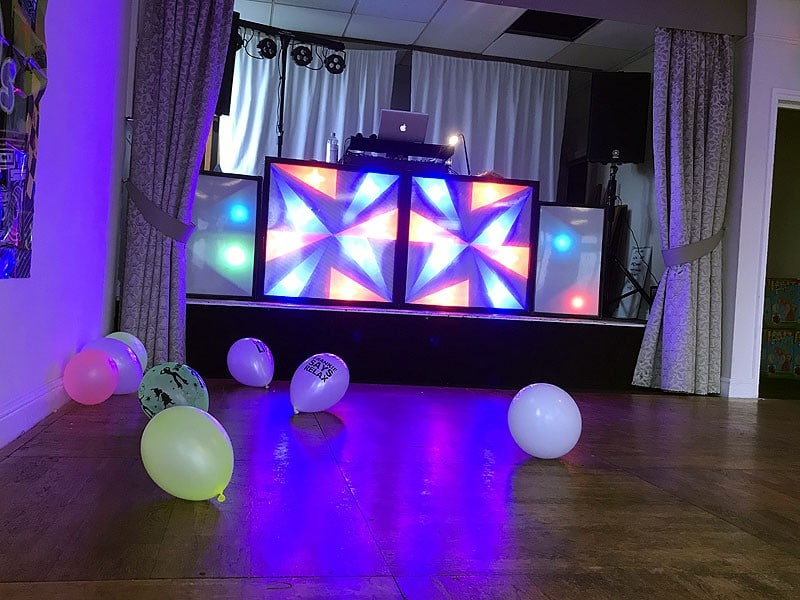 THAT – was a party to remember for a long time to come.
Dave booked me for his 55th birthday party, mainly due to the Retro Roadshow setup I run for themed parties. The theme for the night was to be based on the 1980s, with fancy dress and music to match…..what's not to like?
So, armed with a smaller than usual version of my Retro setup due to the constraints of the stage area, the party started at Brampton Park golf club.
This party was to have an extra attraction though. 
Dave was worried that his guests wouldn't necessarily dance, and any DJ worth his salt will admit that occasionally a lack of action on the dance floor can be a real problem – it happens and there isn't a lot we can do to force people who aren't necessarily comfortable with throwing shapes in front of friends to get up and dance.
So, Dave hired the services of the wonderful Glitter Bombs from Dreams and Wishes.
This is where collaborating with other suppliers can sometimes be very useful. Originally we discussed them bringing their own PA system (and with the lack of space near the stage that was always going to be a problem). Then we discussed them plugging an iPod into my system (no problem as long as I'm aware in advance so I have the correct cables). The eventual solution? They provided a 30 minute mix of music in a specific order and tracks cut to length to suit their routine.
All that was left for me to do at the start of their routine (after testing the mix the day before) was to press play and monitor the sound levels whilst they got on and did their thing. And it worked a treat!
Dance routine over, the girls took a short break before teaching Dave's guests the routines for the party "classics"….those action dances such as the Cha Cha Slide and the Macarena which work so well at this type of party.
From there on, it was time for me to go it alone. I had a small list of requests from Dave, a good idea of what the guests would like to hear from seeing the reactions on the dance floor, and of course a lot of guest requests to deal with.
The dance floor didn't empty!
It's the sort of night a DJ lives for. Lots of happy guests having a great time at a party dancing to the music which we've programmed. It's a brilliant feeling seeing that much fun and so many memories being invoked.
So, as is customary for this type of post….here's a few photos of the evening: