Back to the future!
The Retro Roadshow doing what it does the best!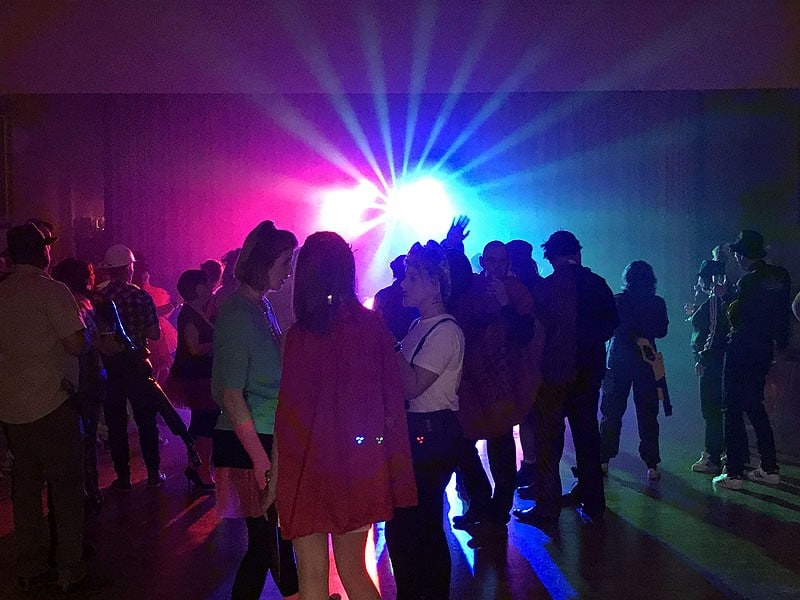 Now THAT'S what I call a party!
I rarely entertain at anything other than weddings nowadays, so it's occasionally a nice break from the norm to be asked to provide the entertainment for a 40th birthday.
The brief was simple: It was to be an 80s themed night with fancy dress and the music of the era. No problem!
Once I knew of the theme, I gave Naomi (Chris's wife and the party organiser) the opportunity to make things just a little more authentic by offering the Retro Roadshow light-show….just like a party would have looked back in the 80s!
What else can I say?
The guests and their costumes were AMAZING, the requests which came in really went down well (OK…a couple of non-80s tracks ended up being played as is usual at times), and a good night was had by all.
So, let's see some photos:
The Playlist?
Well, it'd be rude not to share it, wouldn't it 🙂
Altered Images – Happy Birthday
Adam And The Ants – Stand And Deliver
Bonnie Tyler – Holding Out For A Hero
Wham – Wake me up before you go go
a-ha – Take On Me
Culture Club – Karma Chameleon
The Bangles – Walk Like an Egyptian
The Human League – Don`t you Want Me
Michael Jackson – Billie Jean
Billy Ocean – Get Outta My Dreams, Get Into My Car
Madonna – Like a virgin
Cyndi Lauper – Girls Just Wanna Have Fun
Wham – Club tropicana
WHAM! – Wham Rap! (Enjoy What You Do)
Sabrina – Boys (summertime love)
Stevie Wonder – Happy Birthday – Album Version
Guns N Roses – Sweet Child O Mine
Tiffany – I Think Were Alone Now
Rick Astley – Never Gonna Give You Up
Kylie Minogue – I Should be so Lucky
Erasure – A Little Respect
Pet Shop Boys – Heart
Black Box – Ride On Time (original version)
Yazz – The only way is up
Mel & Kim – Respectable
Wham! – Bad Boys
Kenny Loggins – Danger Zone
The B-52's – Love Shack
Kenny loggins – Footloose
MC Hammer – U can't touch this
The Sugarhill Gang – Rapper's Delight
Run DMC – It's like that
Salt-n-Pepa – Push It
House Of Pain – Jump Around
Technotronic – This Beat Is Technotronic-Get up! (Before the Night Is over)
Deeelight – Groove is in the heart
B Witched – C'est la vie
Dexys Midnight Runners – Come On Eileen
Bryan Adams – Summer of ´69
Bon Jovi – Livin On a Prayer
ZZ Top – Sharp Dressed Man
Robert Palmer – Addicted To Love
Divinyls – I Touch Myself
PRINCE – RaspberryBeret
R.E.M. – Shiny Happy People
Madness – Baggy trousers
Madness – One Step Beyond
The Jam – A Town Called Malice
Phil Collins – You Can't Hurry Love
Kylie Minogue – The Loco-Motion
Candi Staton – Young Hearts Run Free
Phil Collins & Philip Bailey – Easy Lover
The Communards – Don't Leave Me This Way
Bill Medley & Jennifer Warnes – (I've Had) The Time of my Life
Check my availability or ask me a question
Let's talk about YOUR plans! Why not get in touch to see what I can do for your special day