Award Winning Wedding DJ in Cambridgeshire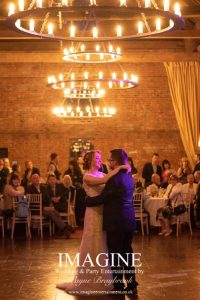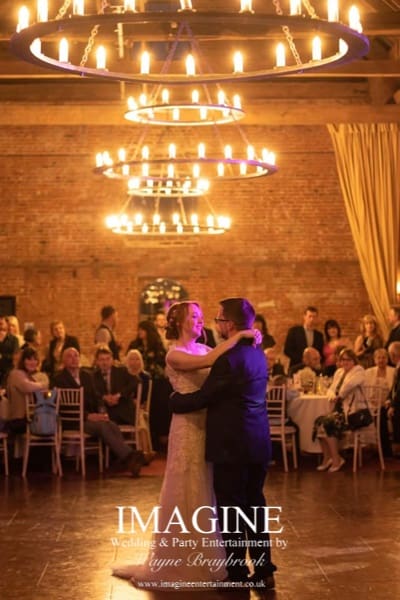 It's your big day! You've probably dreamed about it for years and you've planned everything down to the last detail and you expect the evening's entertainment to be the best it can possibly be!
Let me take the strain out of organising the evening's entertainment!
I'm a friendly wedding DJ that genuinely cares about how you end your big day. I take the time to listen to what it is you're looking for from your evening reception and will do everything in my power to make sure things happen the way you want them to.
I try to keep things as easy and stress-free as possible in the run-up to the big day, from a simple booking process right through to an online portal where you can create timelines and playlists should you want to.
Everything I do is aimed at helping to make your wedding just a little easier to plan.
Wayne is AMAZING! We could not have found a better DJ!

Throughout the planning process, we met up with Wayne a couple of times and we had so much fun getting to know each other. He replied to emails super quickly, which I really appreciated! We loved Wayne's website, where we and our guests could add song requests.

On the night, Wayne gave us the best party EVER!! He played lots of our requests, as well as listened to guests on the night! Somehow he managed to mix my love of Tina Turner and Take That with my (now) husband's love of heavy metal, making us both super happy! He really did play a bit of everything, which was exactly what we wanted!

I would recommend Wayne to anyone who wants a really fun party - he will listen to you and make sure the music is just what you and your guests want to hear! I now need to find another reason to have Wayne DJ at an event!

Thank you Wayne - you are a star!!!
Experienced and professional Wedding DJ in Cambridgeshire
With over 30 years of Wedding DJ experience, I can help you to achieve that perfect ending you've been dreaming of!
I offer a relaxed and fun Wedding DJ service, whilst still maintaining a professional approach.
And with a wealth of experience from hundreds of previous weddings, I'm ALWAYS on hand to help you decide on how to make your wedding special and unique to you….it's all part of the service!
I go the extra mile to ensure that I'm providing the entertainment experience you're looking for, it's what I do best!
Your wedding, your way!
Maybe there's a certain type of music you do or don't want to be played?
Maybe you'd like to meet up with me before the big day to discuss your plans for the evening?
Maybe you'd like me to dress in a certain way to fit in with the rest of your guests?
Maybe you'd like your guests to make music requests on or before the big day?
Maybe you don't want to hear "cheesy" music at your wedding (or maybe that's exactly what you want!)
It's YOUR special day and I regularly go the extra mile to ensure that my service meets and exceeds your expectations…it's what I do!
"We were so happy with our evening music supplied by Wayne. He had been recommended to us by another DJ that we knew and we were not disappointed! We were able to pick the music we wanted so it really suited us as a couple.

Everyone loved it!"
A professional and friendly Wedding DJ in Cambridgeshire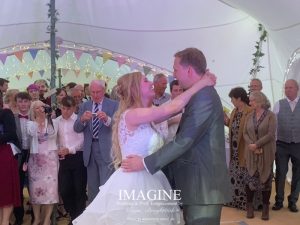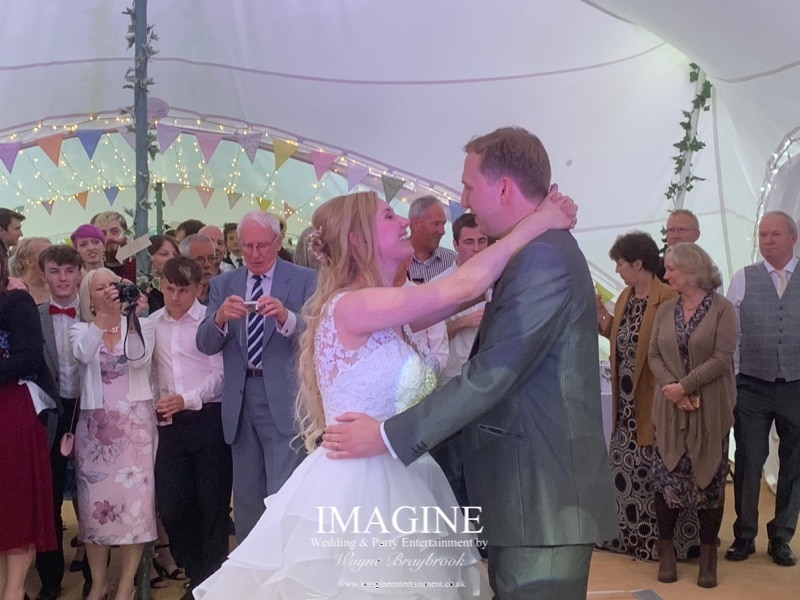 Whether yours is a wedding in a village hall, or something more extravagant in a country house, farm barn, marquee or stately home, I can provide exactly the right entertainment to provide the big finish to your big day.
Your wedding day is one of the most stressful events of your life, and the evening reception is a time to relax with friends, family and other guests and enjoy yourself with a party to remember. 
With over 30 years of experience of providing top class wedding entertainment, you can trust me to provide your wedding reception entertainment safe in the knowledge that it's going to be what YOU want!
"My daughter's wedding was the best wedding I have ever been to!
Wayne was absolutely fantastic and there was never a moment when the dance floor wasn't full. The bride, Amy, was never off the floor! Fantastic job, Wayne, and I really would recommend you to anyone."
Filling dance floors is what I do!
Here are just a few examples from recent weddings where I've provided the evening's entertainment.
A Cambridgeshire Wedding DJ with a difference...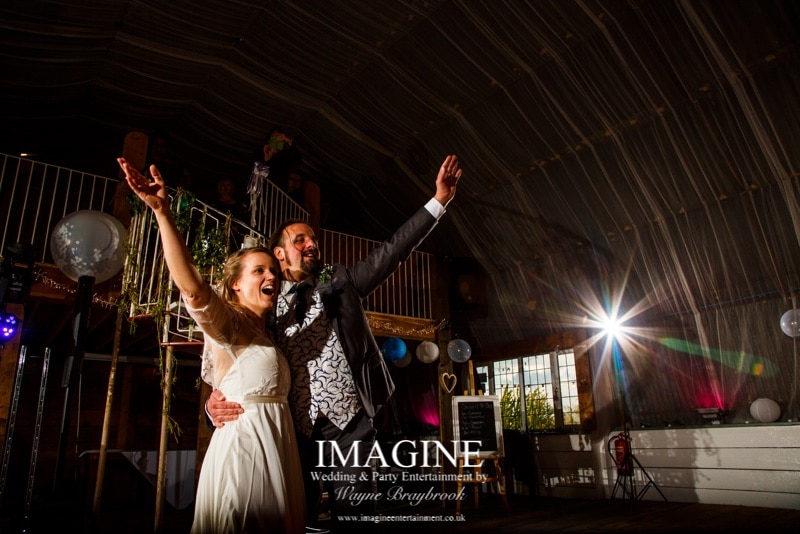 I have the experience of entertaining the vast range of ages and guests who typically attend a wedding, from the very young to the very old.
No two weddings are the same and my music collection spans from the 1950's to the current date, so I've got something to suit all tastes and ages.
I certainly don't have pre-determined wedding playlists which I roll out at every wedding. I prefer to use a mix of your personal tastes and also react to what's happening on the dance floor on the night.
I'm also friendly and approachable, right from the time you book me to the big night itself.
I'm not a prima-donna DJ who expects to be left alone on the night. You're more than welcome to come and talk at any point, make suggestions, ask for things to be done…..it's YOUR wedding reception and I never, ever forget that. 
So…what are you waiting for?
I'm often booked up 18 months in advance and I really hate to disappoint couples by saying I'm already booked for their special day.
Wouldn't YOU like to be able to boast that you've got an award-winning Wedding DJ providing YOUR entertainment?
Let's have a chat about YOUR wedding entertainment plans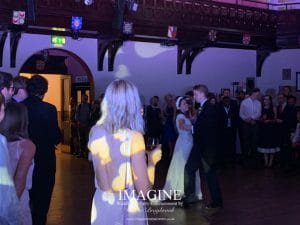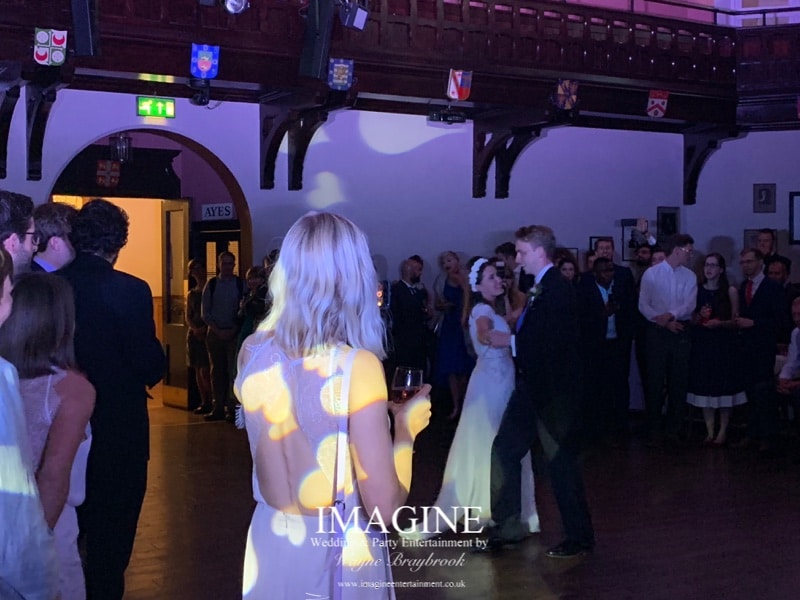 Something completely different this weekend then….and I like a challenge!
Saturday night saw me at The Cambridge Union Society in, well…Cambridge for the evening reception of Alex and Henry.
Read More »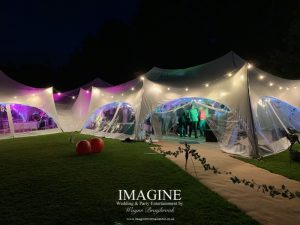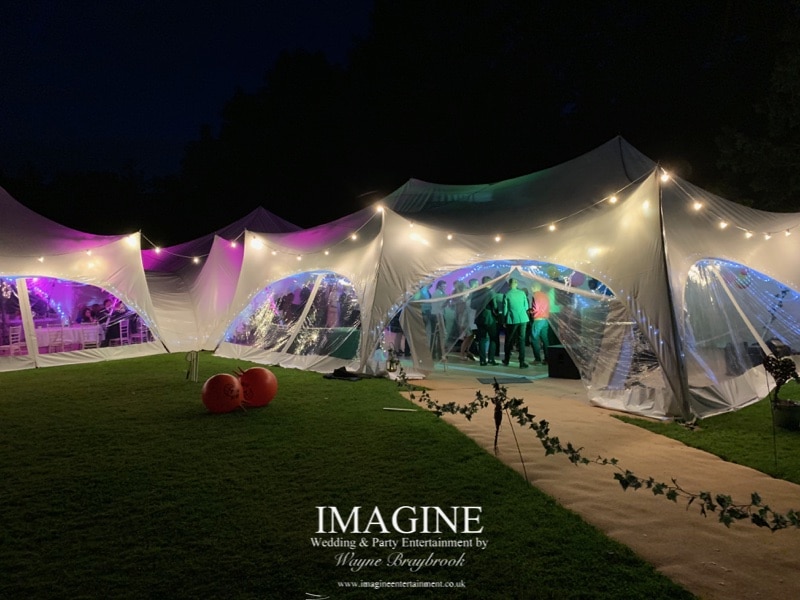 An AWESOME evening reception in a marquee and a very full dance floor coupled with a very relaxed bride and groom is EXACTLY the type of wedding I enjoy working at!
Read More »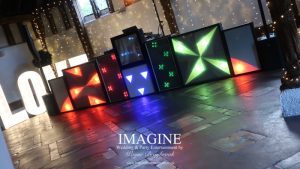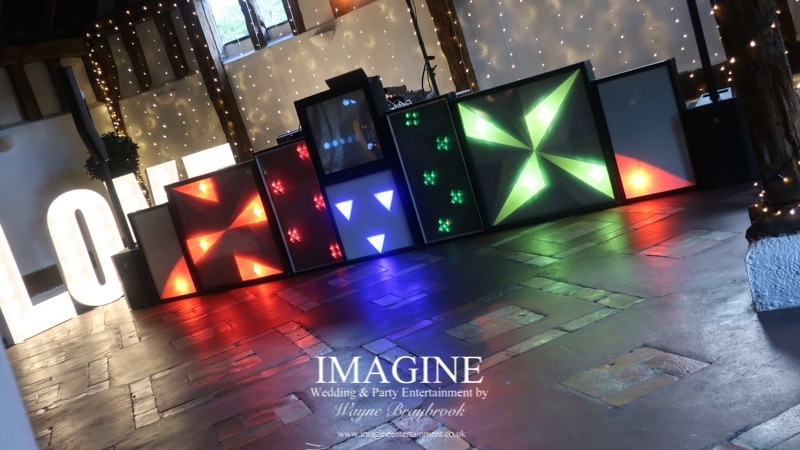 When I first got the enquiry from Kelly about her wedding way back in 2017, I KNEW it was going to be a brilliant party!
Read More »
Venues I've recently worked at in Cambridgeshire