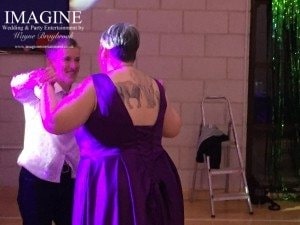 A 60th birthday is something special, and when celebrating it with friends and family it's important that the entertainment is just right and exactly what you want it to be.
It also usually (for me) presents itself with an absolutely brilliant playlist…and this particular party was no exception.
I was booked for Wendy's 60th with the premise of a theme of "Female Rock and Roll artistes".
No problem – Rock and Roll is a real favourite of mine, especially when the guests are of the type that enjoy the genre as well….I really LOVE seeing guests jiving for the evening (it's actually a style of dance I went to classes and learned many years ago!).
The playlist was assembled by Wendy and everything ready to literally Rock and Roll when I had a surprise email from her partner asking if I could play some audio from guests who were unable to attend on the night….just a couple of days before the party.
Not a problem at all!
I can't unfortunately play from things like USB sticks and mobile phones on the night, but given a couple of days notice, I can work with you to accommodate this type of request (I have to test and soundcheck the quality of the files before playing over the disco PA to make sure it's going to sound OK during the evening).
So, I gave Wendy's partner Alison a log in to my DropBox account and let her upload the files which had been recorded in secret from the absent guests (right up to a couple of hours before the party!).
The day of the party arrived, and everything is running nicely. I have dancers on the 'floor before the buffet has finished (I like it when that happens!), and the music is exactly what Wendy requested…all is working really well.
Then, it's time for the cake cutting. Alison took the microphone at this point to announce the surprise "This is your life" style of the stings from absent guests. There wasn't a dry eye in the house….it was absolutely brilliant and worked a treat.
It's always a real pleasure and indeed honour, to be a part of celebrations which incorporate something personal and unique to the party, and this one was no exception. It's what I pride myself in being able to do and as far as I'm concerned is very much part of the service I offer to each and every customer that hires me!
So if you'd like something special and unique for your party, why not get in touch and let's start planning your event today