Ellis & Dan
A wedding after-party to remember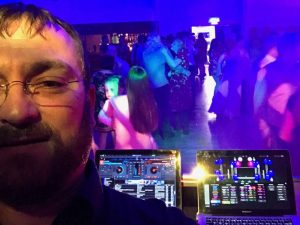 What do you call a wedding reception that ISN'T a wedding reception….a wedding "after party".
This type of party is becoming very popular lately (I have several this year). In a nutshell, the happy couple tie the knot during the week in front of close friends and family (or in a couple of cases, abroad in sunnier weather), and then hold a party to celebrate their marriage on the weekend.
I'm actually finding these particular occasions to be a lot more relaxed and fun. The happy couple and guests haven't been up since the crack of dawn, they tend to be a little more informal (not everyone is doing a first dance or cutting the cake during these parties), and everyone is a lot more in the mood to party as a result.
Ellis and Dan's after party was no exception!
After marrying during the week, the after party was an informal gathering for friends and family to have a good party, with plenty of dancing, catching up, eating and drinking….what's not to like?
It was a warm day, so things got going a little slowly (it's not unusual at ANY party for things to take a little while to get started). BUT when things did start…..they started properly.
The music was a real mix of genres. Ellis had already expressed a liking for rock music although appreciated that it might not be to all of her guests' tastes….actually….it WAS and worked a treat.
But it wasn't the rock music which started the mass of dancing! It was the music which a lot of brides request ISN'T played!
I generally tend to avoid the really "cheesy" classics, and NEVER play action dances such as the Cha Cha Slide, Agadoo, Superman and the others from that ilk if expressly requested by the bride and groom.
But…a couple of the younger guests (in their 20s), a little brave from their time at the bar for the evening asked for some S-Club 7. Well why not?
Boom….completely full dance floor and happy DJ. So, we continued in that vein for a little while before ending up in a rock set (Queen, Bon Jovi, Def Leppard, Guns 'n' Roses….you name it).
As the evening wore on, one request in particular stood out. I don't normally have a set track for finishing the evening unless the bride and groom request one, and tend to play the night "by ear", gauging what's working and what's not. A request came in from one of the older guests for "Hi Ho Silver Lining" by Jeff Beck….I haven't played that track for as long as I can remember!
11:30pm rolled around far too quickly (and for this particular venue….that's the finish time for their entertainment license), and Jeff Beck is played along with the good night announcements…..the remaining guests are on the floor and lapping up every moment of it (including the younger ones) – a brilliant finish!
Lots of hugs, fist-bumps and handshakes at the end of the evening confirmed I'd done a good job….I left with a big smile on my face happy that I'd achieved what I'm paid to do.
So – a few photo's from the evening….