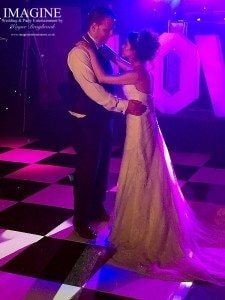 Another wedding in my most favourite of venues, Old Hall in Ely, with a lovely couple,
I love weddings, and I particularly like providing the entertainment here because the dance marquee makes the whole disco setup look theatrical.
Craig booked me over a year ago – and that year has flown by. We met several weeks ago to discuss what they wanted from the evening and how the disco was going to look, what sort of music was going to be played – the sort of things I normally go though with wedding couples during the pre-wedding meeting.
This particular meeting is always a lot easier when the venue is Old Hall. There is a fairly set routine in the way in which things are done there and it just works. All regular suppliers know what's happening and when. Tonight was no exception with myself, the photographer, the videographer and the reception pianist all seasoned visitors to the venue.
The brief in short, was to play party music people would dance to.
Now in the event, I'm sad to say this didn't quite happen. The music was played but it was unfortunately one of those weddings where the guests wanted to catch up rather than shake some moves on the dance floor.
It happens from time to time and in all honesty (and a lot of other DJs will agree with me on this one), there really ISN'T a lot we can do about it. People are either going to dance or they're not.
Weddings are one of those occasions where many of the guests maybe haven't seen each other for several years….it's only natural they're going to want to catch up with each other.
Unfortunately once the first dance was done, I was left with nothing but children on the dance floor. Not a problem – I performed an impromptu kid's party with them. This serves two purposes….it keeps the children entertained, and it allows the adults to carry on catching up with each other (remember with weddings….many of the guests may not have seen each other for years!).
That doesn't mean your guests aren't enjoying the evening though….far from it.
From where I stand, I can see your guests and their reactions to the music being played. You'd be surprised at how many tapping feet and fingers we see during the evening, and tonight was no exception.
The end of the evening came around far too soon unfortunately, and Jess and Craig both came and thanked me for my efforts. Apparently the music was spot on – but as already mentioned there was a lot of catching up to do.
So – all the best for a very long and happy future together Mr & Mrs Armstrong. It was a good night, even if it wasn't a packed dance floor.