Kate & Dan
Another wedding reception at the Fabulous Old Hall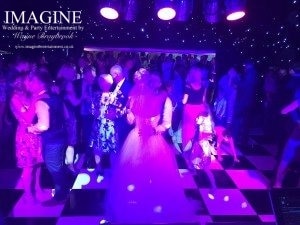 Tonight saw me at one of my favourite venues, The Old Hall in Ely, for Kate and Dan's wedding reception.
I normally worry about mid-week wedding receptions, as do most DJs.
As a rule of thumb, many of the evening guests will have been at work during the day, and have to go to work the next day. It can lead to a very flat party with not much interaction from the guests at times.
Happily tonight was an exception to that rule 🙂
The evening started with current/recent chart music, mainly to cater for the many children in attendance (top tip…their mums also dance at this stage of the evening).
We then moved into some hip hop/R&B as requests by Kate and Dan, which to be completely honest didn't work. Yes, there were a few dancers, but not many….this part was worrying.
However, we soon changed into a little Motown, some 80s and 90s and some rock music. The floor was full right to the end of the evening. Yes, a good number of guests started disappearing at 10:30 because they had to be at work the next day but those who remained were definitely in a party mood  (I suspect there will be more than a few decent hangovers in the morning ;). ).
All the best to Kate and Dan for a long and happy future together. I hope you enjoyed the evening as much as I did.