Selina & Ashley
A Drum & Bass Wedding Reception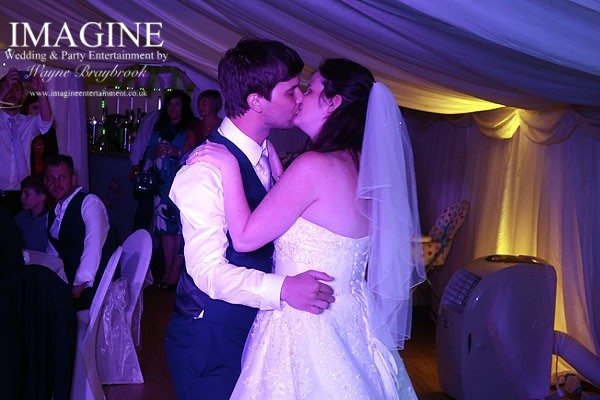 This weekend saw me entertaining for Selina, Ashley and their guests for their wedding reception at the Golden Pheasant in Etton, just outside Peterborough (and it's not often I travel to that side of the county).
The Golden Pheasant is a country pub just on the outskirts of the village of Etton, which has a permanent marquee in the back garden specifically for parties.
It was only a very small setup needed for this reception as the marquee isn't massive and the drapes hang very low over the setup area. Nevertheless, there was still plenty of room for enough effects to fill the room.
The evening started with Mellow Mood by Bob Marley as the first dance, to which everyone joined Selina and Ashley on the dance floor. This was quickly followed by a complete surprise….even for me.
A couple of minutes before the first dance, the best man had asked if I had a copy of the Power Rangers theme. After explaining the reason why he wanted it, I hastily found a copy which I could use legally from one of my online record pools and the scene was set.
Cue the music….the "stags" race onto the dance floor dressed as the Power Rangers. Apparently this was something which happened during Ashley's stag weekend at Creamfields a couple of weeks ago, and I'm always happy to oblige to make sure a surprise such as this happens on the night – it's part of what makes the celebrations unique to each couple.
The music for the evening was mainly a mix of current dance tracks, Drum & Bass (Ashley's a D&B producer) and UK Garage. Although I'm happy enough with dance music and UK Garage, D&B really isn't my speciality so the tracks used were selected by Selina and Ashley in advance of the reception.
It actually worked quite well. Although not to everyone's tastes (the older guests looked a little left out), there was plenty of dancing once we got going.
So, all the best to Selina and Ashley for a very long and happy future together. Despite a lot of the music being out of my comfort zone, I enjoyed your reception a lot.
Check my availability or ask me a question
Let's talk about YOUR plans! Why not get in touch to see what I can do for your special day