Claire & Stuart
A lovely couple in a gorgeous barn reception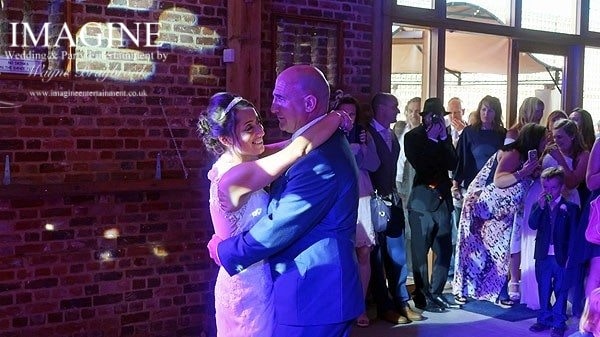 After a couple of manic weeks doing other things (including a Scout camp on Friday night), this weekend saw me at Claire and Stuart's wedding reception at The Thatch Barn in Yelling.
Another first time venue for me (I seem to be spreading my wings a lot lately and venturing into new venues), this location is another gorgeous barn setting with a thatched roof, exposed beams, lovely terraced area outside….it's fantastic.
As for the happy couple….I hadn't previously met Claire and Stuart (not all couples want to meet pre-wedding), so all I had to go on were their names and a short list of songs they wanted played for the evening.
From the playlist provided, '90s dance featured heavily. This was always going to be a good night despite me being desperately tired from a lack of sleep the previous night on a Scout camp.
Set up took just 30 minutes and then it was time to wait with light background music running until the happy couple were ready for their first dance (Ed Sheeran's "Perfect"….chosen by Claire's daughter as it's her favourite song at the moment).
Because of the nice outdoor setting and the warm evening, the dance floor was what we call a slow-burner for the first hour or so, with guests going outside to drink and chat. It happens and it's something I'm used to dealing with.
However, as the night chill set in and the guests returned to the warmth of the barn, the party started properly. As predicted '90s dance played a big part in the evening and saw a lot of dancing.
My only limitation was a dreaded sound limiting system in the barn (licensing authorities pretty much insist on those things these days). It took quite a bit of balancing to stay out of the red lights which lead to my power being cut, especially with whooping and cheering guests (yes…even the noise of your guests counts to the score on a sound limiter). Happily, it didn't trip at all during the evening and everything went to plan.
The end of the evening came around far too quickly as it always does and it was time to turn off and go home, happy that I'd not only managed to make a night to remember, but also that I was finally heading for bed myself after not much sleep the night before.
All the best to Mr & Mrs Cracknell. It was a really fun wedding to entertain at and I hope to provide the entertainment for many more weddings to come at The Thatch Barn.
Check my availability or ask me a question
Let's talk about YOUR plans! Why not get in touch to see what I can do for your special day