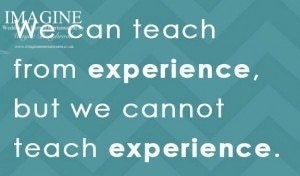 The cost of a DJ is a very contentious issue in the DJ world. I've seen examples of full blown fights breaking out over who charges what fees and it's often not pretty when those type of arguments break out on various discussion forums.
But what are you paying for?
We all look fairly similar with our equipment (OK, some such as myself will invest heavily in top of the range equipment for robustness and reliability whilst others will buy the cheapest they can possibly get away with).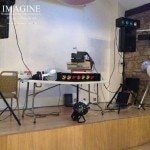 From your side of the booth though…surely it's just loud music and flashing lights…..or is it?
Would you want the setup pictured here (not mine by the way but a genuine photo taken by somebody at a wedding recently!) at your wedding reception that you've potentially spent thousands of pounds on?
Probably not! But a good and experienced DJ can make that particular setup seem like it's worth a million pounds!
The one thing a DJ can't buy is experience! That comes from working at hundreds (or in my case, thousands) of parties over the years. It's a learning process which can't be "taught" in any other way than doing the job itself.
It's something I strive for at every party I work at….that feeling amongst the guests that they've had an enjoyable and memorable evening.
So what are the secrets to a really great party?
First and foremost – there are no magic secrets. Experience and knowledge of what to do and when play a massive part inthe magic of the evening, but there's no "trade secret".
Every single party I work at is completely different. Yes, there are a lot of similarities between them in what's done and when, for instance the timeline of a wedding or the cutting of the birthday cake at a milestone birthday party.
The guests on the other hand……
No two groups of guests are the same….EVER. In fact I've provided parties for the exact same guests on different occasions where the party has gone in different directions every time. As a DJ, you can NEVER turn up to a party and know beforehand how it's going to turn out.
Don't ever believe the DJ that says they've got a "killer playlist" which works at every party…it really doesn't work that way.
Guests are human, and they're unique, and they experience different moods and feelings depending on a lot of different factors. Guests are the unknown factor at every party!
So, how do we deal with this?
Let's take my main source of parties….the wedding reception as an example. In fact, I'll use a wedding reception from a couple of weeks ago to demonstrate how to make or break a really good night.
First let's set the scene. The location was a beautiful barn location in the middle of nowhere. Lots of lovely grounds to explore, a hot day, cold beer…
Add to this that for a guest, a wedding is a LONG day. They're often out and about and travelling a couple of hours before the main event if they're attending for the ceremony itself, there's a lot of "hanging around" whilst things like photos are taken care of. They've eaten a meal at a different time of day to when they're used to eating (wedding breakfasts never usually happen at "normal" meal times).
They've also normally been thrown in at the deep end and made to mix with people they either don't see very often or indeed have never met before.
All in all, not a good mix for people losing their inhibitions and shaking some moves on the dance floor is it?
However….we'll go back to the wedding in question.
The evening buffet was served outside the barn just after the first dance. I'd had a lovely full 'floor after I'd asked the guests at this particular wedding to join the happy couple during the first dance and then had to announce the opening of the buffet.
The guests were encouraged outside into the evening sun at the end of a gorgeous day. BUT – the party has to continue, I can't just turn off the music whilst people are outside and likewise I won't go into an "auto-mix" situation.
An inexperienced DJ at this point (and yes….I was there once!) would panic at the lack of people inside the venue and on the dance floor. For me, it's a chance for me to play different types of music early on in the evening to see what's likely to work for the rest of the party.
On this particular occasion, there were a group of groomsmen who were starting to feel the effects of cold lager and a long day. They came to dance (somebody had asked for Gangnam Style) and made a bit of a show of it.
With an empty dance floor due to guests being out in the evening sun and eating the buffet….of course I took advantage of the situation.
Actually, they were quite comical in their efforts to replicate PSY's moves and enjoyed every moment of trying to outdo each other during the process, It's an opportunity for me to build from there.
This in turn led to Billie Jean and Thriller from Michael Jackson, because these particular guests were responding to the music styles and went into the moves that MJ used on his videos. Other guests were now videoing/taking photos of the scene and joining in the fun. The dance floor started to "build".
I was then asked "have you got Love Won't Be Denied?". Yes, I certainly have!
Now to those outside of the Peterborough/Stamford area, this track won't mean a lot…..in fact you've probably never heard of it before. It was never released as a commercial single but was played a lot in the Peterborough nightclubs (mainly Reflex) and even has it's own dance routine known at the "Peterborough Shuffle".
Anywhere outside of Peterborough, this track (in all of it's 7 minute glory) will kill a dance floor. On this occasion (and I was outside of Peterborough but knew from meeting with the bride and groom before the day that a lot of guests were coming from that area of the country), it worked an absolute treat with nearly every guest back on the dance floor! Knowledge and experience is a wonderful thing 🙂
From there, the rest of the night as they say is history. Requests came in aplenty and it soon transpired that rock was going to be the main genre of the evening once the party classics were done and dusted. Who am I to argue?
And this is where experience comes into play. It's not something that's learned by mixing tracks in a bedroom or watching YouTube videos. It's something which can only be learned from working at literally thousands of parties over the years and taking something away with me every time….every day is a school day in this job…I NEVER stop learning!
It's not all about having the latest and greatest lighting or "gear", because at the end of the day most guests just hear loud music and see flashing lights. It's not about being able to name the top 20 singles of the week (because in all honesty I really can't do that these days and it's rare that your guests can either!).
It's about knowing what IS in the music collection and joining it all together in the right order along with guest requests to keep the 'floor busy.
That in a nutshell, is what I do.
Having knowledge of which track to play next (I generally work 3-4 tracks in advance of what's playing on the dance floor), knowing when to change the style of the music (sometimes the dance floor needs a rest after all), and knowing when to interact with the guests (and indeed which ones to interact with) all play a massive part in my job of making your party perfect.
So whether it's me you book for your party or somebody else, look for experience and knowledge in how they perform. A less experienced DJ will cost a lot less, but there's no guarantee that they'll have the experience required to make your party work on the night (however, we all had to start somewhere).
An experienced DJ will be more expensive as with all things in life, and that cost comes mainly from the wealth and breadth of knowledge they've built up over a very long time.
So to sum up, yes there IS a direct link between the cost of your DJ and their experience.