It's always nice to hear from customers after their party with their feedback of how things went. Thankfully, all of my feedback in the past has been positive (phew!), so I must be doing something right 🙂
I'm also more than aware that when searching for anything online, there's always the niggling feeling that feedback may well be made up (it's not something personally do….but you don't know that). To this end, I've now started using TrustPilot as a means of gathering feedback so that everything is transparent and completely honest. It's early days using TrustPilot, and if you'd like to see the original emails, Facebook or Google reviews, please ask and I'll be more than happy to provide those for you.
"Absolutely brilliant! Wayne is so helpful and easy to talk to about logistics. We really be appreciated his help and advice in the run up to our wedding day – and the online portal he used for us to choose songs was really easy to navigate. On the night, Wayne was outstanding. He played our songs in the perfect sequence and the dance floor was absolutely wild! Just a lovely guy to have around on the evening too. Will be recommending you to everyone. Thank you for the best party of our lives!"
Jade & Tom – Wedding reception in Oakham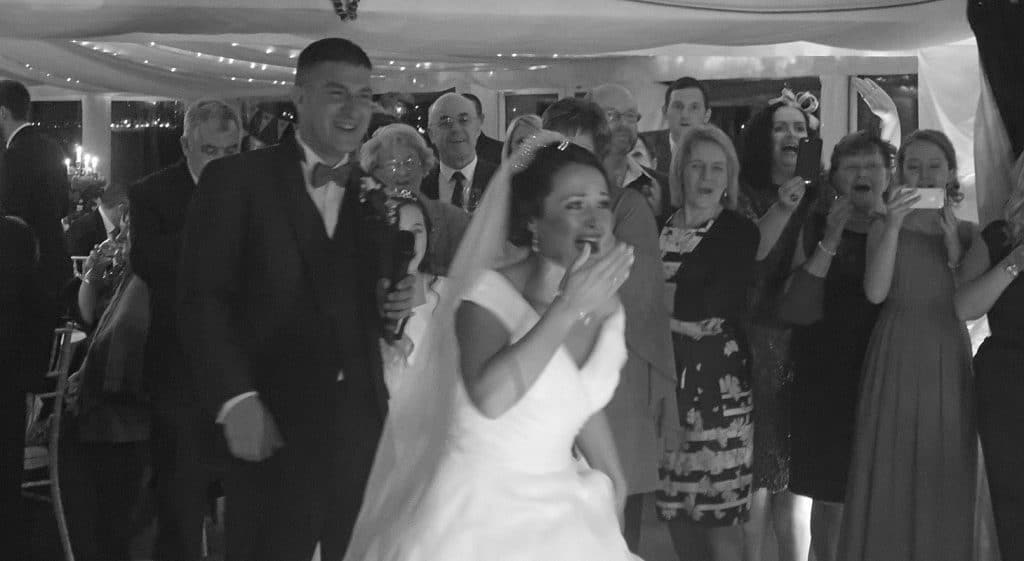 "Thank you so much for last night you were brilliant. Can't thank you enough for helping out with everything it was perfect. And we nailed Zoe's surprise. Couldn't of done it without you!"
Zoe & Ben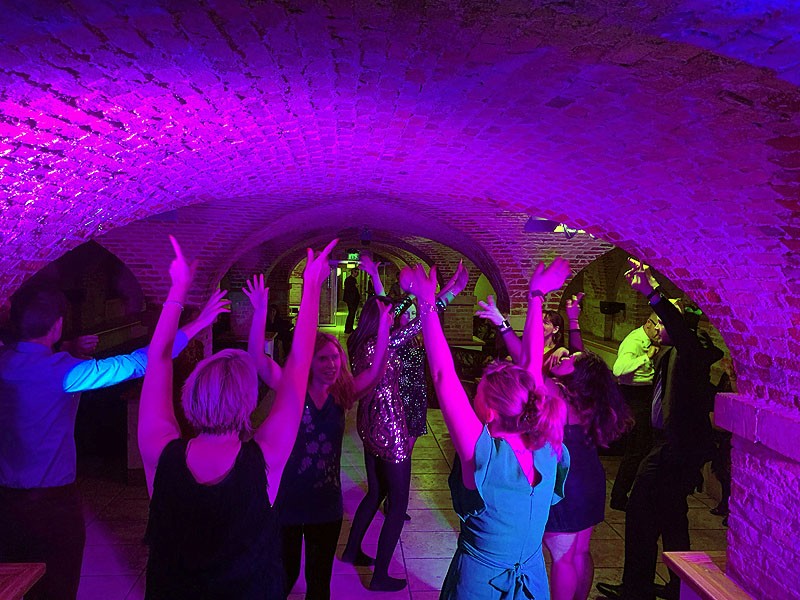 "Thoroughly recommend Imagine Entertainment!
We had our work Christmas event Tuesday and Wayne was amazing! The whole booking process was easy and the disco made the evening extra special. We will be booking Wayne again next year…."
Frances
Corporate Christmas Party at Clare College Cambridge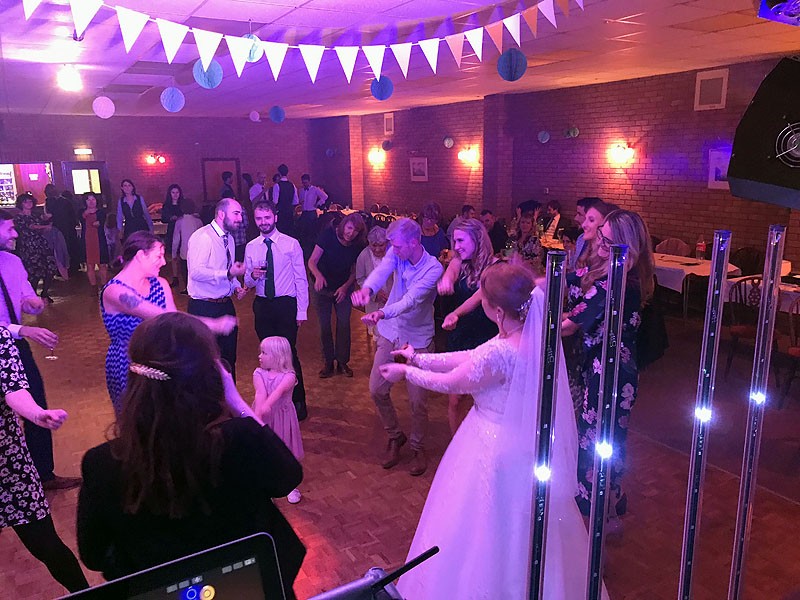 "My daughter's wedding was the best wedding I have ever been to. Wayne was absolutely fantastic and there was never a moment when the dance floor wasn't full. The bride, Amy, was never off the floor!. Fantastic job, Wayne, and I really would recommend you to anyone."
Hope – mother of the bride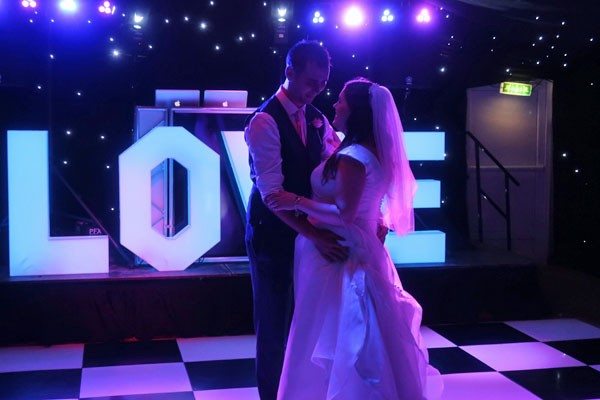 "Had an absolutely amazing day. Wayne did a great job and did everything we asked of him. He's a great guy and I would definitely recommend him"
Laura & Lee
Wedding reception at The Old Hall in Ely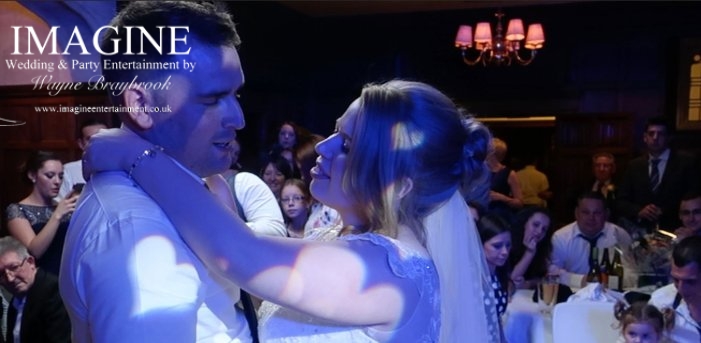 "Wayne was brilliant from the first consultation right through to the end of the night. The dance floor was full the whole night which is incredible and the music was awesome, appealing to everyone. You can tell straight away that Wayne is very passionate about what he does and that results in a fantastic service that he provides. Would definitely use again!"
Kimberley & Jason
Wedding reception at Lanwades Hall in Suffolk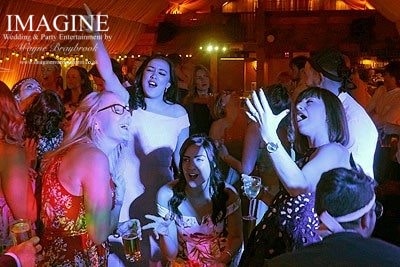 "We were so happy with our evening music supplied by Wayne. He had been recommended to us by another DJ that we knew and we were not disappointed! We were able to pick the music we wanted so it really suited us as a couple. Everyone loved it!"
Emma-Jane & Jacob
Wedding reception at Bedingham's Farm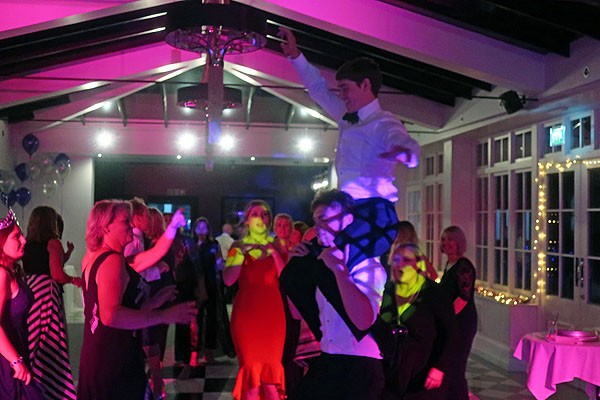 "Wayne did a fantastic job at my party – would highly recommend ."
Sue
50th birthday party at Swynford Manor Suffolk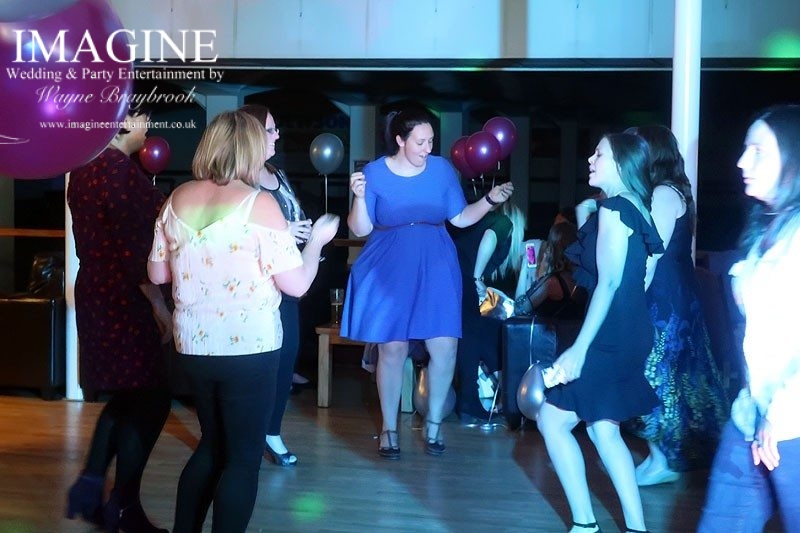 "We have booked Wayne on a number of occasions now and cannot recommend highly enough!"
Jess
Ely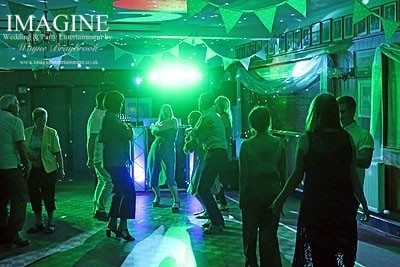 "We were extremely happy with all aspects of the disco that Wayne provided for us; we couldn't have asked for anything more. He was quick to respond to any emails I sent to him before the event, when I wanted to check on details or have any queries I had answered. We would definitely recommend him to friends and so many of our guests commented on how good the music was."
Val & Richard
Pearl wedding anniversary, Wymondham, Norfolk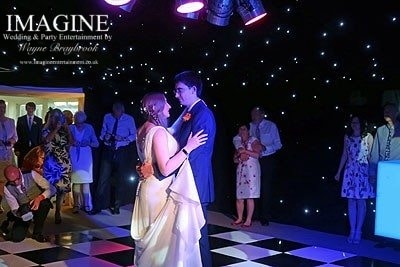 "Thank you for giving us such a great evening we really enjoyed it! The photos look great as well."
Beth & Tom
Wedding reception, Old Hall, Ely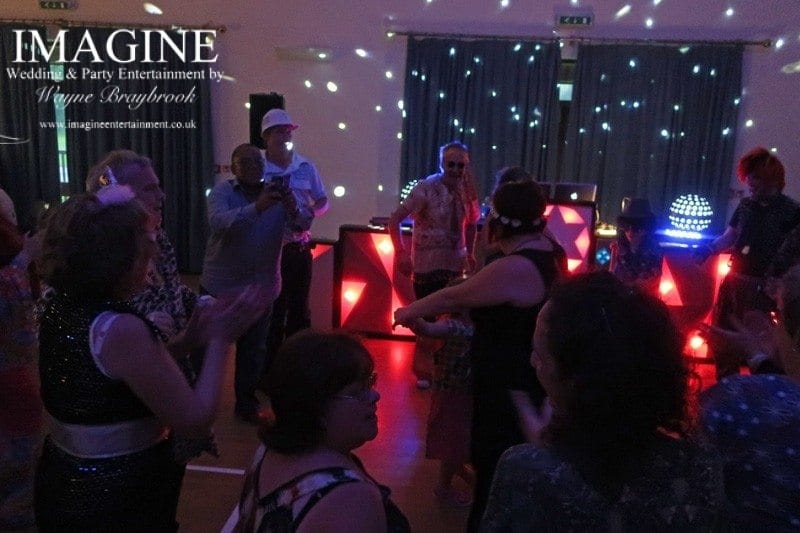 "Thank you so much Wayne for the most fantastic evening. I had the best time ever and have been left with some amazing memories. You are a brilliant DJ and the music just flowed. You responded so well to the audience and created a fantastic party atmosphere. Everyone loved the retro disco it just brought back so many memories. "
Julie
60th birthday party, Moulton village hall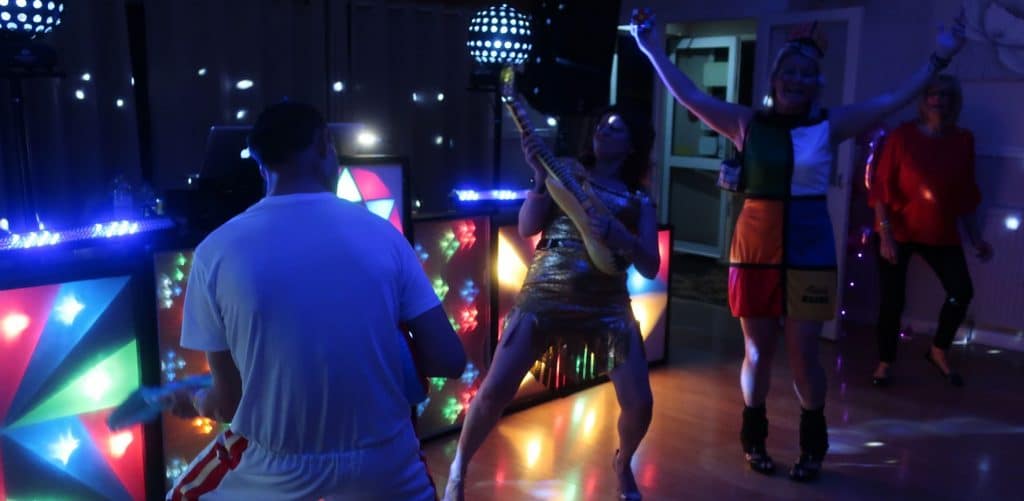 "Wow Wayne many thanks for Saturday night.
You were fantastic just as we had hoped for and more. Everyone is raving about you. Already recommended you to someone hope she comes to you. You'll be there should we get Married.
Thanks again you were awesome.
Tracey
50th birthday party in Fenland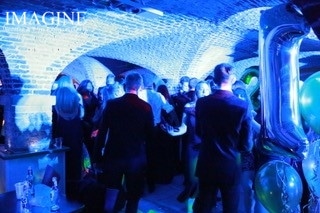 "Thank you very much indeed. Great evening, fantastic music.
Thanks so much and hope to see you again at a function in the future."
Sarah
Joint 18th & 21st birthday party, Clare College in Cambridge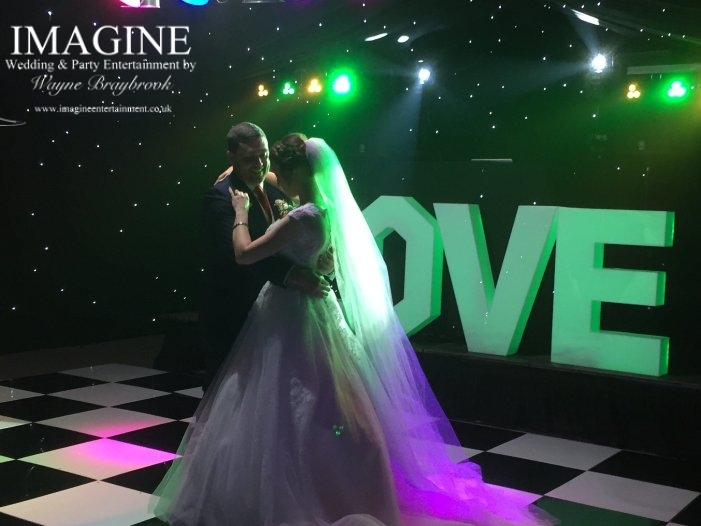 "Made our night! Everyone tore up the dance floor since Wayne played to the crowd so well. Thank you for finishing off our special day in such a fantastic way."
Becky & Geoff
Bride & Groom, Old Hall – Ely

 Wayne did the disco at my wedding in July and he was fantastic, we loved meeting with him, he was a genuinely nice guy and the online pay list we could create was cool to have.
I would recommend him for any party you may have. Thank you so much again for an awesome night.
Kate & Mark, Wedding in Ely

 Thank you so much for the entertainment on Saturday night. The music, sound and lighting were just perfect, exactly as we like it. All the comments we have received is that everyone had a great time and thought your disco etc was excellent.
Thank you once again
Margaret & Bob, Wedding anniversary in Cambridge

 Just wanted to say a HUGE thank you for your work at our wedding, everything was amazing and lots of guests have commented how good you were with regards to requests. We loved the LOVE lights, they were an excellent finishing touch.
Kerry & Brett, Wedding in Ely

 Thanks so much mate, you were absolutely brilliant and Afton was very pleased Ended up being quite a late one, we went to bed at 3am!!!!
Afton & Tom, Wedding in Cambridge

 Wayne is absolutely fantastic, super nice chap and incredible value for money! I could not recommend him enough. Nothing was too much to ask! From the crazy late texts at night, the reassuring meetings, the super user friendly online playlist tool to the organisation of a really fun question/answer game for the bride and groom that went down like an absolute charm and that people are still laughing about to date! That allowed for unforgettable pictures of our guests cracking up! Wayne even brushed up his French skills for the benefit of my own family.
Margot & Mike, Wedding in Ely

 Just wanted to thank you for such a fab disco at The Old Hall. I love a good disco and you certainly provided us with one. You played just the right mix of our requests and your own choices. I just wish you could have played for another couple of hours,it was brilliant! Thanks again Wayne
Rebecca & John, Wedding in Ely

 Thanks for keeping the party going and exposing a few of my friends secret love of the Spice Girls! Who knew?! If there are any websites you'd like me to write a 5 star review for you, please send me as many links as you want, as and when they come up and I'll be more than happy to. Thanks again Wayne!
Becky & Richard, Wedding in Hertfordshire