Debbie & Clive
Relaxed, informal and fun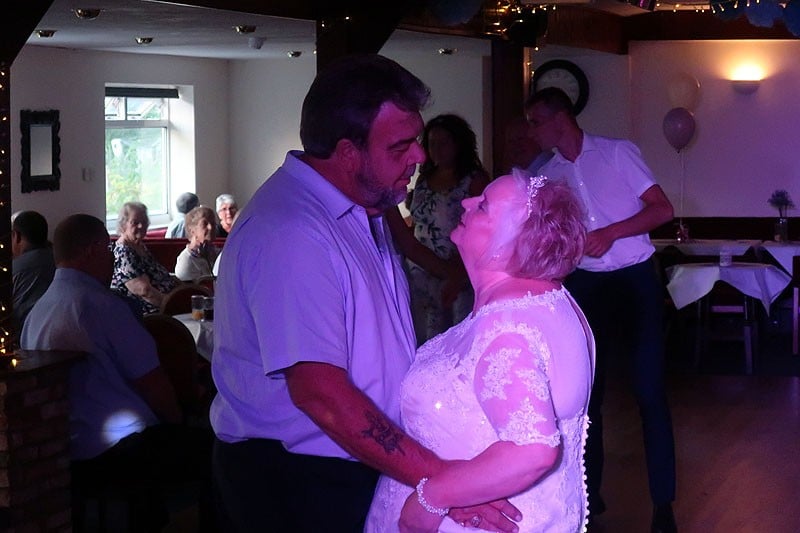 Debbie and Clive's wedding was a little different from most of the weddings I tend to entertain at, and it was a real pleasure from my side of the booth.
The venue: Haddenham Sports and Social Club, a venue I've never worked in before despite living just five minutes away, but one I hope to visit again in the future.
So…what was different?
Principally, it was a very relaxed evening. No strict or formal timelines (more on that in a moment), no set way that things were to be done, no photo booths and sweet carts, the guests were dressed casually (and with yet another hot day…I always find this to be more sensible than shirts and ties). The main emphasis for this one was to entertain the guests at the right times, at the right volumes, and without a lot of wildly flashing lighting.
In short, this was a wedding reception the way they used to be before the days of all in one wedding venues and hotels. 
The evening started with a little background music before whilst the guests arrived and settled in, eventually joined by Debbie and Clive (who were both eager to chat about what they wanted and when….although as already mentioned there was no strict timeline….things were going to happen when they happened).
Although I often work to very strict timelines, it's also nice to perform at a reception such as this where the evening takes it's own natural course of events.
Eventually, it's time for the first dance and as is customary, the guests joined them on the dance floor during the song. I'll apologise now….I don't know what the first dance song was 🙁 !  I was handed a CD with "Track 1" and "Track 2" on it which was used for the processional and recessional in the church during the wedding in the afternoon. I'm fairly certain it was a track by the Canadian band Eels….but I haven't been able to identify it (see…I said it was informal!). I'm also able to work to this type of informality when required….I like a challenge every now and then!
To be honest though…even Debbie and Clive didn't know what the song was (I'd spoken the Debbie on the telephone in the week leading up to the reception and she didn't know what the song was called!). It had been chosen by their daughter in the event and it was a song whereby the lyrics meant something to them as a couple.
This may all sound very disorganised from my side of things as a professional wedding DJ. Sometimes though I just have to go with the flow, and this particular wedding reception was one of those occasions!
First dance finished and it's time to party before the buffet is served. With the majority (not all) of the guests being of more mature years, and several grandchildren in the room, I went into a mini school disco to entertain the youngsters (all at a fairly discrete volume because the rest of the guests were still catching up and chatting as often happens during a wedding reception). At a wedding reception, I try to entertain EVERYONE that's there, regardless of their age!
Eventually, it's buffet time. The usual procedure for this when the dance floor is in the same room as the guests are seated is to play some low-key background music with the lighting set to static colours, which is what I did for this one. I've found after many years of entertaining at wedding receptions that guests really don't appreciate loud music and flashing lights whilst trying to enjoy their food.
Buffet and dessert finished, it's time to cut the cake, present flowers for the people that have helped to make the day possible (Clive took to the microphone for this part), and then it's party time proper.
It's now 10:45pm (see – I said there was no specific timeline and that events were to run their natural course!). The buffet, cake cutting and thank you's overran by a long way – that happens sometimes and I'm more than willing to accommodate that….it's YOUR day after all and I'm not going to chase you to make sure things happen to the second if you don't want your reception to run in that way!
So – to the music!
The dancing part of the evening was obviously short at an hour and 15 minutes (it was a strict midnight cutoff as is customary in this area to obey licensing laws), but it was probably the best hour and a quarter party I've ever done!
The assembled guests filled the dance floor and made me one very happy DJ 🙂
What I also find pleasant about this age group is that they don't spend the evening drinking to excess, and they'll actually ASK for songs to be played rather than show me a Spotify playlist on a mobile phone (which most DJs will admit….is very difficult to actually see!)
It was a real pleasure and a break from the current format of weddings (maybe I'm just getting old!)
I'd spoken to several of the guests during the evening to get an idea of the sorts of songs they were likely to dance to, and I already had an idea of Debbie's preferences from phone calls (mainly 60s and 70s music with The Searchers being a particular favourite), so that's what was played. In fact apart from a special request for Sandstorm right at the end and Everything I Do by Bryan Adams to celebrate a silver wedding anniversary halfway though….nothing later than 1988 was played during the evening with the majority of the music being from the 1960s.
And now a confession…..
This is the part where hiring a professional DJ comes into play that carries back up solutions should things go wrong. It may cost a little more….but believe me, it means the party carries on as you'd expect whilst things aren't going quite to plan from my side of things!
Whilst everything ran according to how it should appear from the guest's side of the dance floor, from my side of things….everything was going horribly wrong. My mixing desk refused for some reason to play nicely (resulting in bringing one of my three spares into play for the evening), the lighting software didn't want to talk to the lights (I have ways around that as well), and one of the laptops that plays the music wasn't going to party for the night (again, I have several spares with me).
The party will ALWAYS happen regardless of what's going wrong behind the scenes and neither you or your guests will know anything's wrong!
In short, although there was a certain amount of panic from my side of the booth regarding technical problems, the guests didn't notice anything awry….and although it's very rare for things to fail….I ALWAYS have backup plans in place. I couldn't turn up to a function (no matter whether it's a wedding, a birthday or anything else) without having plans B and C in place and ready to take over for when the main systems refuse to work (I have a LOT of work to do this week to repair/troubleshoot what actually went wrong).
In conclusion
Not all wedding receptions have to follow a strict timeline, have music shaking the building (I actually received a LOT of compliments as to the volume for this one), or have a wild and flashing light-show with smoke and mirrors. Sometimes, less is more and for Debbie and Clive – this was definitely the case!