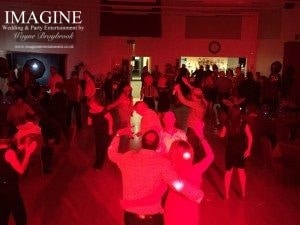 That's the second of this week's parties done, this time Darinda's 50th at The Beeches in Isleham….and a really good party it was as well.
The Beeches is a new venue for me – and I'm looking forward to going back for more. My "office" is a stage which is complete luxury compared to some of the spaces I have to set up in….it's absolutely massive with plenty of power sockets, ambient lighting which can only be seen from my side of the stage, super friendly staff….a really nice venue to work in.
As for the party – this one's been booked since last September and it's Darinda's daughter who's been my contact throughout. We had a really good chat about the party during the week as well, with a concern that she wanted to surprise mum with a birthday cake and could I help with that….
Well of course I could 🙂
With the buffet over, I made a spotlight moment of the surprise, inviting Darinda to the front of the stage and getting the guests to sing happy birthday whilst a cake full of candles was wheeled into the hall.
This in turn opened the 'floor for dancing, and boy did the guests dance!
I'd been given a 10 hour playlist, but as discussed with Darinda's daughter during the week I was free to pick and choose what was played, and also take guest requests. Not a problem at all!
The guest requests came thick and fast, most of them for songs which were already on the playlist. The end result, a very healthy dance floor for the evening and a lot of happy guests.
Music was mainly from the 80s as you'd expect with a 50th birthday, but also contained a smattering of Motown, 90s and current chart….Oh….and more than just a little bit of cheese. It was a real pleasure to work on 🙂
I'm back at The Beeches in a couple of weeks' time for Natalie and Paul's wedding reception, which will be a wedding reception with a difference in that we're using the Retro Roadshow (Paul was a DJ in the 90s when that equipment was state of the art), and I've been told to dress in shorts and t-shirt as we did back in the day (and I'm going to appreciate that….it's going to be boiling!).
Are you celebrating a milestone birthday?
Everybody loves a good party, and I can help you to make it a party to remember for all the right reasons.
In Darinda's own words this evening, the music choices I played were "spot on". To me, the fact that the birthday girl was happy with the track selections is everything. The fact that the guests enjoyed the evening as well means I've done my job exactly as I should have done, and I pride myself in being able to do that week in, week out.
So, why not get in touch and let's celebrate your milestone birthday in style!