Happy Birthday Janice
Another fantastic Retro Roadshow outing
That was fun 🙂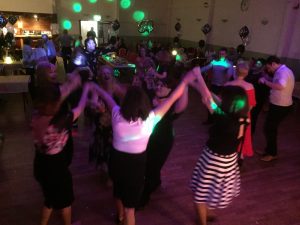 Last night saw me out with the Retro Roadshow at Ely Beet Sports and Social Club for Janice's 60th birthday bash.
What a night 🙂
The evening started with some 60s background music at fairly low volume whilst Janice's guests arrived, got drinks, settled and and finally….ate a hog roast.
Formalities done and dusted, it was time to start the party. Boy was it hot standing behind nearly 2kw of old fashioned electric bulbs in a room with 100 people in it! I was glad I took my fan with me.
Music ranged from the 60s and Motown, through to the 70s and just a little bit of 80s….nothing much later than that though. I was blessed with a busy dance floor for the entire evening which considering how warm it was in the hall, was a real treat.
Unfortunately the end of the evening came around too soon and it was time to end the party with "Never Forget" by Take That! (which is the reason they have their hands in the air in the photo).
A very happy birthday Jan – hope you enjoyed the evening as much as I did.
Check my availability or ask me a question
Let's talk about YOUR plans! Why not get in touch to see what I can do for your special day