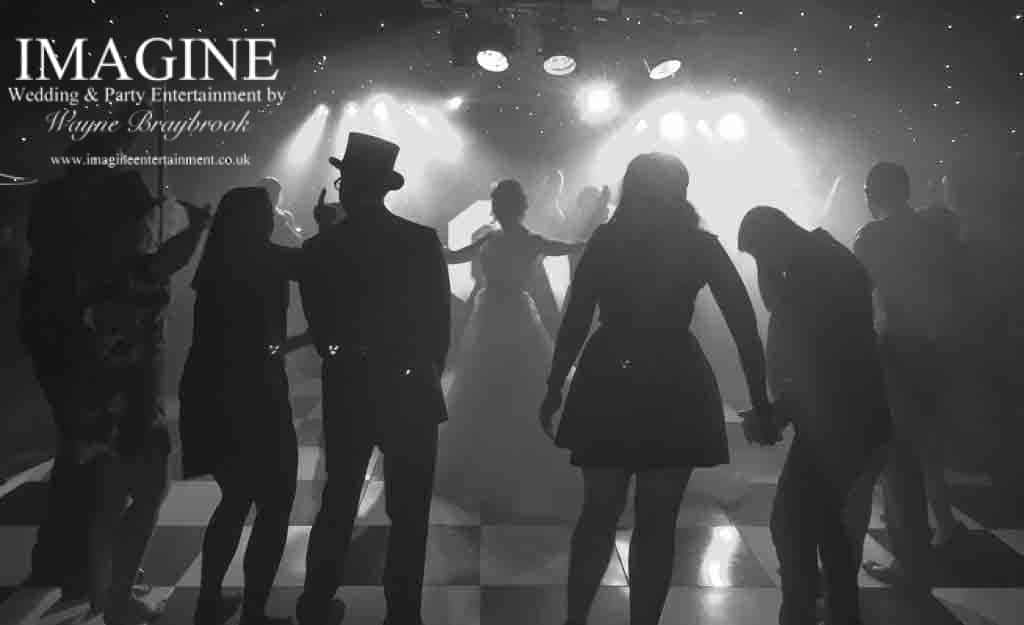 All good things must come to an end, and that unfortunately includes your wedding day.
It's been months or even years in the planning. Everything's gone exactly the way you expected it to, and the dance floor has been busy for the evening reception. Perfect!
BUT: It's coming to the end of the evening and you're looking for a big finish to your reception party…..what do you do?
There are many different ways to end a wedding reception.
Every reception is different in many ways, and the way it finishes should draw a definite conclusion to the day.
Here are some ideas for you which I've seen over the years….
An Upbeat Song
Yes, let's end the party on a high note…..it's a popular way to do it!
The days of ending an evening on a slow dance are long gone, and it's now very usual to end on a track which fills the dance floor with your remaining guests. You'll have heard the old saying "leave them wanting more"!
That's EXACTLY what this does.
Ending your wedding reception on an upbeat and dancy track that all your guests know is always a winner. They'll join you on the floor for the grand finale, and it can be complemented where your venue permits with a final explosion of confetti!
The Dummy Ending
This one depends on how the rest of the evening has gone. Remember, it's been a long day for both you and your guests so don't expect them all to still be there at the bitter end.
But, when it's been a REALLY good night and the dance floor has been packed for the duration, a dummy ending is a good way to finish.
For this, you select TWO finale songs. One which will fill the dance floor, and one for the inevitable "one more song" chant at the end of the night.
Why a dummy song?
It's a simple answer, but on the night one which many people fail to understand.
By LAW, we as DJs have to stop playing amplified music at the time specified on your venues entertainment license. It's not our choice or even that of the venue….it's laid down in black and white by the local authority and contravening this could actually mean the closure of your venue (it really IS that serious and I as a DJ absolutely MUST abide by these rules….it really isn't my choice and I'm not being miserable at the end of the night when I won't play "one more"…..I'm really not allowed to!).
By doing a dummy ending, I still have the time left for the inevitable "one more song", and I can play it within the venues licensing rules.
Everybody's happy
The Grand Exit
You've been the centre of attention all day and you're both shattered (being a bride or groom is hard work!).
Why not leave a few minutes before the end of the reception, but make a "thing" of it?
There are many ways of executing this one, but the popular choice is the "tunnel of love".
It sounds cheesy and cliche, but it's a lot of fun for both you AND your guests. They form a human archway from the dance floor to the door where you'll leave the venue, and you as newlyweds leave through the middle of it.
I've had to arrange this one on many occasions and it's always something which is remembered.
The Circle of Love
Another very popular choice.
For this option, I'd usually reprise your first dance song as the penultimate song of the night. You wouldn't believe how many of your remaining guests will join you on the dance floor for this one!
With everyone in place, I then play something memorable (usually upbeat), announcing that it's the last song of the evening.
Without further prompting and with both of you in the middle of the dance floor, your guests will naturally form a circle around you both.
The choice of song is up to you….it's your day after all. Popular choices in the past have included:
* Don't Stop Me Now by Queen
* I've Had (The Time of my Life) by Bill Medley and Jennifer Warnes
* Wonderwall or Champagne Supernova by Oasis and,
* New York New York by Frank Sinatra (not my choice but works very well….remember…your guests will be tired and alcohol will have had an effect ).
The Singalong
As already mentioned, you and your guests are going to be feeling fatigue and the effects of any alcohol by the time the last song of the night comes around.
The singalong is a brilliant way to end the evening.
I don't mean full on Karaoke (that's a service I don't provide), but more a case of your guests joining in to a song which they all know and will sing along to.
To see this happen is an awesome experience, and it's not unusual to hear guests leaving the venue still singing that particular song (and THAT means they'll remember your reception for a while to come!).
Popular choices for this dependant on who your guests are include:
* Wonderwall,
* Champagne Supernova,
* Sweet Caroline,
* New York New York,
* Greatest Day and
* Hey Jude (the last one being VERY popular at the moment for some reason).
A Conga!
I can't believe I'm suggesting this because a Conga line is often seen as something that's definitely NOT wanted by a lot of brides and grooms. But when they work, they're BRILLIANT!
This one is popular for receptions where there's an afterparty in a different part of the venue, or where transport such as buses have been arranged to collect your guests at the end of the evening.
There are of course, many unique and different ways in which to end your wedding reception – and I'd LOVE to hear yours!
Why not get in touch to discuss your wedding entertainment today?