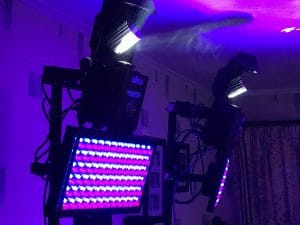 I've been spending money on lighting again 🙁
This job involves a LOT of expenditure throughout the year from secure storage, music and insurance, to advertising and various other bits and bobs….the balance sheet sometimes can be scary!
One of the biggest costs though is keeping the light show running.
At your wedding the lighting needs to be right, both in needs of the ambience created throughout the day, and indeed to please other suppliers such as your photographer and videographer (and when it comes to the lighting for the first dance…they're in charge!).
Just recently, my trusty wash-lights (they're the ones that project colour onto the dance floor) went bang, happily not during a wedding!. They no longer respond to the signals sent to them from the lighting control computer….and when you need to create the right atmosphere….that's not a good thing.
So, I spent some money and invested in something new.
Compared to the lighting I normally put up, they seem very small. We're literally talking of two rectangular picture frames full of LEDs on sticks. But the amount of light they project is absolutely amazing! (Sorry – the photo isn't brilliant and I still need to properly wire up the cable loom!)
Compared to the lighting of yesteryear…technology is brilliant. The two lights I've now installed into the setup replace eight (yes, EIGHT) individual lights. My back is going to thank me no end.
I'm actually sitting here typing this entry with the lights running through the programs needed for next Friday night's wedding…it's like staring into the fires of Hell…my retinas are burning!
It's been an expensive shopping trip (especially when you consider that I've had to fit filters to them to soften the effect at just short of £100 per light!), but in my mind it's more than worth it!
Whilst the light show may physically appear to be getting smaller and smaller….it's getting a LOT more powerful at the same time!