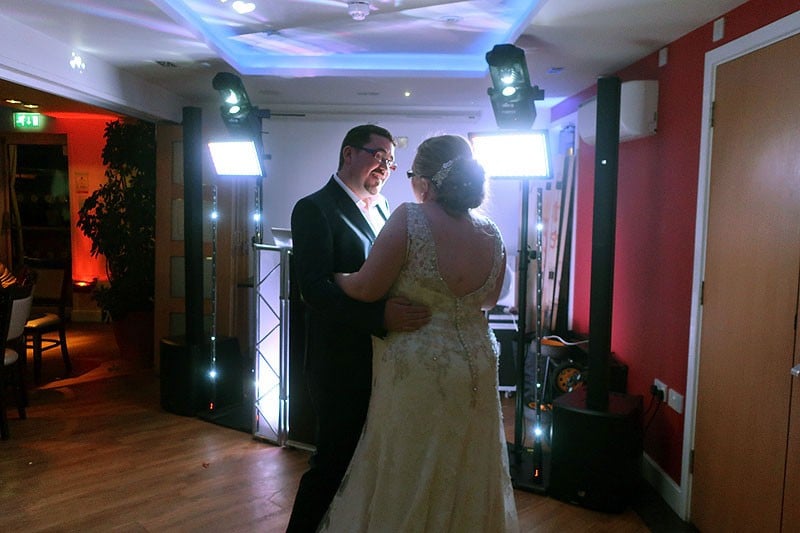 Yes…it's something a lot of DJs do (myself NOT included).
You're all set for your first dance, the photographer (as are your guests) are ready for those all important photos of your first dance as a married couple….and then the DJ turns on the lights.
An important part of our job as Wedding DJs is to create the perfect ambience for your wedding reception, and a lot of that is achieved via the lighting we use.
Technology over my 30 years of being a DJ has moved on in leaps and bounds. You'd be surprised at what those little boxes of electronics can do now. 
That said….there's a time and a place to use all of those tricks, and your first dance isn't one of them!
Without being boring, there are two ways of running the light-show.
Sound to light
DMX control
I don't for one moment expect you to be familiar with these terms, and why should you be? You've hired a professional to do the job and the professional should be able to produce what's needed shouldn't they?
Let me explain further….
Sound to light means exactly what it says on the tin (to quote a famous varnish manufacturer from the 1990s). It detects the bass beats coming from the speakers and moves the light-show on a beat. This is OK during the main party, but you really DON'T want lots of different coloured lights and lasers on your wedding dress for the first dance photos in your wedding album. Plus, your photographer won't thank you for this either!
DMX control is complicated to explain. A lot of DJs don't understand the concept either, so you're not alone! In a nutshell though, it means I'm able to control exactly what the lighting is doing at any given moment in time!
It's a long process involving many hours of sitting in front of a computer and telling the lights "what to do" (believe it or not…they all have "personalities"). It means that I'm able to create different atmospheres during the evening to match the music being played….rather than a lot of random dots on the 'floor.
So….to your first dance…
Many DJs will boast that they'll match your wedding colour theme for the first dance lighting. Your photographer (who has the most important job at this point) really WON'T thank you if your DJ is using your colour scheme of for instance, green and gold….and even less so if they're projecting laser dots onto your dress!
Your wedding dress is normally white….it reflects the colours of the lighting like you'd never believe. 
Let me show you a couple of real world examples..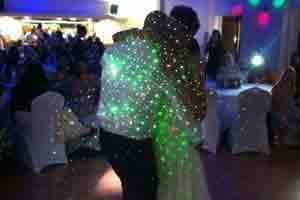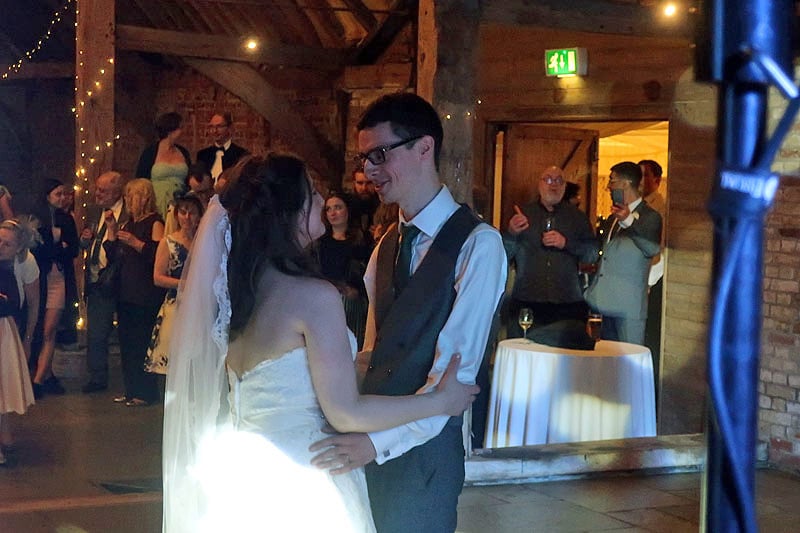 Which one of the above images would YOU rather see in your wedding album in years to come?
This is why I program my first dance lighting to keep your photographer happy.
During your first dance, ALL lights are set to a warm white colour. It seems a bit stark on the day (and it soon changes to party lighting after the photographer has his/her shots and gives me the OK to change the lighting), but believe me….the photos will look amazing as a result.
So, when thinking about which DJ to hire for YOUR wedding….what type of lighting would you like for your photos which will last long after the final song of the night has been faded out?
Check my availability or ask me a question
Let's talk about YOUR plans! Why not get in touch to see what I can do for your special day