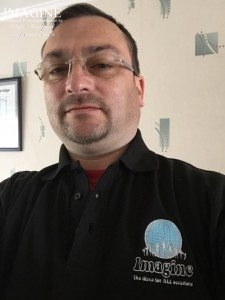 It's a strange question, and one which has actually been raised recently on one of the many DJ forums I frequent on a regular basis (with a LOT of differing opinions and answers).
What should your DJ wear on the night of your party?
Let me explain….
In days of old back when I started out as a mobile DJ, it was customary to arrive and entertain at pretty much any party, be that a wedding, a birthday or corporate event in jeans and a t-shirt. It was the de-facto uniform of the mobile DJ back in the 80s and 90s.
But back then, a disco was just the entertainment. We were booked to play music and not much thought was given to things like how the disco itself looked (which believe it or not is very important nowadays especially with weddings), or what the DJ was wearing.
Customers now are quite rightly, more discerning over things like the look of the equipment (for instance, can the speakers etc. be white to match the venue). And they expect us to look the part as entertainers as well.
The current thinking between professional DJs now is that we should try to "blend in" with the guests. But is this the right thing to do? After all, we're NOT guests…we're there to work. I know of some DJs who will attend a wedding in a three-piece suit, which believe me is not the most ideal clothing for working in.
Myself….it varies, and depends very much on what the customer for the evening has asked for. I've worked in all manners of attire and I'm happy to go with the flow (but I do insist that I must wear clothes).
For weddings I'll generally work in a shirt, tie and waistcoat….never a full suit because it's just not comfortable. Even then, the tie is likely to disappear during the evening because I hate the restrictive feeling around my neck whilst I'm working.
I've been known in the past though to be in fancy dress for weddings and on one occasion where the Retro Roadshow was used for the reception….shorts and a t-shirt (because that's what the customer told me to wear…and in the middle of a heatwave as this wedding was….I was more than grateful).
For general parties, I tend to wear black trousers and a black, logo'd shirt. It works for both myself and most of my customers. I rarely wear a tie for anything other than a wedding (as already mentioned, I don't like them).
However, I turned up for a party recently without being told it was a black tie event. Now I'm more than happy to go the whole hog with the outfit if required and to be honest felt more than a little bit out of place. Being a birthday party, I'd turned up in the black, open necked shirt. Thankfully, there's always a selection of ties in the van so I quickly ran out and put one on before too many guests arrived.
But….I was still dressed differently from the guests. Did it matter?
It wasn't anything like the rest of the guests who were very nicely turned out in cocktail dresses (OK…one of those really doesn't look good on me!), and dickie-bow ties.
The venue staff will normally be in some sort of "uniform". For most of the high-end venues I work in, this tends to be black trousers or skirt and a black polo shirt. Again, they're having to work and it's important to be able to do the job in comfort.  Whilst I'd never dream of entertaining for a wedding in a polo shirt, I also feel it's important to look smart. After all, I'm very much visible for most of the day at a wedding.
On the night of the party in question, no it definitely didn't. I was easily identifiable as the DJ and on this occasion is was a good thing….and that got me thinking….
Should I as a DJ, attempt to dress as smartly as the guests, or is it better for me to arrive looking completely different so that it's obvious that I'm not a guest and easily identifiable?
The choice as ever, is entirely yours!
I'm more than happy to match any dress code you may have so long as I'm told in advance. However, it won't affect the quality of the entertainment if I arrive in smart casual as I normally do.