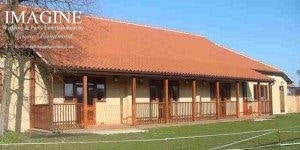 Moulton village hall is a recently built village hall in the village of Moulton, just outside the racing town of Newmarket in Suffolk.
It offers a large hall suitable for at least 100 guests, a large and well equipped kitchen area and all of the other facilities you'd expect from a modern building.
It also has a verandah accessible from within the hall overlooking the village playing fields.
There is one major downside to this particular hall in the shape of an overly sensitive sound limiter. The limiter cuts the power to my equipment when the sound levels exceed a certain level, and in the case of this venue it's set very low (to the extent that loud talking from a room full of guests can trip it). It's also virtually impossible to see the indicators from the position where the DJ sets up.
Whilst it's possible to have a party with music at this hall, please be warned that volume levels are never going to be very loud.
The contact details for Moulton village hall are:
Address: Bridge Street, Moulton, Newmarket, Suffolk, CB8 8SE
Email: Jerryjill99@hotmail.com
Telephone: 01638 551851
Website: http://moulton.onesuffolk.net/hall/