My Services
From ceremony to carriages
I have a range of services which can be tailored to suit your wedding plans, from being there for the ceremony itself to providing just the evening reception.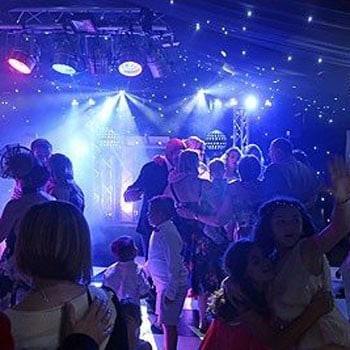 My most popular service
Most of the formalities are now over and done with…it's time to relax and party!
Now is the time for the disco lighting to take effect and for your guests to help you to celebrate the occasion with a few drinks and a party to remember.
The evening will traditionally begin with your first dance as newlyweds to open the dance floor to others to join you.
Don't panic…you don't HAVE to do a first dance. It's not something I'll insist you do and if you DO decide to do it…you don't have to do the entire song on your own!
Over the years, I've met many a nervous couple for whom the thought of wobbling around on the dance floor to 3-5 minutes of their chosen song has sent chills down their spines.
I do things a little differently for this part of the day.
First and foremost, if you're doing a first dance, it's an important moment for your photographer to capture and I'll work with them to ensure that they get the perfect shots from the lighting used to the number of people on the dance floor.
By working in this way, your photographer gets the photos they need for your album and between us we'll have a signal which will indicate to me that it's time to bring your guests onto the 'floor with you.
Top tip: Let your bridal party know that you're not necessarily gong to do the entire fist dance alone and cue them to listen for the invitation to join you with their partners…if they join you…everyone else will!
Other special dances
Rapidly joining us from the USA are a whole host of other dances such as:
Father and daughter dance
Mother and son dance
Wedding party dance
If you'd like these included – just say the word.
Once the formal dances are out of the way – it's time to party and let your hair down.
At this point, I'll play whatever music you've requested and won't play the music you've said you'd rather not hear.
I offer an online playlist management system to all couples to allow them to let me know of their musical preferences before the evening, and even to allow guests to make requests via a special web address (you of course, get the final say in what's played during the evening).
All good things must come to an end…
Unfortunately, the party must eventually end. On most occasions this will be down to venue licensing conditions which I have absolutely must adhere to.
What would you like as the last song of the evening?
I usually reprise your first dance as the penultimate song of the night to encourage you and your guests to join you in the "circle of love" on the dance floor. The last song ideally should be something which is upbeat and leaves your guests wanting more….the choice though is up to you…..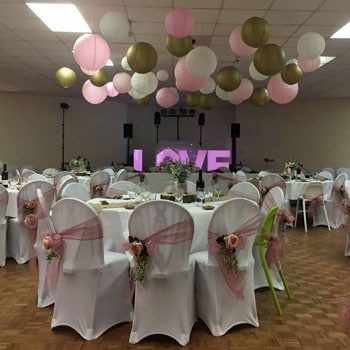 My part day service begins at the start of your wedding breakfast.
What I do
Introduce the wedding party to the reception venue including a rapturous round of applause for the newlyweds
Background music whilst you and your guests enjoy the wedding breakfast
Provide high quality wireless microphones for those all important speeches
Introduce each speaker for their speech
Liaise with other suppliers to ensure everything runs smoothly according to your timeline
Introduce and spotlight the cutting of the cake
Evening reception
For my part day service, I'll ensure that my equipment is setup and ready to perform before your guests arrive at your reception venue.
After first introducing the all important wedding party to the venue (if required), your choice of background music will then be discretely played whilst you and your guests enjoy the wedding breakfast at a volume which allows for conversation.
I'll then introduce the speeches in the order you wish (again…if you wish for me to do this), and provide high quality microphones so that all of your guests can hear what's being said.
During the wedding breakfast itself, I'll be liaising with your other suppliers to ensure that they're in the right place at the right time – I aim to remove the stress from your wedding reception.
And then, it's time to cut the cake.
This can be done at any time during the wedding breakfast (traditionally after dessert), and I'll make sure everyone is in the right place at the right time for this spotlight moment.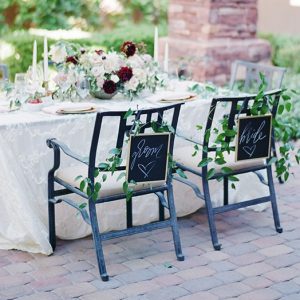 From the moment your guests arrive to see you say "I do", to the time the carriages arrive to take them home, I'll be with you to provide the soundtrack to your day.

My all day service starts with the ceremony itself.
What I do
I provide a discrete ceremony sound system to provide the music for your service
I play your choice of music for the prelude, the processional, the signing of the register, and of course, the recessional.
I obviously dress for the occasion according to any dress code you may have
Wedding breakfast services such as background music, wireless microphones for speeches and informal Master of Ceremonies
Evening reception
Why hire me for your ceremony?
Many venues now offer to play the music for your wedding service. This normally involves a member of staff pressing buttons on a CD player. I do things just a little differently…
Let's imagine your processional (the song you walk up the aisle to) has a special verse or chorus in it that you'd like to hear whilst you enter the room. I can cue the music to exactly the right point in time and ensure that the music lasts for the time it takes you to reach your partner and the registrar or celebrant.
Before you enter the room, your guests will have been listening to the prelude music of your choosing. This will be at background levels to allow them to chat and get to know each other before the main event.
However….when you make your entrance, the volumes are changed to make you and your selected music the centre of attention. It also helps to let your guests know that the ceremony is about to begin and builds the atmosphere for the most important part of the day.
You'll obviously need music for the signing of the register as this can take a long time to do officially, and then pose for photographs (both official and from your guests). I'll let you decide what music is to be played during this period of your ceremony.
And finally…you leave the room as a married couple!
Again, the music is of your choosing and I can control the start point and volume to exactly what you want to walk out to! Do you want to leave the ceremony to something upbeat, or something a little more traditional? The choice is entirely yours!
A note on music during your ceremony

As with your choice of venue, the music to be played during the wedding ceremony itself (and that's any music played within the room where your wedding will take place) is subject to strict laws.
The law says:
Any reading, music, words or performance which forms part of a ceremony of marriage celebrated on the premises must be secular in nature; for this purpose any such material used by way of introduction to, in any interval between parts of, or by way of conclusion to the ceremony shall be treated as forming part of the ceremony
In real terms that means that no music of a religious nature such as hymns may be played during a civil service.
The final say-so lays with your registrar – please ask them for guidance on what they will and will not allow on the day.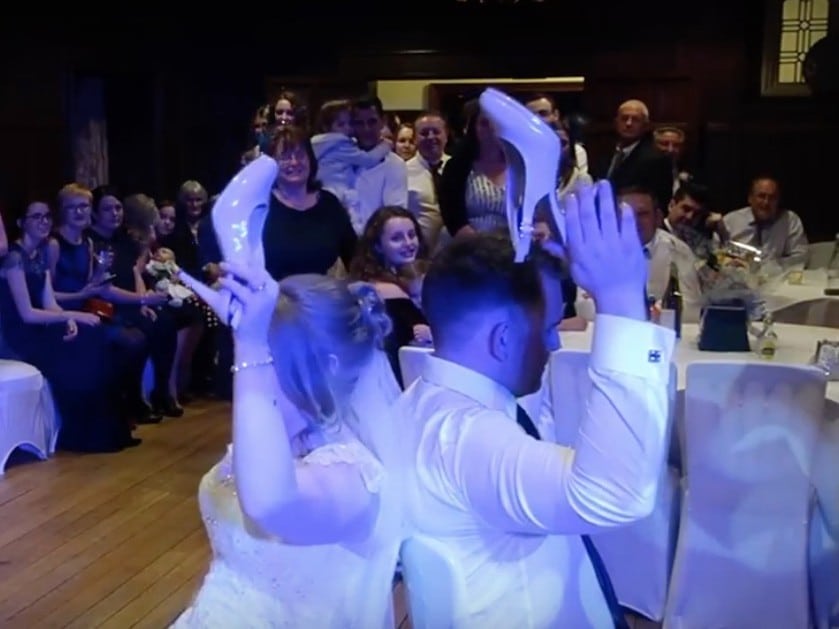 Why not add some ice-breaking fun and games to your wedding reception?
A wedding reception is a time for your guests to mingle and get to know each other as their new family members and friends. Sometimes, a little fun and games can help with breaking the ice and helping people to get to know each other.
I can offer a variety of different entertainment ideas during your afternoon reception to ease things along, and even encourage your guests to work as teams
The Shoe Game
Otherwise known as the newlyweds game or Mr & Mrs….it's not for everyone and puts you as a newly married couple in the spotlight in front of your guests.
However, the comedy value can be priceless, and as you'll see in the example video below can really pitch the families against each other for a little competitive fun.
Wedding Speech Bingo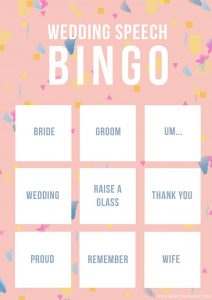 This one really IS a lot of fun, and it's simple to play.
Each guest will be given a bingo card like the example shown here (and there are several variations). The game is played as a team (so the entire table wins) and relies on certain well known phrases appearing during the speeches.
The first table to call a line or a full house wins a bottle of Prosecco…..how simple can it be?
Warning….playing this game does mean that your speeches will be interrupted by various shouts and cheers from your guests!
Pearls of Wisdom
This one tends to take place during the wedding breakfast, and relies on your guests offering you pearls of wisdom for a long and happy marriage.
Cards are placed on the tables for your guests to complete with several questions which can be answered either seriously, or more often than not after your guests have had a couple of glasses of wine…completely insanely!
Once completed, the cards are collected and assembled into an album for you to keep. BUT….it's always nice to read out some of the funnier and repeatable ones to the guests as well (usually just after the speeches). You'd be surprised at some of the answers your guests will give.
Check my availability or ask me a question
Let's talk about YOUR plans! Why not get in touch to see what I can do for your special day