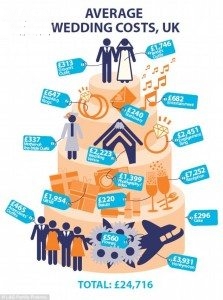 Weddings are steeped in tradition and etiquette. Some of the formalities are centuries old and date back to Roman times.
They're also expensive. Creating the magical day of your dreams (let's face it….who doesn't want a fairytale wedding?) isn't cheap.
As a side note…just in case you're considering following the advice of a couple of less than reputable bridal forums and Facebook groups…..please be honest with your suppliers and tell them that you're booking them for a wedding. It won't necessarily be anymore expensive (there really isn't such as thing as a wedding tax), but it will hep your suppliers to tailor their service to ensure your big day runs as perfectly as you're expecting it to!
According to Brides Magazine, the cost of the "average" wedding in 2016 was…..(you might like to sit down for this part)…..just a shade over £30,000!
That's a LOT of money. My first house back in 1995 cost only £33,250!
In modern times, the tradition of who pays for what is largely forgotten….it's just too much of a financial burden to place on anyone. Most of the costs nowadays are carried by the bride and groom with help from their families.
In the not too dim and distant past though…the responsibility would have been shared as follows:
The Bride
The groom's wedding ring.
The groom's present.
The Groom
Bride's engagement ring.
Bride's wedding ring.
Ceremony fees.
Organist, choir, bell ringers.
Marriage licence or registrar fee.
Bridal flowers.
Flowers for bridesmaids.
Flowers for the church.
Buttonholes.
Corsages.
Presents for the bridesmaid, usher and best man.
Transport to church for him and his best man.
Transport to reception for him and his new wife.
Bouquet for the mothers during his speech.
The honeymoon.
The Bride's parents
Invitations.
Order of service sheets.
Announcements in local press.
The cake.
Bride's dress.
Bridesmaids' dresses.
Reception venue hire.
Catering at the reception.
Entertainment and decorations at the reception.
Bride's transport to and from the wedding ceremony.
Church flowers.
Flowers at the reception.
Photographer/Videographer.
Toastmaster.
Want to know more?
Why not get in touch for an informal, no obligation chat about your wedding plans?