[et_pb_section bb_built="1″][et_pb_row][et_pb_column type="4_4″][et_pb_post_title _builder_version="3.17.6″ meta="off" featured_image="off" title_font_size="30px" /][et_pb_text _builder_version="3.17.6″]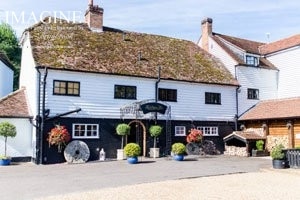 Sheene Mill is a 16th Century mill which is now used as a top quality restaurant and wedding venue….and it's one of the most gorgeous venues I work in.
Situated in Melbourn (between Cambridge and Royston), Sheene Mill sits on the banks of the River Mel, and this makes a spectacular backdrop for your wedding ceremony. When it gets dark, the gardens are tastefully illuminated in different colours to give a fairy tale effect in the shimmering water.
Inside, the building is full of the character and charm you'd expect from such an old building, including large open fires and timbered ceilings.
The food is second to none and the restaurant has won the prestigious 2 Rosettes award for several years running.
For wedding receptions, the venue is ideally suited for a small disco for the evening only portion of your day. This is mainly due to space requirements, but also because Sheene Mill are able to provide services such as background music and other services themselves.
I've had the pleasure of working here on many occasions, and it's always been a good party. There is a sound limiting device fitted in the main function room due to complaints from neighbours in the past, but this has been set up correctly and doesn't inflict on the party in any way.
[/et_pb_text][et_pb_gallery _builder_version="3.0.77″ show_title_and_caption="off" show_pagination="off" fullwidth="off" orientation="landscape" zoom_icon_color="#1e73be" hover_overlay_color="rgba(255,255,255,0.9)" background_layout="light" pagination_font_size_tablet="51″ pagination_line_height_tablet="2″ border_style="solid" posts_number="8″ gallery_ids="2525,2523,2521,2518,2508,794,288,2504″ /][et_pb_text _builder_version="3.0.77″ background_layout="light" border_style="solid"]
The contact details for Sheene Mill are as follows:
Address: 37-39 Station Road, Melbourn,Royston, Cambridgeshire SG8 6DX
Telephone: 01763 261 393
Email: reservations@sheenemill.com
Web: https://sheenemill.com
[/et_pb_text][et_pb_text admin_label="Contact form (venue)" _builder_version="3.17.6″ global_module="4104″]
Are you looking for a DJ for YOUR wedding or adult party at [page_title]?
Why not get in touch and let's have a chat about how I can help you to make YOUR party one to remember.
[/et_pb_text][/et_pb_column][/et_pb_row][/et_pb_section]