The noblest art is that of making others happy
P T Barnum
OK – I have a rare weekend "off work" so I finally got around to watching The Greatest Showman with Mrs Imagine.
It was inspiring!
Not because of the side shows that PT Barnum offered…but because of the way he marketed his business (by the way….The Greatest Showman is a VERY loose interpretation of how he actually worked!)
Let me explain…
Back at the turn of the 20th Century, there was a circus show on Lowestoft sea-front. One of the performers/owners was one Arthur Rose (my five greats Grandfather on my Mother's side of the family). He was born and bred in the area, but loved entertaining!
He went on to create something which is still in use to this very day!
Have you ever watched and marvelled at a traditional Punch and Judy Show?
You can thank Arthur for this!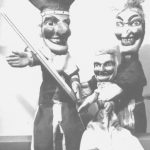 Back then (as indeed now), Punch & Judy puppets were hand carved from lumps of wood by the "professors" which performed the shows. Arthur created a unique model for the puppets known as the Roselia Model…because his stage name was Professor Roselia, which is still used to this day!
Occasionally, his booth is displayed in the Victoria & Albert Museum of Childhood Memories in Bethnal Green, London. His show and puppets were so unique at the time that he was the only "Professor" allowed to display cameos of the then King and Queen on his booth!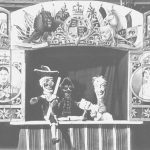 His "marketing" was nothing special. He acquired permission to display the King and Queen of the day (Edward VII and Queen Alexandra of Denmark). There was no internet and social media in those days…he relied on posters and word of mouth.
Move forward 100 or so years and things are very different!
Posters are consigned to ancient history unless you're promoting a night-club event. The internet, social media and word of mouth are king (probably more so than actually being able to do the job sadly!).
But – what hasn't changed in all those years is my passion and love of entertaining.
I can't carve or operate Punch and Judy puppets (for one reason…the "swozzle" which makes the distinctive Punch voice doesn't sit well in my mouth!)
I can however entertain in the modern way with music and lighting, and it's something I excel at!
So – entertaining is literally in my DNA, and I certainly aim to provide The Greatest Show On Earth for all of my customers!