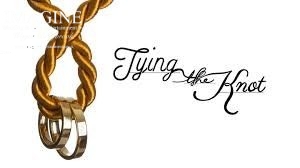 Wedding laws in the UK are complicated to say the least.
If you're a UK National, the laws are strict and rigid. If you're from elsewhere in the world, they're even stricter to prevent things like sham/arranged marriages.
Back in ancient times, weddings could happen just about anywhere so long as a priest was present. Then in 1753, the UK Parliament passed laws (also known as the Lord Hardwicke's Marriage Act) to make the act of marriage just that little bit more….well, legal (and certainly less clandestine!).
As recently as the start of the 20th century, marriage outside of a church was pretty much unheard of, and same sex unions didn't exist (well…it was a crime to be homosexual until 1967 in the UK and same sex marriages weren't permitted in law until 2013!).
At the time of writing, marriages inside a religious building are in massive decline. The days of a bride walking down the aisle of her parish church are becoming more and more rare. Instead, civil ceremonies now account for around 2/3 of marriages annually in the UK.
So what's the difference?
Although the actual act of marriage (i.e. the bit where you both say "I will") is a legal formality which is the same no matter where you tie the knot, the rest of the ceremony differs greatly.
In a religious setting, there may be all sorts of restrictions as to who can get married. For instance it's not always possible for divorcees to marry in a church. Your local priest or vicar may also insist that you attend church to hear the reading of the Banns or for a longer period of time. It's certainly not accepted for same sex couple to marry in a church (in fact it's forbidden for a vicar to even bless a same sex marriage under canonical law).
For church/chapel settings, you don't usually have to give notice to the local Registrar as this is done for you by the clergy concerned.
Civil ceremonies bypass all of the religious beliefs though, and since 1995 they don't have to happen in the bland and institutional settings of the local Registrar office.
Civil ceremonies can include readings, songs or music, but must not include anything that's religious, eg hymns or readings from the Bible.
You'll also need at least two witnesses to your marriage or civil partnership.
There are now literally thousands of venues which are licensed to perform the act of marriage, from hotels to zoos and stately homes. The main criteria for a venue to be licensed is that it must be a physical and permanent structure. For instance, trains and boats, marquees and private residences are unlikely to be able to gain a marriage license.
Whilst a civil service is the preferred way to tie the knot in current times, there are also restrictions you might need to be aware of
A building which has previously been used for religious purposes or is not open to the public cannot be considered for a civil ceremony
You must give 28 clear days notice of marriage to the local Registrar office and the notice of your intent to marry will have to be displayed in the Registrar's office for this period of time.
You can only give notice of your intention to marry if you've lived in the registration district for at least 7 days
You must get married within one year (England and Wales) of declaring your intent to marry (3 years in Scotland)
You cannot have any aspect of religion during the ceremony (including music and prayers). Any music played during the ceremony will be strictly vetted by your Registrar and it's literally on a case-by-case basis and dependent on the Registrar concerned as to what it, and isn't allowed!
The registrar's fees will vary dependent on how far they need to travel and the date and time of the ceremony (and these can run into many hundreds of pounds!). Marry in the local registry office and the fee is fixed by the Government at £48. For other venues, this can increase 10 fold!
Many venues nowadays will happily provide an "all inclusive" service and are registered with the appropriate authorities for a license for marriage services to happen. They'll also be able to advise on costs and availability of Registrars, although you'll normally have to make the final arrangements yourself.
Whilst a "traditional" church wedding is always nice, it's not the only option these days with many couples opting for something just a little bit "different".
I can help with the ceremony by the way. From providing the right music for the processional, recessional and everything in between, to providing microphones for the all important vows – it's something I've got a lot of experience in providing and I'm more than happy to help!