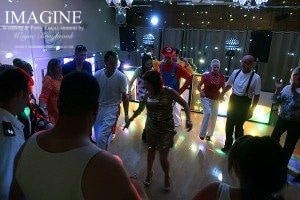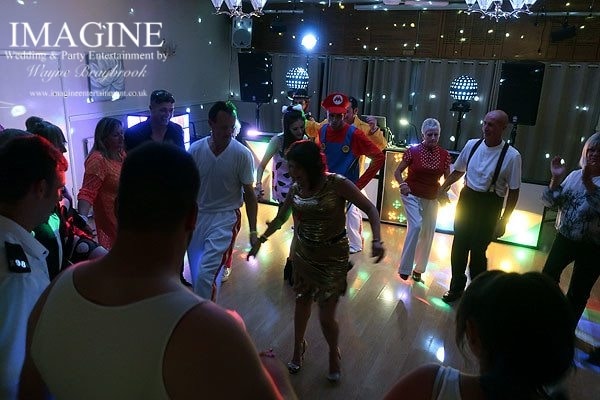 This weekend saw me just down the road in the Fenland town of March at the local Conservative Club for Tracey's 50th birthday party. It was an '80s party theme and the guests were well and truly in the mood for a party!
This one had been planned for a long time and there had been many email and telephone exchanges to discuss exactly what Tracey wanted for her big party….I was more than happy to be able to oblige – including a couple of surprises (more on those shortly).
Tracey was planning for an '80s themed party, so naturally the Retro Roadshow made yet another outing (it's becoming one of the most used setups I own at the moment!). The music obviously was to be '80s themed and Tracey provided a handful of favourites, leaving the rest of the playlist up to me.
No problem at all.
The guests excelled themselves in various '80s costumes from Rubik's cubes to pop stars of the era, even Tracey went through several costume changes during the night.
So, on to the surprises.
The first, I've already blogged about. Tracey wanted some Rubik's cube props for the room and had seen some in one of my promo photos. Unfortunately they weren't mine, so I set about making some. On the night the fixture looked brilliant – I impressed myself 🙂
The second surprise? Tracey's partner called me out of the blue in the week leading up to the party. He was planning to present her with tickets to Las Vegas and New York during the evening and asked if we could make something a bit special out of that part of the party.
Of course we can 🙂
It was turned into a proper spotlight moment, with a witty poem from Tracey's father and then the main presentation, followed off by a mashup of various songs containing the words New York and Las Vegas. It worked a treat.
Sadly midnight came around much too quickly (as with many venues in this neck of the woods there's a strict midnight cut off on the music due to neighbours with speed-dials to the local police). Tracey's party moved on to an afterparty at the local nightclub whilst I packed away and reflected on yet another awesome party that I'd been honoured to be a big part of.
Happy birthday Tracey.
Having a party?
Thinking of holding your own party?
Why not get in touch for an informal and no-obligation chat about what I can do to help to make your big night special.