Award Winning Wedding DJ in Cambridgeshire, Norfolk & Suffolk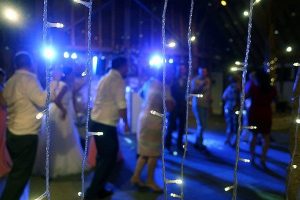 You've said the "I Do's", you've enjoyed your wedding breakfast with your guests, you've laughed your way through the Best Man's speech…
It's time to relax and party with your guests!
I specialise in offering a relaxed and informal wedding DJ service aimed at brides and grooms (and brides & brides, and grooms & grooms) who aren't looking to be constrained by the more formal timelines and traditions that weddings can impose.
Your wedding day is supposed to be a celebration after all, not a day of the rigid timelines and stuffy formalities of years gone by!
What are the meanings behind some of the traditions seen at weddings?
Don't misunderstand that though. I'll happily work with whatever timeline you may have and can even help you to create one (after all, your day needs some sort of structure). But at the same time I won't be watching the clock and fretting that your first dance is five minutes overdue! I prefer instead to allow you to relax and enjoy your day for the special and unique occasion it is.
In short, your wedding disco is supposed to be fun and relaxed!
My only aim during your evening reception is to ensure that you and your guests can unwind after a long and stressful day, have fun, and hear the music you want to dance to.
And rest assured, with the experience of providing the entertainment for hundreds of wedding couples over the years you're in safe hands when you hire me to entertain at YOUR special day!
I've also won awards for what I do, based on the opinions of previous customers, the way in which I run my business, and the quality of service and wedding disco entertainment I provide.
If that sound's like the type of DJ you're looking for for YOUR big day, why not get in touch and let's talk about your plans?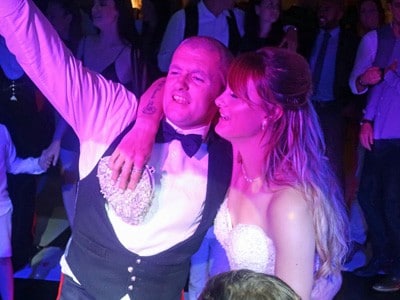 To me, each and every wedding I entertain at is important and I strive to make the entertainment at your reception as unique as your big day itself.
I work very closely with you before the big day either with an optional meeting over a coffee, or via emails, texts and private messages….however you feel comfortable in communicating, to make sure I understand exactly what you're looking for from YOUR wedding entertainment.
That may be as simple as working to a colour scheme or a theme you may have in mind. It may be that you or one of your guests has a condition which is triggered by certain types of lighting and I need to programme the lighting to accommodate that. It may simply mean there's a certain genre or era of music you'd like played (or not played) for the evening.
In fact I even set up access to my online planning portal so that you can have complete input into the entertainment for the evening should you wish.
It's one of the reasons most of my work comes from recommendations from previous customers and venues.
I use the personal approach and I'm always contactable to answer any questions you might have, no matter how big or small they may seem. If I've never worked in your chosen venue before, I'll make every effort to perform a site visit before your big day to ensure there's no surprises regarding what I can and can't do on the day itself.
I want everything to be perfect for your big day as much as you do!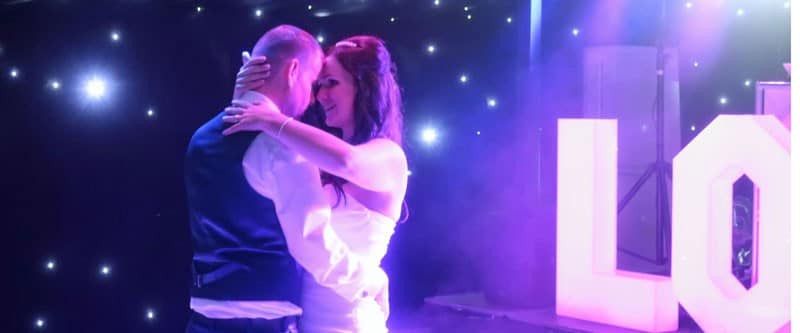 What does the disco look like?
The "look and feel" of the equipment varies from wedding to wedding. I have a LOT of equipment at my disposal and I try my best to use a sound and lighting setup which will compliment your venue, the number of guests attending and of course, the amount of space available to me.
Below are just a few examples of recent wedding setups to give you an idea of how things could look for your wedding disco.
Of course as with everything to do with my service, the different setups can be mixed and matched to suit your exact requirements and style of wedding.
A little lighthearted fun?
A great ice-breaker and a way to really get your guests laughing along with you is the Newlyweds game (also known as the "Shoe game" or the "Mr & Mrs game"). It's an activity which has come from the other side of the Atlantic and is proving a popular entertainment choice at UK weddings too.
How does it work?
I'll let you watch the video. Each and every time this game is played, it's different. The only thing that doesn't change is the amount of fun and laughter it helps to create.
Oh – and you don't have to use each others' shoes. I also provide "paddles" which you can use instead.
Recent Weddings I've had the pleasure to entertain at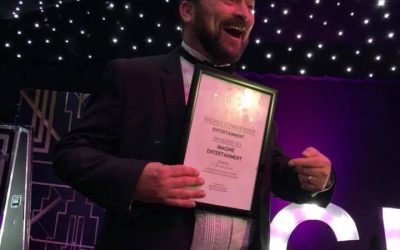 Last night I was wined and dined at the fabulous Knebworth Barns, and then presented with the award of HIGHLY COMMENDED in the entertainment category at the Four Counties Wedding Awards gala dinner.
read more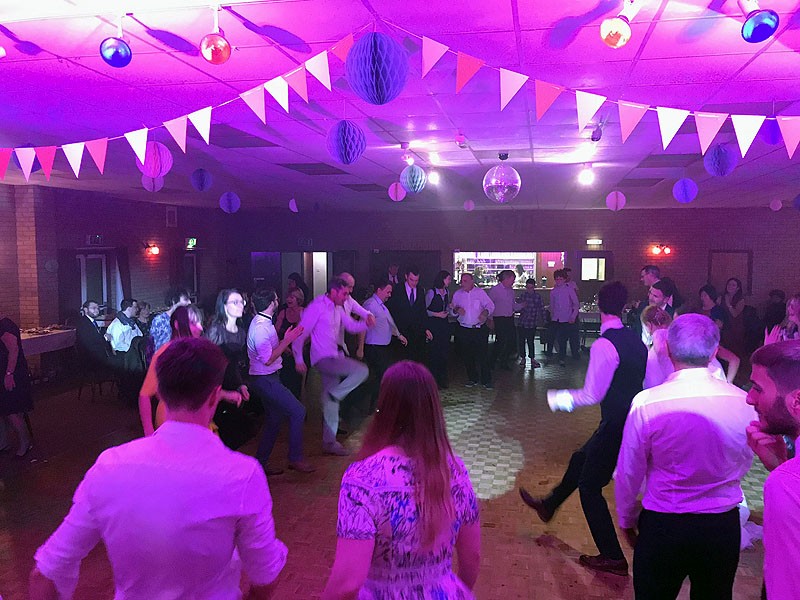 "My daughter's wedding was the best wedding I have ever been to. Wayne was absolutely fantastic and there was never a moment when the dance floor wasn't full. The bride, Amy, was never off the floor!. Fantastic job, Wayne, and I really would recommend you to anyone."
Hope Gaskin
Amy & François's wedding reception at Witchford Village Hall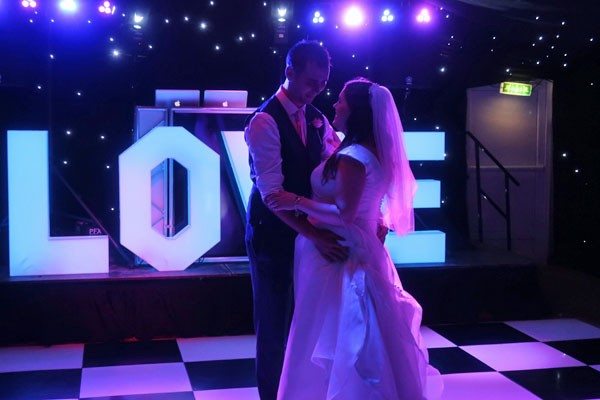 "Had an absolutely amazing day. Wayne did a great job and did everything we asked of him. He's a great guy and I would definitely recommend him."
Laura & Lee
Wedding reception at The Old Hall in Ely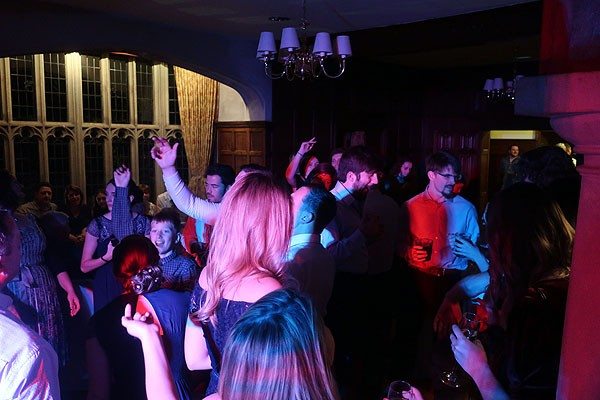 "Cannot recommend Imagine Entertainment enough! From the moment he arrived the dance floor was alive and buzzing and it stayed that way the entire night.  Everyone said that the reception was fantastic and that they had a real blast! "
Kimberley & Jason, wedding reception at Lanwades Hall in Suffolk