Hi I'm Wayne, an award winning wedding DJ.

I specialise in providing the entertainment for weddings where the emphasis is definitely on fun instead of formal.

My mission is simple - I want you and your guests to remember your wedding as the best wedding yo'u've ever been to!

Photo Credit John Woodward Photography
Wedding DJ & Party Entertainment in Cambridgeshire, Norfolk, Suffolk, Hertfordshire & Bedfordshire
It's your wedding day. It's one of the most important days of your life, and something you've probably been dreaming of for months or even years!
As you look around your reception venue after a long and emotional day, you see your guests smiling, laughing, dancing and enjoying the evening….it's the perfect end to a day that will leave you with happy memories for a long time to come!
You've chosen an experienced Wedding DJ to provide the evening's entertainment and everything is exactly the way you dreamed it would be.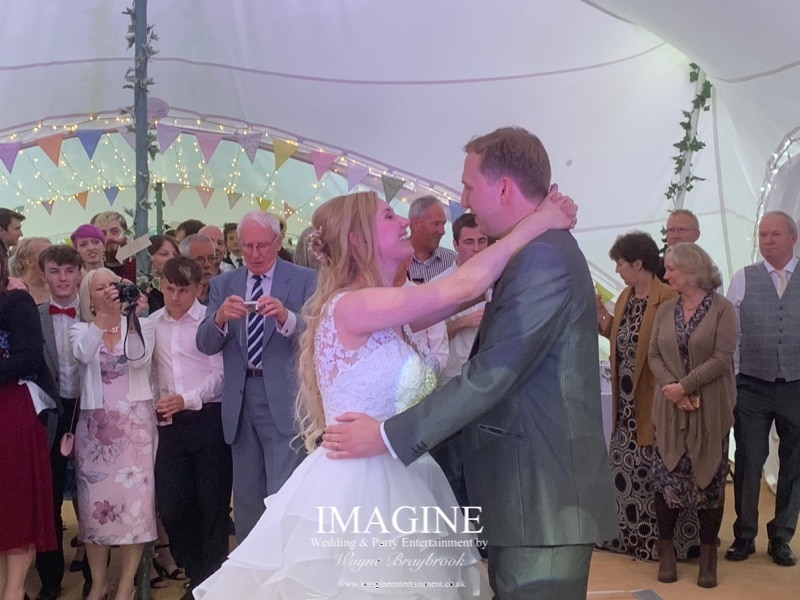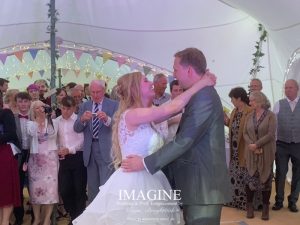 Wayne is a fantastic DJ and I highly recommend him to anyone getting married!

We've had lots of compliments on the music, but having given Wayne very little steer, we can admit it was fully down to him!

I'm so happy that we came across Imagine Entertainment and the only downside is that now the wedding is over, we will miss him!
Not all wedding DJs are the same!
I work a little differently from the others.
When you think of a DJ, you probably think of someone who turns up with a load of lights and big speakers, presses "play" on a tried and tested list of "wedding music" and goes home again.
Think again!
I work closely with all of my couples before their big day to ensure I'm going to be providing EXACTLY the type of entertainment experience they're looking for.
You can read more about what previous couples have said about my service on my kind words page.
In a nutshell though, how would you like:
A Wedding DJ that listens to your ideas and makes them happen?
A Wedding DJ that can entertain you and your guests during the afternoon as well as the evening?
A Wedding DJ with a proven track record of providing the very best possible entertainment?
A Wedding DJ that's prepared to meet with you to discuss your ideas before you even book!
Why choose me for your wedding entertainment?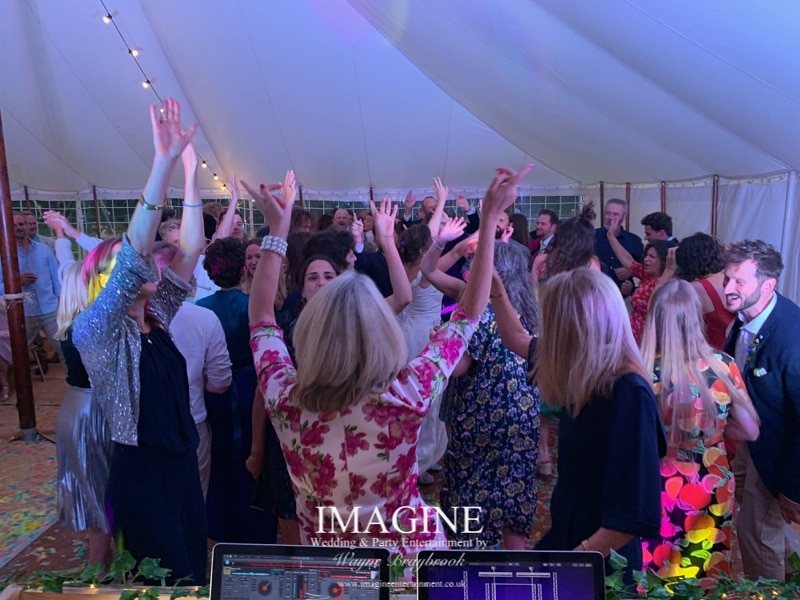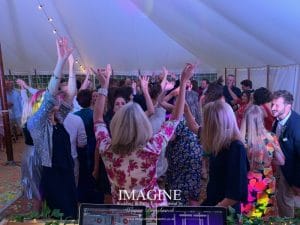 That's a great question and one you should definitely ask before deciding.
Rather than tell you why I'm the best fit – listen to couples just like you and their experience of using my services.
Below are just a handful of reviews from customers during the 2019 wedding season. All of these reviews can be found on my TrustPilot page for verification.
If this is the sort of reaction you want after YOUR wedding….get in touch and let's have a chat!
A full dance floor at your wedding?
I'll certainly do my best to achieve that! Here are a few photos from recent weddings to give you an idea of what I can do.
I offer a full range of difference services to suit the style of your wedding, from being there for the ceremony itself to the wedding breakfast or just the floor filling evening party.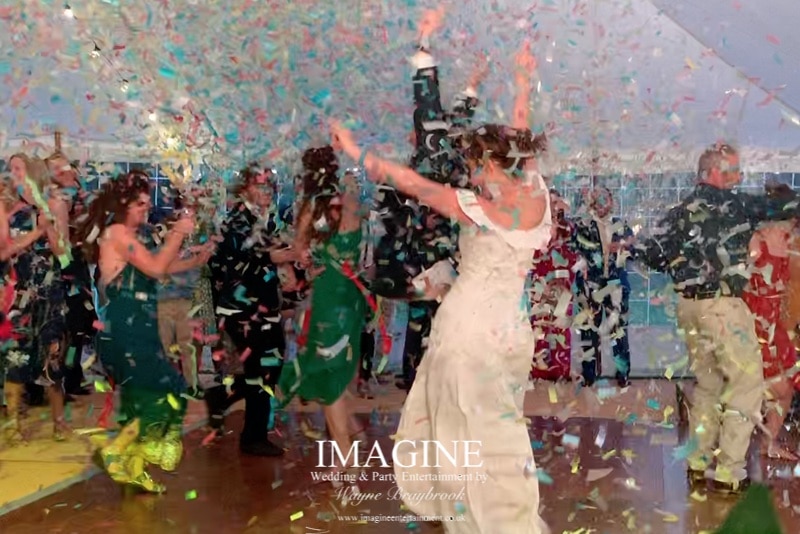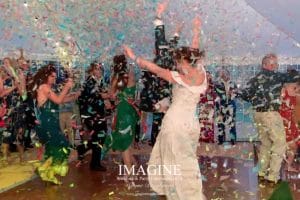 A relaxed and fun wedding in at the gorgeous Horsley Hale Farm in Cambridgeshire.
Read More »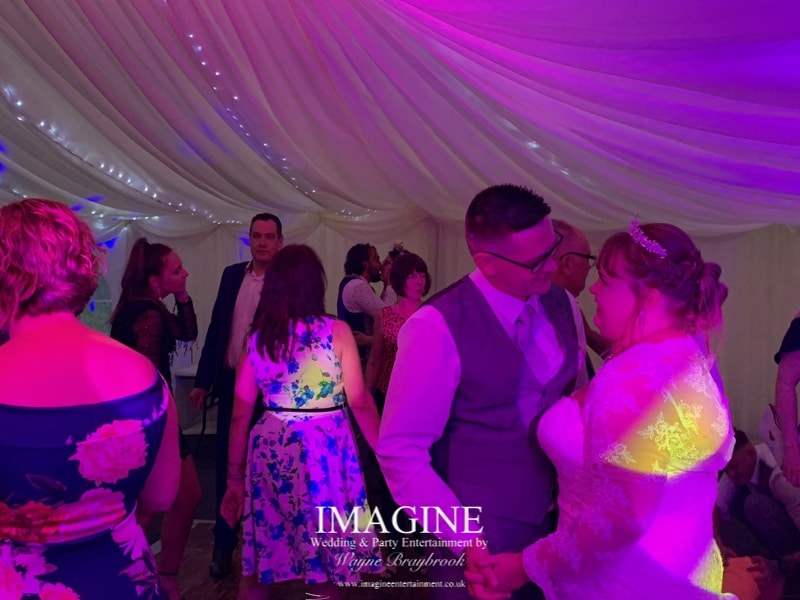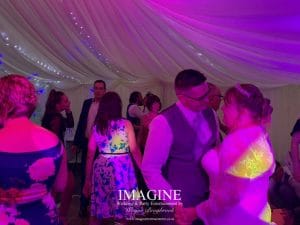 A very wet but enjoyable evening in a marquee for Nicola & Tom's evening wedding reception.
Read More »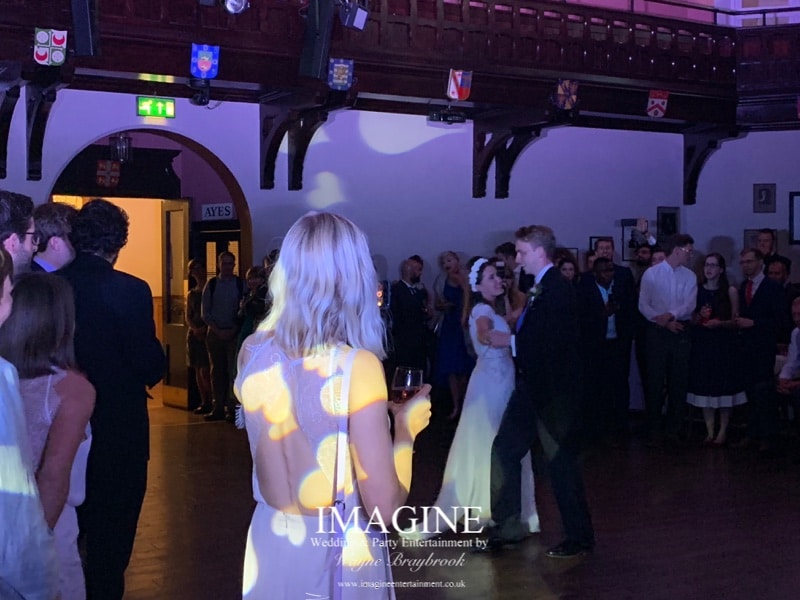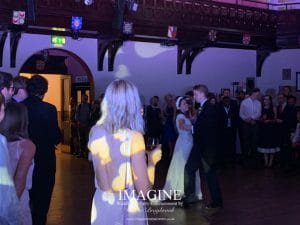 Something completely different this weekend then….and I like a challenge!
Saturday night saw me at The Cambridge Union Society in, well…Cambridge for the evening reception of Alex and Henry.
Read More »