It's your wedding day. It's one of the most important days of your life, and something you've probably been dreaming of for months or even years!
As you look around your reception venue after a long and emotional day, you see your guests smiling, laughing, dancing and enjoying the evening….it's the perfect end to a day that will leave you with happy memories for a long time to come!
You've chosen an experienced Wedding DJ to provide the evening's entertainment and everything is exactly the way you dreamed it would be.
Not just another Wedding DJ
For many couples, the words "Wedding DJ" conjure all sorts of images of wedding receptions with guests line dancing, siting on the floor to "Oops Upside Your Head" and worse!
It doesn't have to be that way!
I'm guessing that you don't want the same old cheesy action dances that a stereotypical Wedding DJ plays at every other function?
And you probably don't want masses of flashing lights causing chaos around your beautifully decorated venue either?
Or a DJ that's constantly on the microphone with unnecessary chit-chat?
Then you need ME as your Wedding DJ!
I believe in providing fun and informal wedding entertainment.
I work hard to create the right atmosphere for your party though a combination of experience and knowledge, plus the right sound and lighting equipment to suit YOUR evening at your chosen venue.
I rarely play the songs that make people cringe (although on some occasions, that's exactly what I've been asked to play….and that's not a problem!). And I'm certainly not the TV stereotype of a Wedding DJ ala "Ray Vonn" or "Smashy & Nicey"…far from it!
In fact, let a recent bride explain that in more detail
"I really wanted to avoid the cliched "cheesy wedding DJ" for our wedding and we chose absolutely the right guy. His communication from booking through to event was brilliant, his online playlist set up was really easy to use. He was happy to use our playlist, asked our permission on the night if he had any odd requests, and veto'd any "cheesy" tunes. He set up really subtly during the reception and the only time the dance floor was empty was for 20 minutes when the evening food came out. A great DJ who we'd definitely recommend booking for your event."
What I DON'T do!
Play songs such as Agadoo and Superman unless you specifically ask for them

Flood your venue and your first dance with a mass of coloured dots and laser beams

Spend the entire evening on the microphone with inane chit-chat

Play the same old playlist that's been played a thousand times before
What I DO do!
Play the music your and your guests will
want to dance to, and at a suitable volume!

Provide a sound and light show which complements your venue and your day, with no dotty laser effects on your dress!

Work with you to incorporate YOUR ideas into the entertainment

Help to create memories which will last a lifetime!


I work WITH you
Every wedding is unique, and you should quite rightly have a huge say in the styles of music played and even how the disco equipment looks on the day!
Plus, I'm a human, friendly and down to earth Wedding DJ who loves to see guests enjoying the occasion!
I also aim to provide the very best service right  from the moment you book me, from being available to chat pretty much 24/7 (OK….I have to sleep and work occasionally), to providing you with the online tools you need to help plan your day.
My mission is simple

I want YOU AND YOUR GUESTS to experience the best party you've even been to!
Still not sure?
Then have a look at what some of my recent couples have said about what I've done on THEIR special days!
Tess & Drew
October 2019
I really wanted to avoid the cliched "cheesy wedding DJ" for our wedding and we chose absolutely the right guy.
Lucy
October 2019
On the night really adapted the music to suit the crowd and get people dancing added to our great party thank you!!!
Amy & Dan
October 2019
Can't thank Wayne enough for helping to make our wedding day so special!
Tracey & Tony
September 2019
Wow wow what can I say. You're such a star. We had a ball. Everyone is raving!
Sarah & Nigel
September 2019
What a fantastic evening of dancing we had at our wedding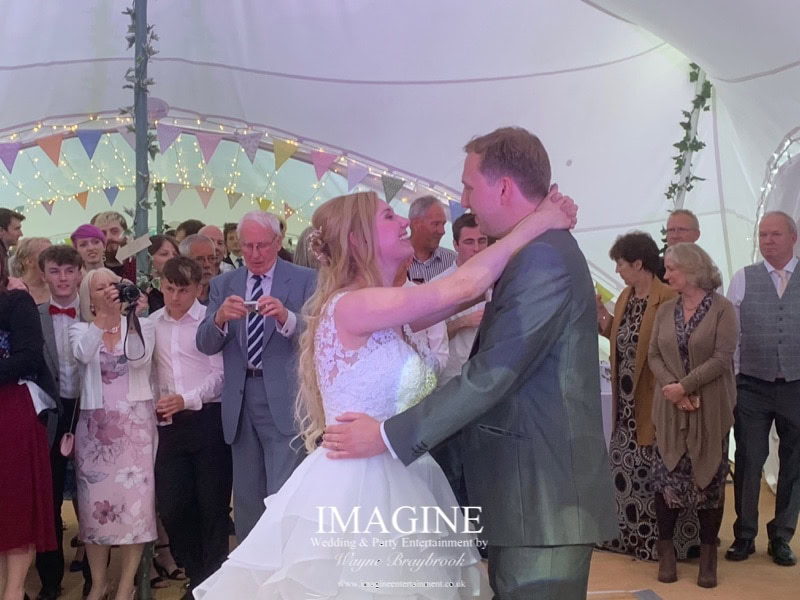 Kat & James
June 2019
One of the best decisions we made for our wedding!
Kelly & Glenn
June 2019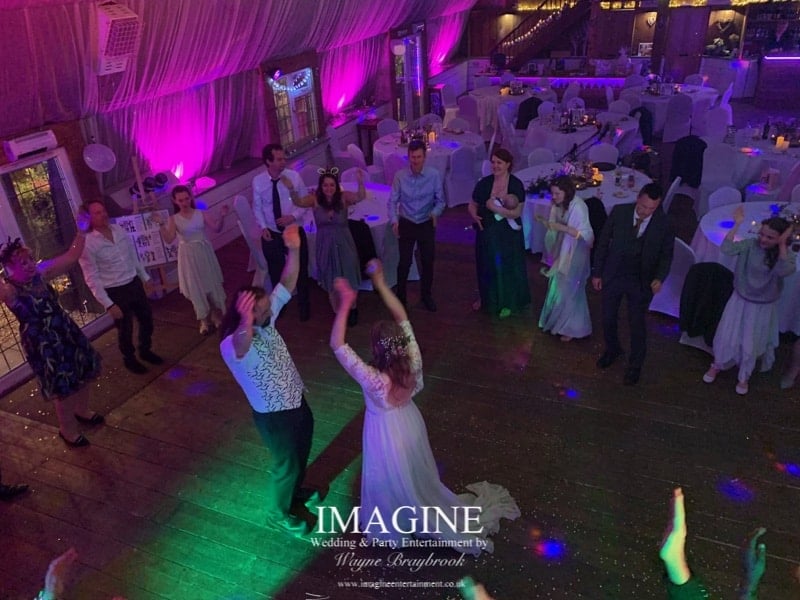 Sarah & Bryan
May 2019
Cara & Joe
April 2019
Amazing service. Couldn't ask for more!
If this is the sort of reaction you want after YOUR wedding….get in touch and let's have a chat!
I can be there to provide the soundtrack to the ceremony, the toe tapping background music for your wedding breakfast and of course, the all important floor-filling evening party!
It's only right that you know upfront what my services will cost so that you can budget accordingly.
All the gory details are here for you to see, plus details of other services which may be of interest on your big day.
See some real life examples of recent weddings I've had the pleasure of providing the entertainment for as a wedding DJ, including any unique differences and the playlist used on the day.
A lovely evening in a truly GORGEOUS venue to celebrate Tess & Drew's evening reception.
Read More »