The perfect end to your perfect day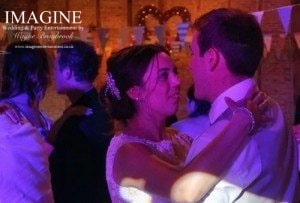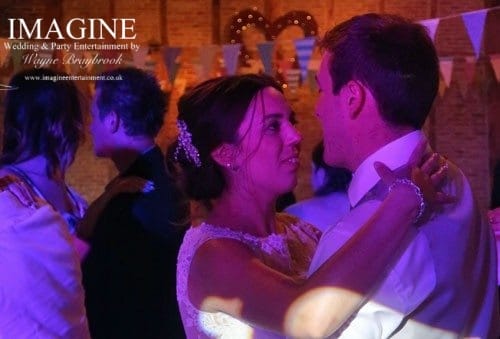 It's your big day! You've dreamed about it for years…you've planned everything down to the last detail and you expect your wedding DJ to help you to end your day in style.
You can trust me to provide your wedding entertainment safe in the knowledge that it's going to be what YOU want!
I have a proven track record of providing exactly the right entertainment at weddings and civil partnerships, and take the time to listen to what it is YOU want from the your wedding entertainment whether that's just for the evening, or the entire day.
I'm a wedding DJ that genuinely cares about how your wedding entertainment is delivered on the day!
From providing an evening party to remember for all the right reasons, to acting as an informal master of ceremonies and much more…I have the experience from working with countless wedding couples to ensure that YOUR big day goes YOUR WAY!
Need more information?
Why not give me a call on 01353 771303 to discuss how I can help to make YOUR wedding as special and unique as you?
We just wanted to send you a quick email to say thanks for being our DJ on Saturday and doing a perfect job. From the number of hangovers on Sunday, it sounded like everyone had a great time! We certainly did! Hope you enjoyed yourself too. Thanks for keeping the party going and exposing a few of my friends secret love of the Spice Girls! Who knew?! If there are any websites you'd like me to write a 5 star review for you, please send me as many links as you want, as and when they come up and I'll be more than happy to. Thanks again Wayne!
Becky & Rich Claxton
It's all about YOU!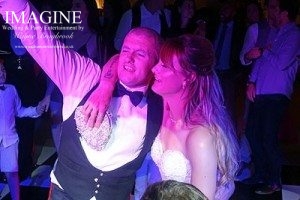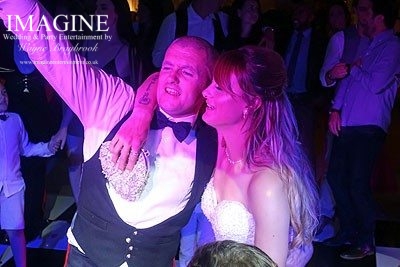 I'm not the stereotypical wedding DJ that plays the same old songs at every wedding and spends a lot of time on the microphone. I take the time to listen to what you want for your big day and aim to exceed those expectations…it's how I earned my reputation and it's not something I'm willing to lose.
I believe in offering a quality service over and above other run-of-the-mill wedding DJs.
I'm not a hobbyist that sees your wedding day as just another date on the calendar. To me, each and every wedding I entertain at is important and I strive to make the entertainment at your reception as unique as your big day itself.
I use the personal approach and I'm contactable to answer any questions you might have at most times of the day (even if it's only a short SMS reply at 1am!). If I've never worked in your chosen venue before, I'll make every effort to perform a site visit before your big day to ensure there's no surprises regarding what I can and can't do on the day itself.
I want everything to be perfect for your big day as much as you do!
In short, the success of your wedding entertainment is as important to me as it is to you. I take great pride in providing the very best service I can, and my reputation absolutely relies on that fact!
Download my wedding brochure
For more information about what I can do for your big day, why not download my handy PDF brochure to read offline?
What makes me different from any other wedding DJ?
Want to meet me before booking? Not a problem at all – in fact I prefer it that way!
After all, as your wedding DJ I'm there for around a third of your day. It's important to know I'm going to be the right match for your wedding reception.
I'll play the music that you and your guests want to hear
I certainly won't churn out a generic wedding playlist regardless of your musical tastes!
You can have as much or as little say in the playlist as you want
It's your wedding, your way! You can specify the whole playlist or just a few favourites.
I'll do my very best to make your wedding reception special
Maybe you have ideas of something different to do during the evening such as games or interactive entertainment….I'll work with you to make your dreams come true.
I'll bring back ups of the essential equipment so that your party can continue regardless of mechanical breakdowns
I wouldn't dream of something going wrong and ending the party early!
I'll dress to impress!
Whether you want me to work in formal wear, fancy dress or something else….I'll gladly work with you
I'll use lighting and effects suitable for your wedding and your venue
I have many configurations of lighting and setups available and I'll work with you to create a look that's right for your wedding.
Wayne is absolutely fantastic, super nice chap and incredible value for money! I could not recommend him enough. He did our wedding at The Old Hall and definitely went the extra mile. Nothing was too much to ask!
From the crazy late texts at night, the reassuring meetings, the super user friendly online playlist tool to the organisation of a really fun question/answer game for the bride and groom that went down like an absolute charm and that people are still laughing about to date!
That allowed for unforgettable pictures of our guests cracking up! Wayne even brushed up his French skills for the benefit of my own family. Just first class!
Margot & Mike Rowland
Ready to book?
Why not give me a call on 01353 771303 for a no-obligation chat about YOUR wedding plans?