Perfect wedding entertainment, designed for you
Check my availability or ask me a question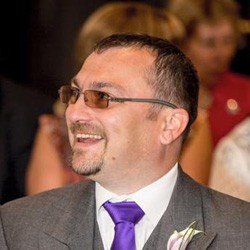 Hello! I'm Wayne, and I have possibly the best job in the world!
I entertain couples, their friends and their families during their wedding day as a Wedding DJ and host in Cambridgeshire, Norfolk & Suffolk.
More importantly though, I'd love the opportunity to entertain at YOUR wedding!
I have a unique, affordable and relaxed style when it comes to providing Wedding DJ services, whether for the entire day or just for the evening reception. I focus on ensuring that

you and your guests

are enjoying the entertainment experience as much as possible.
I know you want your wedding to be different from every other wedding you've been to, and I'd love to be a part of your day and help you to achieve that!
You'll love what I do
Here are just a few testimonials from brides with the same high standards as you.
Wayne is a quality DJ and all of our guests loved the evening with him. He was easy to work with, and the whole thing was completely hassle free. Would definitely recommend this guy!
Aimee & Josiah
Wayne was great, very friendly and professional. He was very happy to discuss any requirements or ideas we had and always had a positive outlook. He really made the evening reception work well, especially doing a half hour kids disco set with games etc.
Richard & Rachel
Excellent communication from the moment we booked. Nothing was too much trouble for Wayne, and he added to the ingredients which made our Wedding a very special and perfect day. We would highly recommend.
Tracy & Steve
Just wanted to say a HUGE thank you for your work at our wedding, everything was amazing and lots of guests have commented how good you were with regards to requests.
Kerry & Brett
Wayne, you're an absolute star! Played the perfect selection of songs, kept us on track as our master of ceremonies and lit up the venue beautifully.
Thank you so much.
Laura & Dan
Had an absolutely amazing day. Wayne did a great job and did everything we asked of him. He's a great guy and I would definitely recommend him.
Laura & Lee