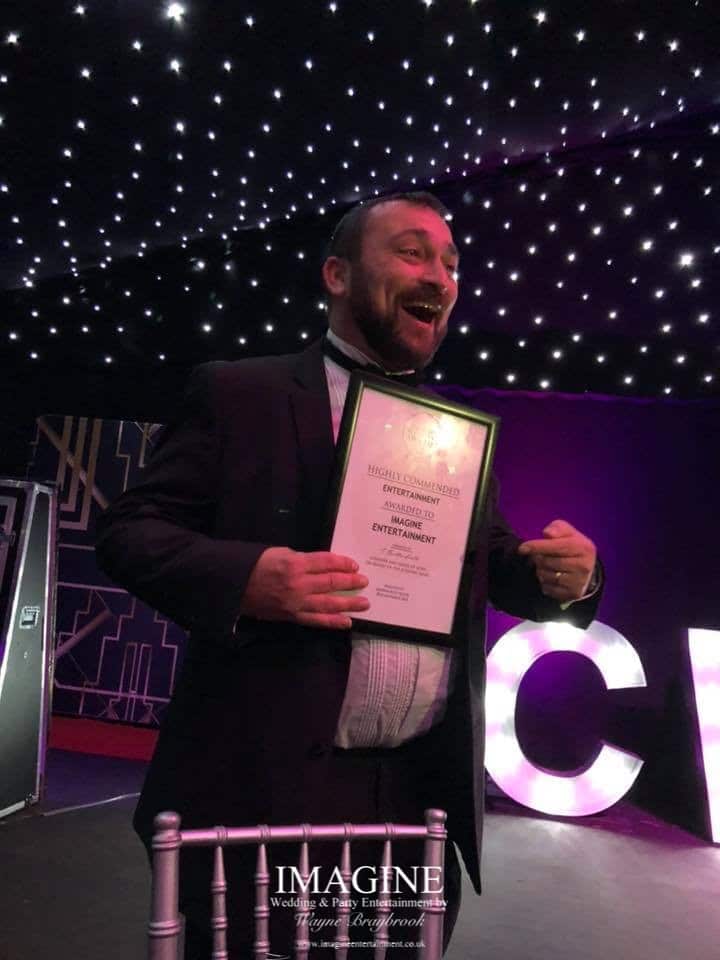 My name's Wayne and I'm a mobile DJ. There…that wasn't so bad was it?
I have the best job in the world!
I absolutely LOVE what I do for a living, and this year my previous brides and grooms underpinned what I do by voting for me in the Four Counties Wedding Awards leading to a Highly Commended award for my services. Yes, I'm chuffed to bits (as the photo taken by John Woodward shortly after receiving my award in front of hundreds of industry peers will attest!)
There really IS no better feeling than driving home at a very early hour in the morning after entertaining at a wedding or special birthday with a massive grin on my face having seen everybody enjoying the party I've helped to provide.
It really is a feeling I'll never tire of, despite the long hours, heavy lifting and miles travelled.
I have a unique and relaxed style when it comes to providing Wedding DJ  and party disco services. I strongly believe that a party should be fun instead of formal.
Having said that, I've invested literally thousands of pounds on various training and self improvement courses so that I can do the very best job I'm able to for you, including things like different ways to make important announcements, mixing techniques and lots of other things.
Whilst other DJs focus on the formalities, I focus on ensuring that you and your guests are having as much fun as possible. After all, isn't a party supposed to be a celebration?
Everything I do is done in a professional manner and is tailored to perfection for YOUR function. I've always had a "can do" attitude towards my business (after all, Imagine is a business and not a hobby…it's how I feed my family!), and I work hard to make sure each and every function I work at is unique and special from every other.
It's the reason I'm Highly Commended by the judging panel at the Four Counties Wedding Awards.
It sounds cliche, but no two parties are the same!
I've seen many changes during my career as a DJ, from the days where I used to use old fashioned light screens with vinyl records, to the ultra-modern LED fixtures and digital music I use today. The ways in which things are done at weddings have changed in that time too, from village halls then to all-inclusive dedicated wedding venues of today. I've never been afraid to embrace change (in fact I welcome it), and it's what helps me to keep on top of my game.
What hasn't changed in the 30 years that I've been a DJ and host is my passion for entertaining. Now, as back then, I work alone. When you contact me with your initial enquiry you can be assured that it'll be ME that you'll deal with right from the first call to the last dance of your wedding reception. It's the personal service which helps me to stand out from the crowd and allows me to tailor your wedding or party entertainment to exactly what you want it to be!
I care passionately about the service I'm able to provide, and go the extra mile to deliver an experience which is unparalleled.
I know you want your wedding or party to be different from every other function you've been to, and I'd love to be a part of your plans and help you to achieve that!