I pride myself in being one of the few who are able to provide a full service for all aspects of your big day!
When you think of the role of a Wedding DJ, you'd be forgiven for thinking that we only provide the music for the evening party.

I can do so much more than that if you want me to!
Your ceremony: including the music as you walk up and down the aisle,  and where necessary, completely battery powered PA systems so that every aspect of the most important part of your day can be heard by all of your guests.
Your afternoon reception: including background music of your choice, tabletop fun where required, those all important introductions, high quality wireless microphones for the speeches and much, much more!
The floor filling evening party. From your first dance as newlyweds to the last dance of the night, I'll ensure I'm playing the music you and your guests want to hear and more importantly, dance to!
Evening reception wedding packages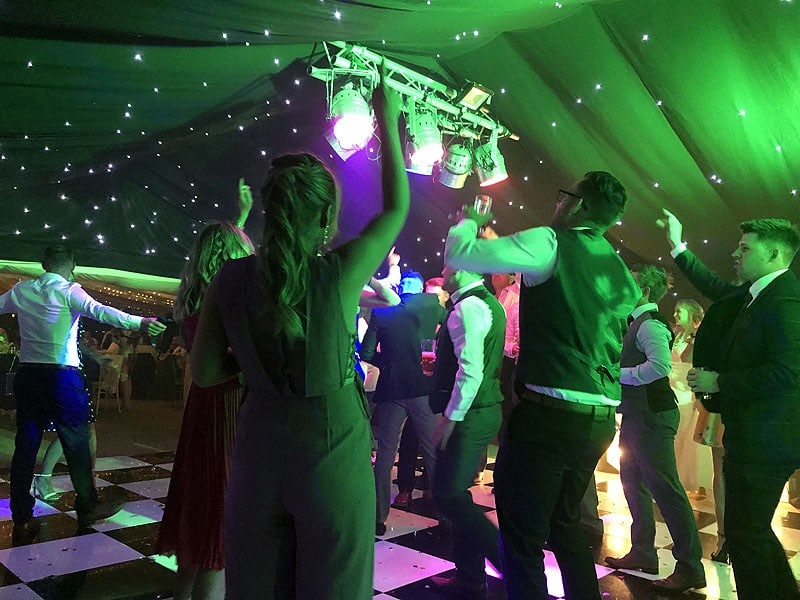 After a long and often emotional day, it's time to let your hair down and enjoy an evening of dancing to the music you and your guests want to hear!
Using state of the art professional grade equipment, I'll provide a party that's not too bright, not too dim, and not so loud that it'll pin your guests to the back wall of your venue (unless of course, that's what you want to happen!).
With my online planning tools, you're able to request your favourite tracks before the night, allow your guests access via a special web address to choose some for themselves (don't worry – you can edit those using your portal), and sometimes just as importantly tell me about music you'd rather NOT hear on the night.
I'm also more than happy to take guest requests on the night if you're happy for me to do so. After all, if they've asked for it they're more likely to be up and dancing to it from experience!
From your first dance to the last dance of the evening, your guests will remember your evening reception for a very long time to come!
Evening
Elegance
Wayne as your Award Winning DJ

Full sound and light system

Interaction and spotlight moments

Hearts or stars projected onto your dance floor for your first dance

Pre-wedding planning meeting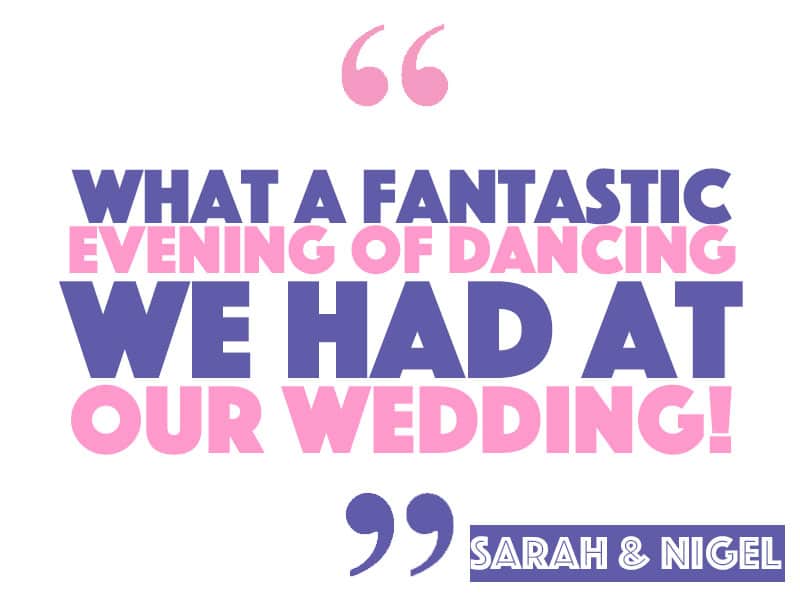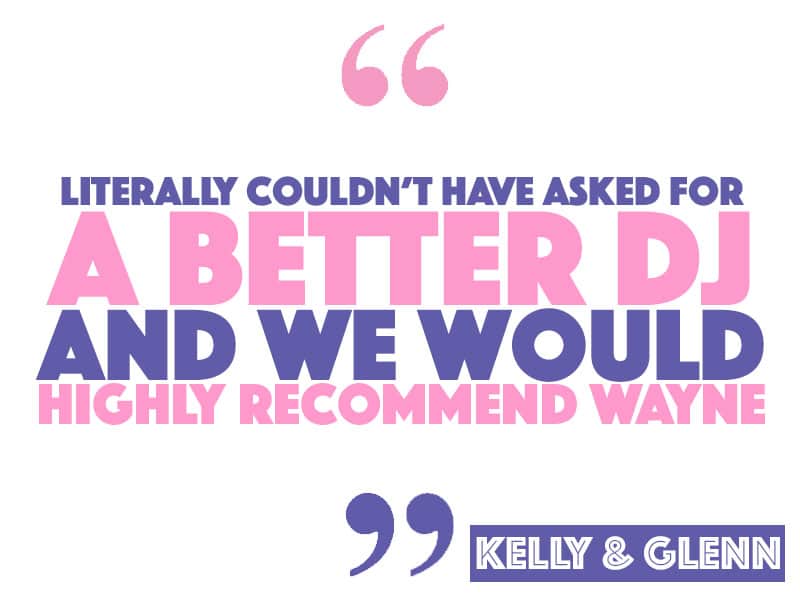 Cocktail hour / afternoon reception wedding packages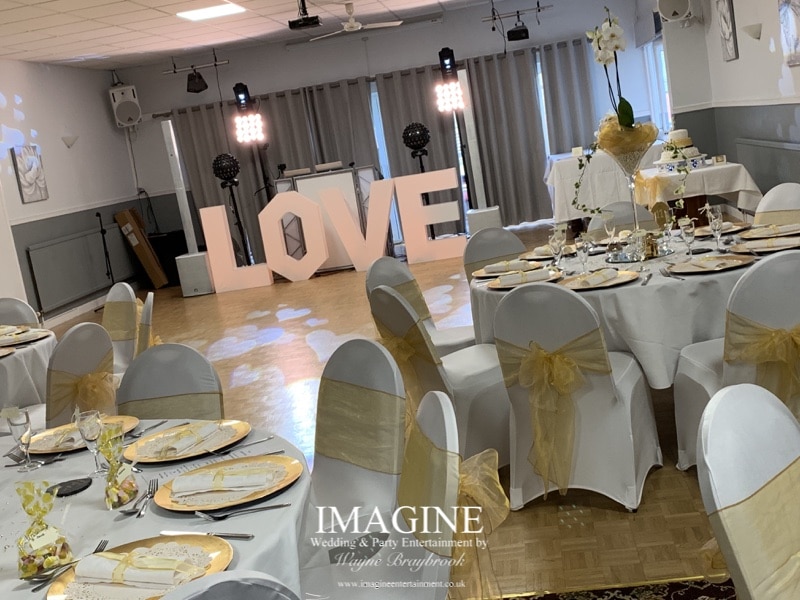 From the moment you're introduced into your reception venue as a newly married couple to cheering and clapping, your guests will know that yours is a wedding reception like no other!
Whilst I'm more than happy to play background music for the duration of the wedding breakfast, I'm also able if you wish, to make the afternoon a little more fun.
With table top fun such as "Pearls of Wisdom" and "Wedding Speech Bingo", interactive singing challenges between tables and even the "Newlyweds game" if you so wish, your guests will feel involved in the afternoon from the moment they take their seats!
And trust me, it's not done in a cheesy way. Everything I do is done in a professional and confident manner to give your afternoon a polished feel.
Dining
Elegance
Background music of your choice during the wedding breakfast

High quality sound system

Wireless microphones for the speeches

The all important announcements so that your guests know what's happening and when

Don't forget your younger guests!

. An hour of my legendary kids' party entertainment is included FREE OF CHARGE to allow your younger guests to let off steam with games, party dances and of course....snow (venue permitting!)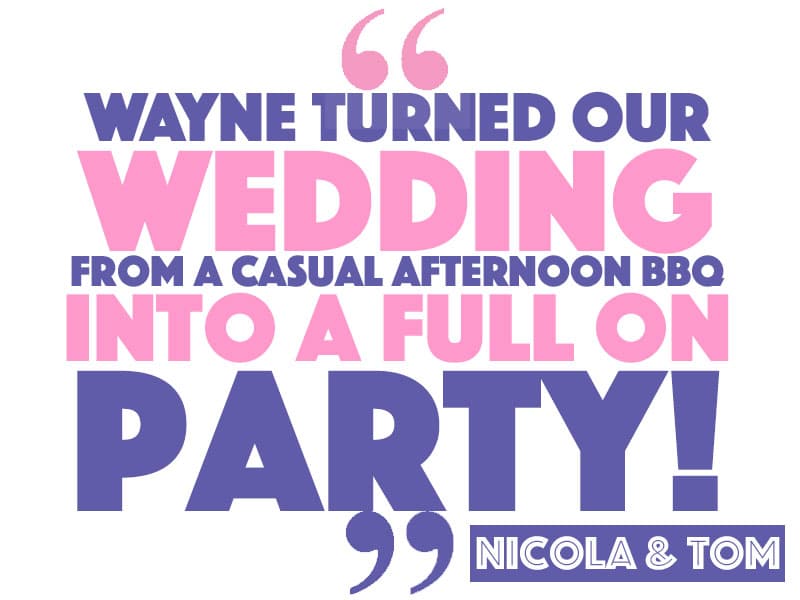 Registrar or Celebrant ceremony music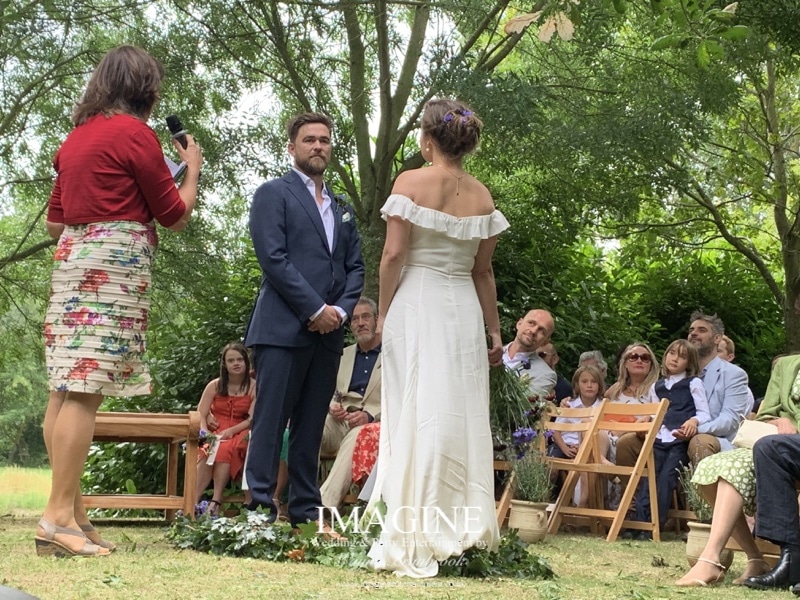 It's the most important part of the day and the reason your closest friends and family have joined you to celebrate.
I'm able to provide the soundtrack to the most special part of the day, whether the ceremony is indoors or outside.
From the prelude as your guests arrive and take their seats, to the processional, signing of the register and recessional as you leave as newlyweds, I'm able to provide the music of your choice (registrar approval permitting) to enhance your ceremony.
 And don't worry – the equipment won't be visible in those all important photographs. I work hard to keep things as discreet as possible and even work with your official photographer to make sure they're happy with where things are placed.
Ceremony
Music
Perfect for your registrar or celebrant ceremony, both indoors OR outside!

Carefully managed music for your prelude, processional, register signing and recessional

Battery operated systems available for outdoor ceremonies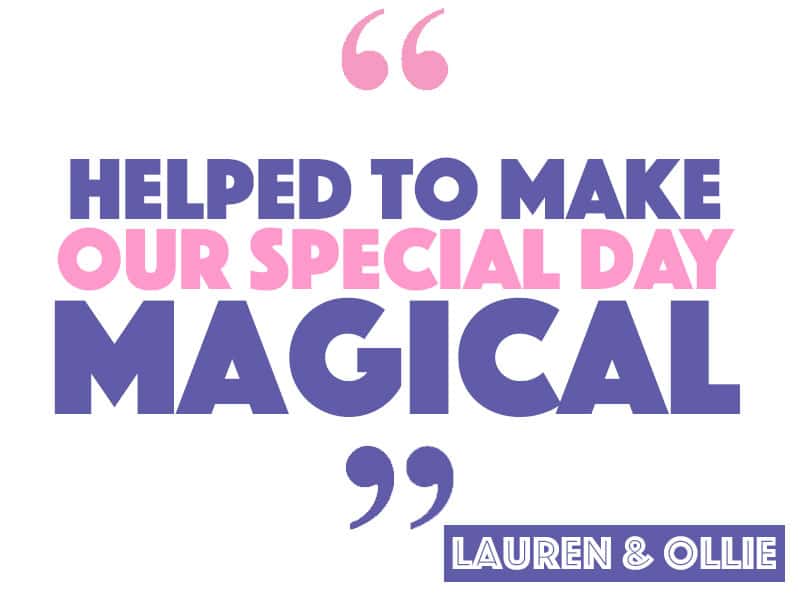 Check my availability for YOUR special day