Marquee weddings are something of a speciality to me, working as a Wedding DJ in the countryside around Cambridgeshire, Norfolk & Suffolk. Probably 75% of my weddings each year happen under canvas and the atmosphere as the sun sets is always amazing!
Whether your marquee wedding is in a back garden in the middle of the Cambridgeshire Fens, in the grounds of an hotel or stately home, or in a field in the middle of nowhere, there are some important considerations when hiring a DJ either for the entire day or just the evening part of your marquee wedding.
I've tried to set out some of them in this article. 
It's by no means an exhaustive list because each and every situation is different, but it should give you a few tips on what's likely to be needed for your special day.
Some of the tips are obvious, some not so obvious.
It's the little things which can make all the difference between an average marquee wedding party and an absolutely AMAZING marquee wedding party.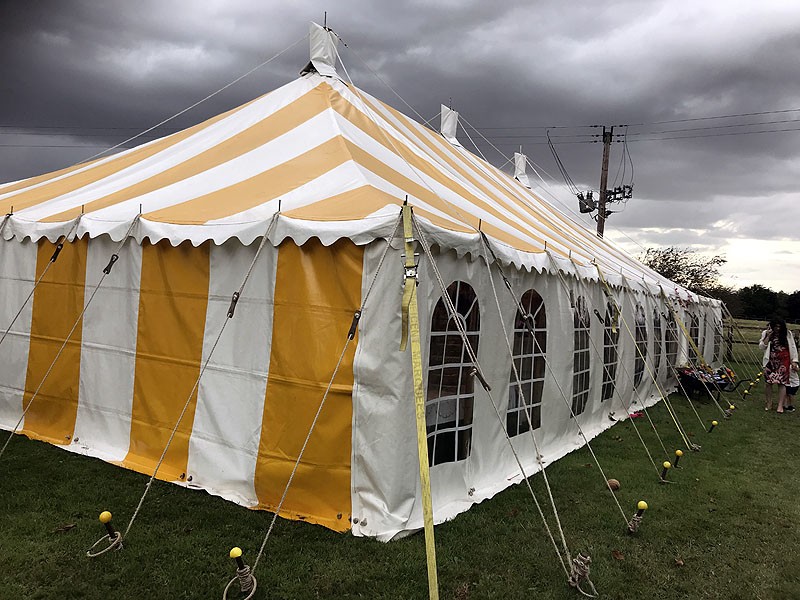 1. Where's the power coming from?

Yup, probably the most overlooked item on the list and the least understood.  But it's not just your DJ that's going to need a power supply. You'll certainly have some sort of ambient lighting during the evening so that you can see what you're doing, and you'll probably have a bar and/or caterers that will also need to plug in equipment.
Whilst a certain amount of DJ equipment these days is available on battery power, it's unlikely to last for the entire day. Add in the possibility of cold weather and the lifetime of the batteries reduces as well.
So, what to do about power?
This is going to depend largely on the location of your marquee. It's certainly possible if there's a domestic power supply nearby such as a house or hotel to run armoured cable to the marquee. You should ALWAYS have this done by somebody qualified to do so and who's aware of the power consumption required to run everything that's going to be plugged into the circuit to avoid the chances of fire and electrocution!
The most popular solution is a generator. Most professional marquee companies will be able to either provide one or recommend a supplier which will fit your needs. Again, it should be properly installed (and earthed!), and considerations made to the amount of power it's going to need to supply.
In all cases, anyone using sensitive electronic equipment will need to be on a completely separate circuit from equipment such as bar fridges and cookers to avoid damaging power spikes.
2. How do we get the equipment into the marquee?

Again, this doesn't just apply to your DJ and other suppliers such as bars and caterers will have similar requirements.
It's usual for suppliers to require access for vehicles as close as possible to your marquee to allow for the safe unloading of equipment (a lot of it very heavy and unsuitable for lugging across a field by hand).
But don't worry, we're used to unloading and moving away to somewhere more suitable! We'd never dream of leaving a van in front of your dream marquee for the duration!
3. How level is the area where the equipment is to be set up?

Most marquees are supplied with "carpet" to shield you and your guests from the grass beneath.
In most cases, this isn't a problem so long as the ground underneath is flat and level. Most DJs will have in the region of a metric tonne of equipment to set up, some of it which operates above head height and can quickly become unstable on an uneven surface!
The type of floor installed into your marquee can also limit the type of equipment which is able to be used (for example, my Retro show would never stand on a carpeted floor – it'd be too dangerous!)
If the ground your marquee is being setup on isn't level, ask your marquee supplier about a hard-standing area for your DJ. This could be something like staging, or even something as simple as pallets and plywood to keep the equipment stable.
4. Where are your guests going to dance?

A dance floor's not a requirement as such, but it could mean the difference between your guests remaining on their feet or having unfortunate accidents!
The carpet which is supplied with most marquees is unsuitable for dancing. High heels tend to get snagged in it, drinks soak into it….you get the picture.
Most marquee companies can offer at least a basic wooden dance floor (some are included in their packages) and it's highly recommended to take this option for the safety of your guests.
5. How high is your ceiling?

Marquees come in all shapes and sizes (trust me, I've worked in most of them).
A lot of marquee ceilings become very low as they meet the side walls which means that your DJ may need to be further away from the edge of the marquee than in for instance, a village hall.
Equipment touching the marquee ceiling on a wet day can cause water ingress into the marquee and onto the equipment, resulting in failure or the danger of electrocution.
Most DJs will be able to tell you the height clearance they need to set up, and you should ensure that they're able to set up at a point in the marquee where the ceiling allows this.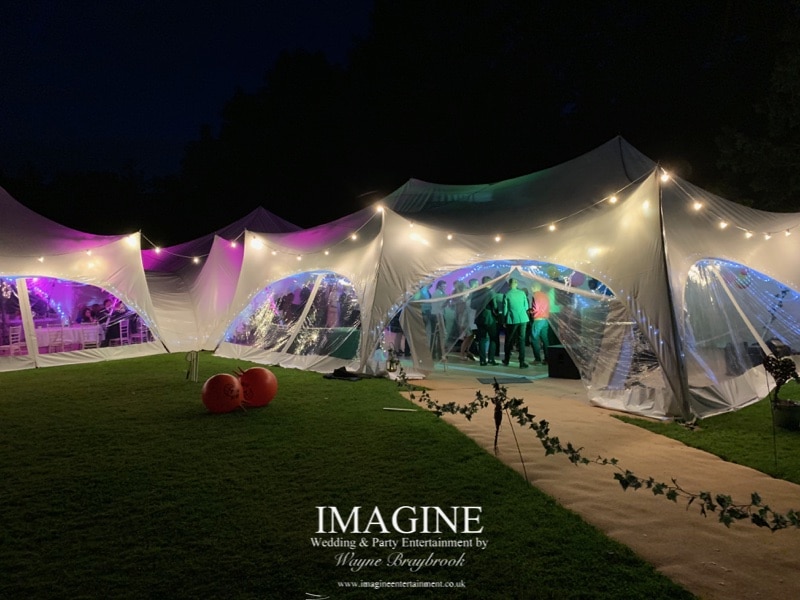 And now, as much as your DJs equipment really shouldn't be a primary consideration, a marquee wedding has slightly different rules
6. Does you DJ have a sound system which is suitable for a marquee?
 
A DJ with a couple of cheap 200 watt speakers really isn't going to cut the mustard when it comes to entertaining your guests during the evening, or indeed providing the amplification for those all important speeches and the soundtrack to your afternoon!

Whilst they may get away with it in a village hall, a marquee EATS sound! It's a completely different environment from being in a building.

Cheaper speakers tend to distort the harder they're pushed (the louder they're made to work), and trust me….it's really NOT a pleasant sound!

As a minimum, your DJ should be confident of providing a decent level of sound including bass, to at least the area of the dance floor (after all, many of your guests during the evening won't want to be deafened with a concert grade system whilst they're trying to have a chat at the bar!).

For the daytime portion of your wedding, they should also be able to provide satellite speakers so that sound can be carried around the marquee to allow guests to hear things like speeches.
7. And what about the lighting?
Different customers have very different requirements when it comes to lighting, and marquee weddings are no different.

Whether that's a discrete look, or something more along the nightclub way of doing things, the lighting needs to be up to the job of filling your dance floor at the very least.
As with sound, marquees EAT lighting when it comes to providing any sort of atmosphere on the dance floor.
Those that usually visit a village hall with a couple of  cheap e-Bay "dotty" lights are never going to light up what very quickly becomes a very dark dance floor once the sun goes down!
Ideally, you should be looking for a LOT of what's known as "wash lighting" which is powerful enough to at least allow your guests to see what they're doing on the dance floor. Other effects need to be bright enough to cope as well.
My usual configuration involves "bouncing" the wash lighting from the ceiling so as to provide enough light to see, at the same time as not blinding your guests!
8. It's all about experience!
Marquees as you'll have probably gathered, are completely different animals to work in when it comes to sound and lighting.
What works well in a brick building very rarely works well under canvas! 
Your DJ will need to know and understand how the acoustics of a marquee work (including sound travel outside the marquee which might upset neighbours!), the right amount of lighting needed to actually light your dance floor and above all, how to deal with the many different problems which can occur with equipment whilst working effectively, outside and on a temporary power supply.
I've spent many years perfecting my setups to work perfectly under canvas, and have solutions to sort all types of marquee and tipi weddings…it's what I do best!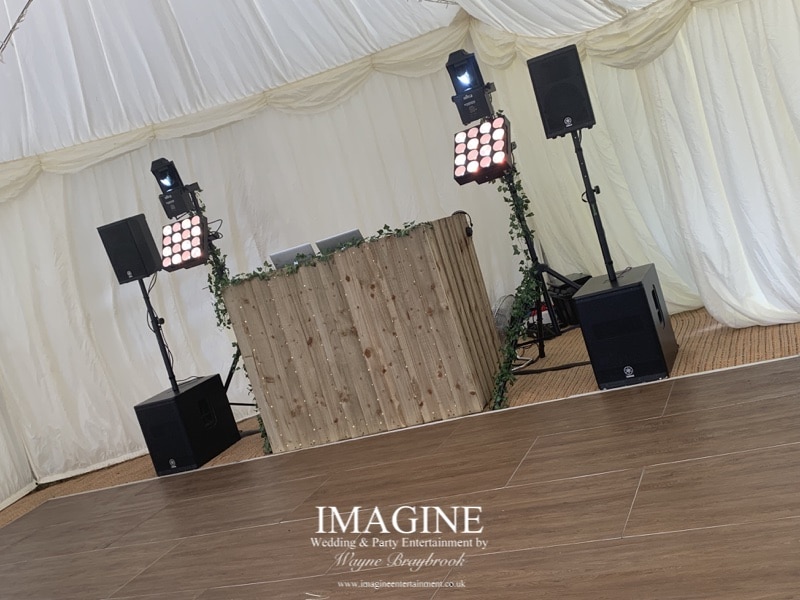 An example of one of my marquee setups is my very popular "Rustic" setup shown above.
It doesn't look much in the way of sound and lighting does it?
The sound system on this particular system will fill a marquee dance floor of up to 200 guests. As for the lights – the effect from my side of the booth looks like this (and this was a massive marquee!)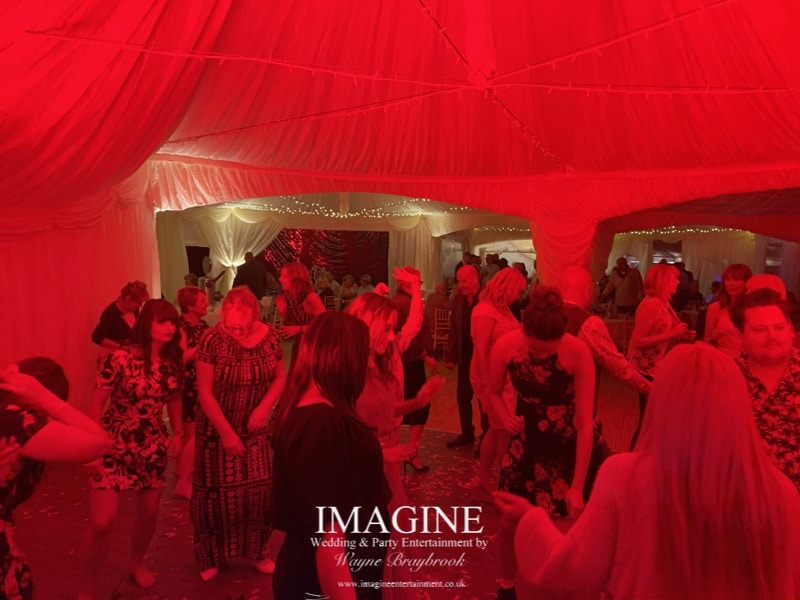 Are YOU holding your wedding in a marquee or tipi?
If so, I'd LOVE to hear from you!
Weddings under canvas are what I do best, and I absolutely LOVE doing them!
Whether you need the soundtrack for your ceremony and the entertainment for your wedding breakfast, or just a floor filling evening party, I'm more than able to help!
As well as my usual services of full playlist input, guest requests, confetti shots and everything else I do, I'm more than able to provide the equipment and expertise that's so important to take your marquee wedding from being an average wedding to an AWESOME wedding!
Check my availability for YOUR marquee wedding
Some examples of recent marquee weddings in Cambridgeshire, Norfolk & Suffolk to sign off on this post...