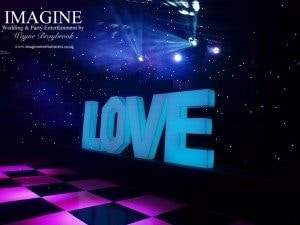 Unless you're a DJ yourself, you probably haven't even considered this question. But should you?
In all the years I've been doing this job, very few people have requested a certain look and feel to the disco equipment, instead relying on my knowledge of what works best for their occasion and their venue.
That said, I recently met with a bride and groom who complained about the lack of "rig shots" on DJ websites.
Whilst you won't see too many pictures of the setup on my website, I'm always more than happy to discuss what I can do with the look and feel of the disco should you want me to.
But….is it something you as a customer should be more concerned about?
Don't get me wrong….for most parties such as birthdays the look and feel should quite rightly be secondary to the music selections on the night, unless of course you're looking for a specific look such as the Retro Roadshow.
However – change the party to a wedding reception and the look and feel of the equipment can suddenly become a lot more important….and this is where a lot of the cheaper wedding DJs fall down.
Suppose your wedding DJ needs to be set up before your guests arrive. You've got a certain theme and colour scheme to your wedding and the DJ arrives and dumps a load of electrical kit in the middle of your venue.
Let me be the first to say, disco equipment isn't designed to look "pretty". In general, it's designed to provide flashing lights and loud music and the look of the equipment we use is normally secondary to the manufacturers over the functionality and indeed safety such as heat dissipation.
And during normal operation (i.e. in a dark room), you don't normally SEE the equipment). But in daylight conditions, it's another story entirely.
There are however things we can do to the set ups to make them look a lot more presentable on these occasions.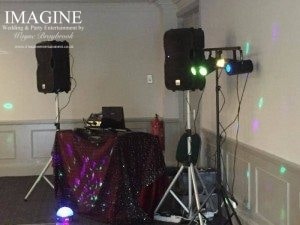 Consider the setup in the photo – it's really not pretty and yes….I took this photograph at my brother in law's wedding reception a couple of years ago.
Wires are hanging all over the place, there's a light on the floor where people can trip on it, there's an extension lead dangling in mid-air. In electrical terms, the whole setup is a fire risk.
Not only that – take a closer look at the speaker stands. The cross bars between the legs should be horizontal to the floor to provide maximum stability and to reduce the risk of toppling. The legs should also be arranged with a protruding leg to the front.
Why? To stop them falling forwards onto your guests on the dance floor (those speakers weigh around 40kg by the way….that sort of weight falling from height will cause serious injury or worse).
In short, the DJ concerned paid very little attention to the rest of the wedding venue or took any pride in how her equipment looked at an event as important as a wedding reception.
As an aside, none of the equipment in use on the night had been professionally tested for electrical safety, putting the safety of guests at risk of electric shock or even burning the venue down.
As much as I hate this particular argument – this is more often than not (as in the case of above), the result of hiring a very cheap DJ.
The first dance photos by the way were really bad, with uncontrolled dots all over the pictures. I cover the reasons for this particular effect on this post
Supposing though your wedding DJ was able to tailor the setup to match your venue and colour scheme where possible.
Perhaps by maybe using a more discrete booth, or colour matching the frontage of the equipment to your colour scheme, or creating ambient lighting effects during the wedding breakfast rather than leaving a lot of "dead" boxes suspended from scaffolding.
Just maybe your wedding DJ was able to work with you to provide a look and feel which blends with your afternoon without being imposing.
Let me give you a couple of examples with pictures to demonstrate.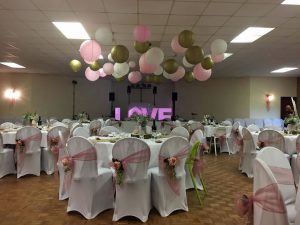 First is an example in my local village hall for a good friend's wedding reception last year.
You may just about be able to see the disco set up on the stage at the back of the picture.
Notice the LOVE letters? They're in the same colour as the sashes on the chairs (they didn't want any other lighting during the afternoon although it would have been just as easy to have wash lights projecting pink into the room if they'd wanted).
Another example is a setup I use at the Old Hall in Ely.
In this case, the dancing takes place in a separate room to the wedding breakfast. As you can see, the dance marquee is black and starlit.
Can you see the DJ booth?
It's there – between the two pink podiums (the bride's colour scheme on this occasion). There are other lights in the setup as well – but they're black and disappear into the black surroundings  – you might just be able to see them if you look hard enough.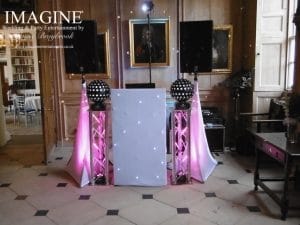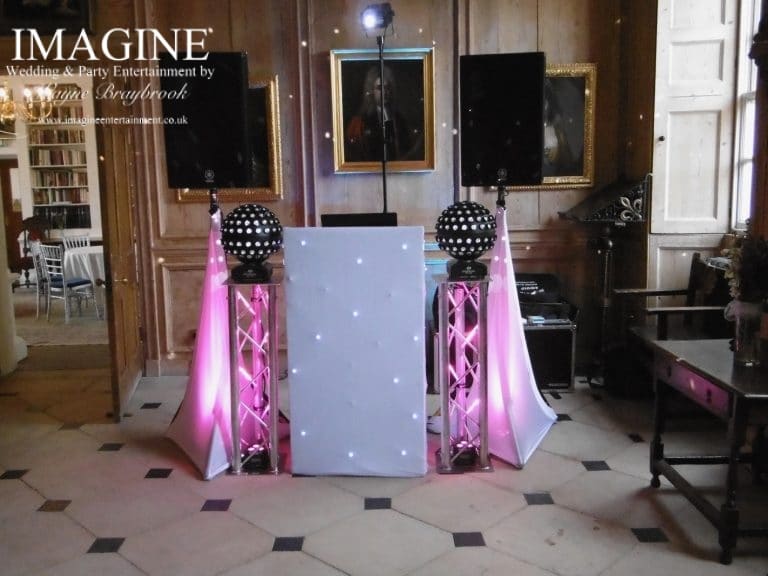 And finally – this setup was designed to fit in a smaller space in a stately home.
The bride and groom in this case didn't want a lot of big flashing lights, and this particular setup was more than big enough to provide the sound and lighting for their reception.
In the flesh, this setup was also more than adequate for the surroundings of a stately home whilst not compromising on the overall effect.
As you can probably see, I can tailer the look and feel of the disco equipment to suit pretty much any type of venue. I can certainly tailor the lighting to match any colour scheme (although black and silver are difficult as a couple of recent brides have discovered).
So, when you're looking for your wedding DJ and you need things to match your venue and colour scheme – you now have some useful advice of what to look for.
Want your wedding DJ to fit in with your wedding theme?
As you'll see above, I have multiple configurations of equipment which I can use for your wedding and I'm more than happy to work with you on how the disco looks during the daylight hours.
Why not get in touch for a no obligation chat about your wedding reception today?