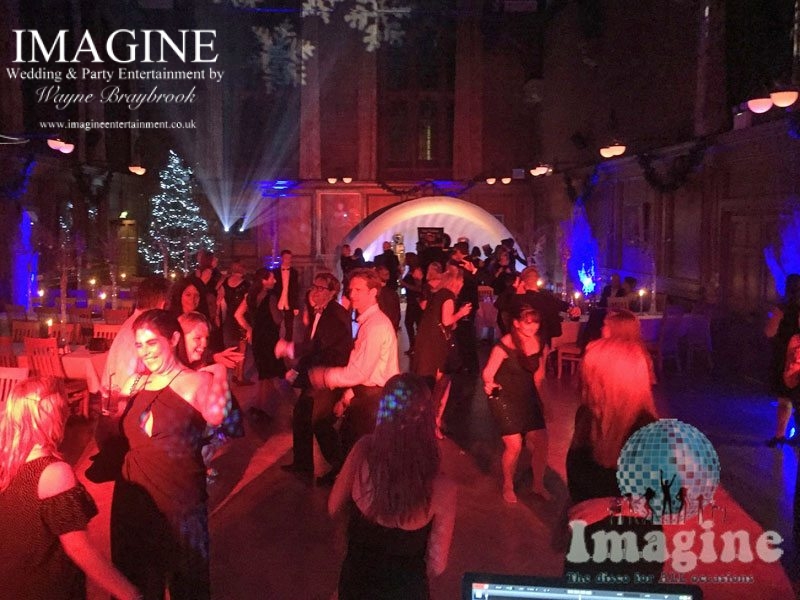 It's not all about Mariah Carey and Shakin' Stevens…..in fact if you don't want Christmas music…you really don't have to have it!
The important part about a Christmas party is that everyone enjoys themselves in the wind-down to the festive holidays.
So, what can you expect from me for your corporate Christmas party?
The easy answer is…whatever you want.
In the past, I've provided Christmas parties for hospital staff in a local pub, and groups of accountants, engineers and teachers in the Cambridge Colleges….the only limitation is your imagination!
There is no set running order for an Imagine Christmas party because every client has their own expectations, and I thrive on doing things differently for every party….it's part of what makes my job so much fun.
As a rule of thumb from the countless other Christmas parties I've entertained at though, the general running order is background music whilst you enjoy a meal, followed by a party to get you into the mood for the festive season.
I'm happy to work with you to create your perfect Christmas party no matter how big or small it might be. I can even add snow to the disco (subject to venue permission) to help to get you and your colleagues into the festive party mood.
And of course, the lighting is Christmas themed with snowflakes featuring heavily on the dance floor!
Should you wish, I can even provide a web address which your guests can visit to request music in advance of the party. I'd much rather be playing the songs they'd like to hear. After all – it makes the party just that little more personal and enjoyable if the guests are dancing to the music they've selected.
Just a few of the companies I've provided Christmas parties for in the past 
Got a theme in mind for your party? Not a problem!
Whether it's formal wear or fancy dress, I'm more than happy to dress for the occasion (I have several Christmas fancy dress outfits which are used from a complete snowman to a selection of "fashionable" Christmas jumpers).
So how much does all of this cost?
For an evening disco of up to 4 hours: £350 (additional hours available at £50 per hour or part thereof)
Early setup available at £15 per hour (for instance if the disco needs to be in-situ more than an hour before the start of the party)
Booking is simple and easy. I require a £50 deposit to secure your date and payment in full 30 days before the date of your party which can be made via debit/credit card using PayPal or via bank transfer. Of course, I'll provide an invoice/receipt for your accounts as you'd expect.
I'm also able to provide copies of my Portable Appliance Testing (PAT) records and certificate of Public Liability Insurance (PLI) for your venue on request.
What are you waiting for?
I only have limited dates for Christmas parties and they're filling up fast!
Get in touch now to reserve your date and avoid disappointment!