The second of two weddings this weekend, this time at the fabulous Sheene Mill near Royston.
I first met Jamie and Gareth in a nearby pub a couple of weeks ago (the reception had been booked for nearly a year), to discuss their plans for the day, and I'd been looking forward to this one….A LOT!
The venue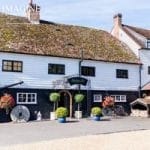 Sheene Mill is a 16th century mill house which now serves as a restaurant and wedding venue. The venue is licensed for civil ceremonies both indoors and outdoors overlooking the stunning mill pond. The venue's owners recently married here themselves!
Having worked here on several occasions, it's a lovely venue to work in from a disco perspective. It doesn't take masses of lights and sound to create the desired party effect (too much equipment would be overkill), and the staff are very, very friendly and helpful.
Last night saw me there with my new, all-white setup. It suits venues such as Sheene Mill beautifully and doesn't stick out like a sore thumb like an all-black setup can.
The only downsides are that smoke/haze isn't allowed due to the fire detection systems (but then it's not always needed at a party), and they have a sound limiter fitted. Happily, it's been set up correctly and although you're never going to have a floor-shaking amount of bass in there, the levels are more than suitable for a wedding party.
The reception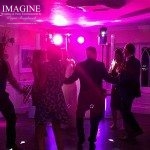 Weddings rarely run exactly to time, and Jamie and Gareth's was no exception with me arriving on site during the dessert course and patiently waiting until after the speeches were completed and the "room turnaround" was happening to actually set up. It's not a problem, and it's something I'm more than used to encountering.
I quickly said hello to both Jamie and Gareth and then worked with the venue coordinator on what was going to happen and when.
The running order was to be cake cutting, followed by a bouquet toss, followed by the first dance. There was then to be a buffet around an hour into the party, and finish at midnight (a very strict time limit as with most venues in Cambridgeshire).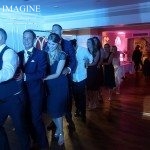 Having worked with a professional Toastmaster a couple of weeks ago, I'd picked up a few tips I wanted to try out for the cake cutting, bouquet toss and first dance introductions, so quickly spoke to Jamie to get her agreement (I never do anything you don't want me to do and am more than happy to change plans right at the last minute if that's what you want).
So, after the guests had filtered back into the room, it's time for the cake cutting. Now this on a lot of occasions is a fairly formal affair with the usual pose, knife in hand, before actually cutting. Last night, the guests were invited to take their photos before any cutting happened, and then we went into a fun countdown and loads of cheering as the cake was cut.
Onto the bouquet toss. Again, this can be something which is done very formally. Not last night. Beyonce's Single Ladies was put onto a loop whilst the ladies in the room were arranged on one side of the dance floor, and Jamie at the other side. Again, a fun countdown followed by loads of cheering and clapping as the bouquet flew across the room.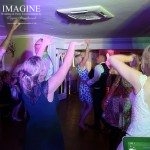 And then onto the first dance. This is always introduced fairly informally by me, usually welcoming the very new Mr & Mrs to the dance floor to a round of applause and starting the selected track. As requested by Jamie and Gareth, the guests were asked to join them at the halfway point (it can seem like a lifetime when you're the only two on the dance floor with everyone watching).
The song? I'll Follow You by Shinedown.
The music
This was the bit I'd been looking forward to. When I met with Jamie and Gareth a couple of weeks ago we obviously discussed music preferences and had quite a lot in common with each other.
The brief: lots of Motown, '70s & '80s, and '90s alternative rock, with absolutely no Rihanna, Uptown Funk, Adele or current chart music. What's not to like about that?
Everything went down a real treat, and eventually the guests themselves were steering the direction of the music for the evening with requests aplenty. This did have the effect at one point of starting to take a route into some of the party classics that many people these days avoid….and as usual they worked. Something I haven't done for a long while (and only ever do if requested and OK'd by the happy couple)….we started a conga line around the venue, to much amusement and laughing.
Eventually the evening steered itself into a rock mood with tracks from the likes of Blink 182, Green Day and Nirvana, all more than appreciated and with a lot of arms in the air.
Sadly the end of the night came around far too quickly and it's time to end with Jamie and Gareth's selected track:  Hell or High Water by William Elliott Whitmore.
So, all the best for a long and happy future together to Jamie and Gareth. I really enjoyed entertaining you and your guests last night 🙂