The Retro Roadshow is only used at around a dozen parties a year (that's my own restriction), and when it DOES go out….the results are always AWESOME!
Jackie's party was no exception to this rule, and I'd been looking forward to this one for a very long time.
The brief, to use the Retro Roadshow and play from a playlist pretty much exclusively from the 70s and 80s…..what's not to like?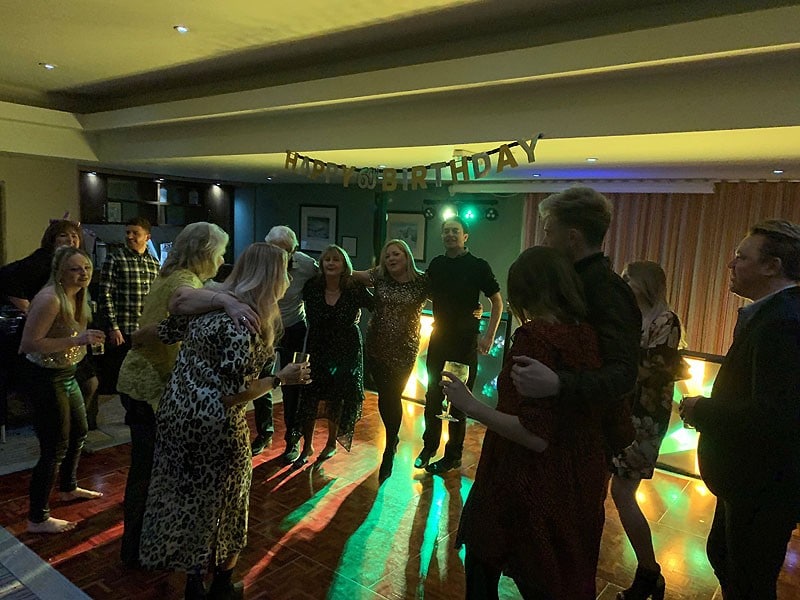 It was my first time at The Red Lion in Whittlesford and it's a lovely venue to work in. Really friendly staff, a nice function room and fairly easy access.
Everything in place nice and early, it's time to relax into background music whilst the guests arrived and settled in.
Compliments came in a-plenty about the Retro setup and how authentic it looked for the type of party….and with the amount of work that goes into maintaining that particular setup – I'm always appreciative when people notice 🙂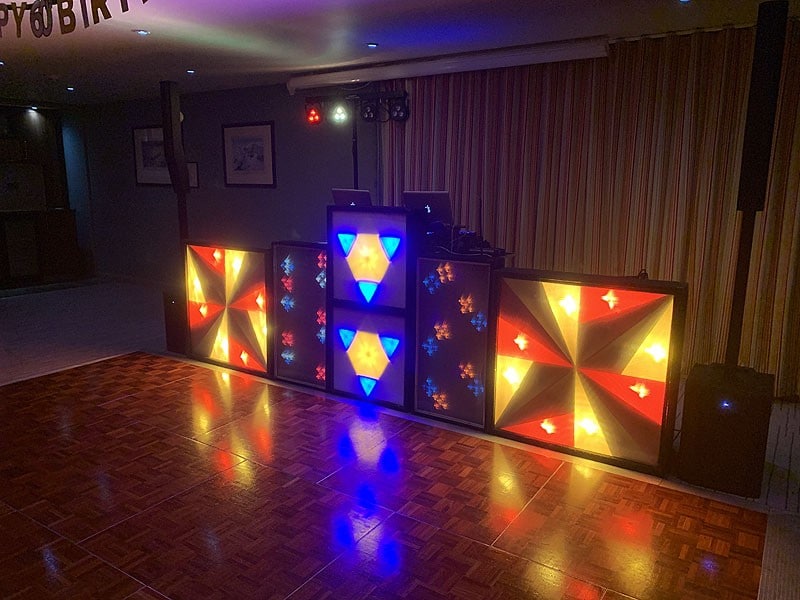 Eventually, buffet and cake cutting/happy birthday duties are over and it's time to party.
For the second time in as many parties, I was "playlisted". This means I can only play music which has been pre-selected by the client (in this case, Jackie's daughter) and can't deviate from that list.
As a rule, this tends to send a shiver down the spines of most DJs…..after all, we're being paid for our knowledge of what music works on the night and if the entire night's been specified….how do we deal with a party that flops? Add to this that guests naturally want to request music and I absolutely won't throw my customer under a train and blame the playlist requirements on them and you can see where things can become awkward…it's all part of the job in the modern day and age though.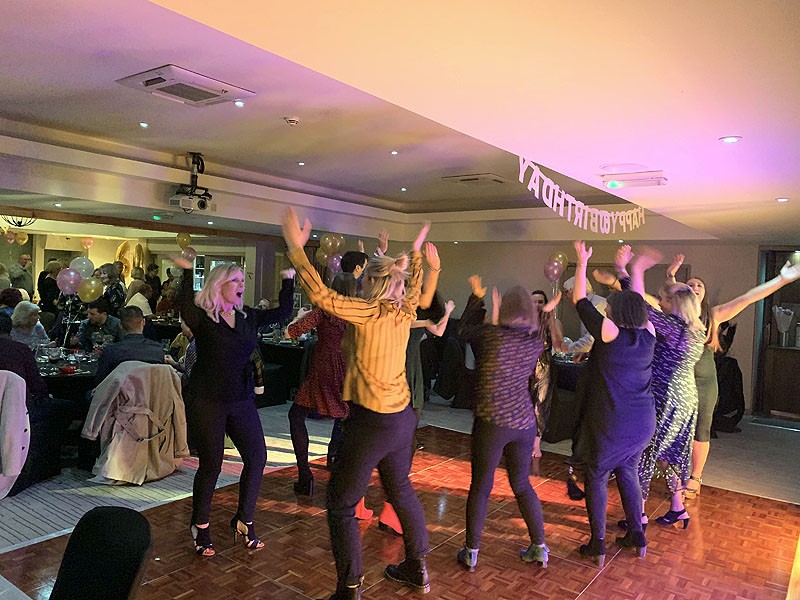 I'll happily work to a playlist (many won't for fear of it not working). The only caveat is that I absolutely won't cater for playlists where the running order has been specified….even we as DJs can't work out a playlist in the right order before the night….it just doesn't work unless you're in a nightclub.
My job for this particular party was to take the list I'd been given and play it in the right order according to what was working at the time.
Luckily as with the previous party where the playlist was specified, the music selections were spot on!
The playlist was a list of around 7 hours of music (I actually played for 3 1/2  after the buffet etc. was done), which Jackie and her daughter listen to together regularly. It was mostly 70s and 80s music, with just a few from either side of those eras for good measure. I had plenty of options to choose from.
The dance floor didn't empty all night – and I like it when that happens 🙂
Is it down to luck? Definitely not!
Even when I'm restricted as to what I can play, there's an art form to getting the tracks in the right order and building the right mood according to how guests are responding, and to keeping the dance floor full of happy feet (Jackie herself was limping by the end of the evening from too much dancing!). It's what we as professional DJs do week in, week out.
So….some pictures then
I didn't actually grab many pictures of this one due to being very busy on the decks, but here's a few that I did manage to capture.
As already mentioned, the playlist for this particular party was 100% specified before the night so none of the tracks below are of my choosing (although to be fair, a lot of them would have been played had I been in charge of the selection).
Wham – Wake me up before you go go
Culture Club – Karma Chameleon
The Human League – Don`t you Want Me
Rick Astley – Never Gonna Give You Up
Whitney Houston – I Wanna Dance With Somebody (Who Loves Me)
Dexys Midnight Runners – Come On Eileen
Frankie Valli & The Four Seasons – December 63 (Oh What A Night)
Bee Gees – Stayin' Alive (2007 Remastered)
Tavares – More Than A Woman
Odyssey – Use It Up Wear It Out
Earth Wind and Fire – September
Village People – YMCA
Whigfield – Saturday Night
Los Del Rio – Macarena (Bayside Boys Remix)
Wham – I'm Your Man
Olivia Newton John – Summer Nights
Abba – Dancing Queen
The Gap Band – Oops Upside Your Head
Phil Collins – You Can't Hurry Love
Billy Joel – Uptown Girl
Cyndi Lauper – Girls Just Wanna Have Fun
Madonna – Holiday
M People – One Night in Heaven
Black Box – Ride On Time
M People – Moving on Up
The Proclaimers – I'm Gonna Be (500 Miles)
Queen – Don't Stop me Now
Queen – Bohemian Rhapsody
Justin Timberlake – Can't Stop The Feeling
Mark Ronson feat. Bruno Mars – Uptown Funk (Radio Edit)
Robin Thicke Feat. Pharrell – Blurred Lines (No Rap Version)
Clean Bandit feat Jess Glynne – Rather Be
Ed Sheeran – Galway Girl
Clean Bandit Feat. Sean Paul & Anne-Marie – Rockabye
Clean Bandit – Solo
Calvin Harris – One Kiss
Olly Murs – Wrapped Up
Michael Jackson – Black or White
Wham – Club tropicana
Billy Ocean – Caribbean Queen
Erasure – A Little Respect
KC And The Sunshine Band – Get Down Tonight
The Jacksons – Blame It On The Boogie
Michael Jackson – Billie Jean
The Monkees – Daydream Believer
Journey – Don't Stop Believin'