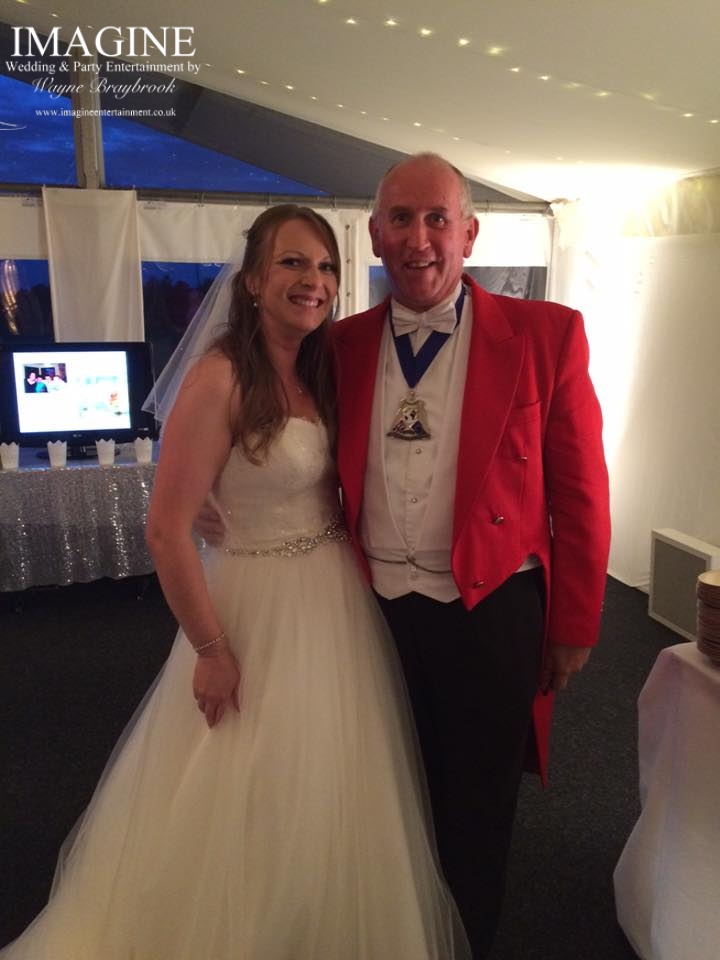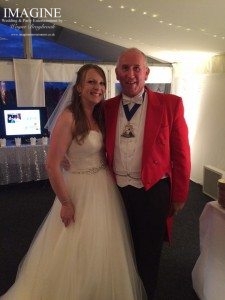 It's probably something you've not even considered….the use of a professional Toastmaster to officiate during your wedding breakfast.
What is a toastmaster?
Quite simply, he (or she) are your eyes and ears for the day, and they work hard to ensure everything goes the way you want it to! And a toastmaster is very easy to spot on account of the formal red tails of their uniform.
Generally speaking, the toastmaster is the only person who will interrupt you with questions and suggestions during your wedding reception.
They will then take your preferences and answers to the suppliers concerned rather than all of your suppliers asking questions of you during your day,
A toastmaster undergoes a LOT of training to earn their wings and to be able to boast that they're a member of the Guild of Toastmasters. It's not an easy job by any means. Apart from the all important announcements, they're at your disposal to ensure that everyone knows what they're doing and when, including your suppliers.
In short, the toastmaster runs your day on your behalf, saving you a lot of stress and worry.
Whilst you're getting married, your toastmaster will be at your reception venue making sure everything is in place and ready for you and your guests to arrive. He/she will also be liaising with other suppliers to ensure they know what's happening and when.
As your guests arrive at your venue, your toastmaster will be there to direct them to the correct meeting place for the drinks reception. They'll then assist photographers with arranging who's in which photo, answer any questions guests might have….they really are the "Go To" person on the day rather than bombarding you as the happy couple with millions of questions.
And as already mentioned, they're very easy to spot on account of the red tails they wear. Your guests will warm to your toastmaster as the font of all knowledge for your big day!
When it's time to enter your reception venue, they'll ensure that everyone is seated in the correct place according to any plan you might have.
And then comes the real magic of the toastmaster's job….the announcement of the arrival of the wedding party. This can be conducted very formally, or with just a little bit of glitz and glamour…your toastmaster will work with you to ensure your introduction to the reception venue is done exactly the way you want it to be!
Formal introductions complete, your toastmaster will then leave you and your guests in peace to enjoy a sumptuous feast. That said, they'll always be on hand to answer any questions, direct guests to the "facilities" if needed, and to ensure your day is running the way you want it to.
And that's only a small part of the toastmaster's job!
It's time for the speeches! Your toastmaster will introduce the speakers in the order of your choosing, and usually with a witty rapport to ensure your guests are paying attention, and reward the speaker in question with rapturous applause where required.
During all of this, your toastmaster's only concern is that your day is running to your expectations. If you indicate that something needs to be done differently, they'll liaise with the suppliers concerned to make sure it's done….it's as simple as that!
What you don't see are the background conversations between the toastmaster and other suppliers on how to make your day even more special. Ideas are exchanged between suppliers which suit the occasion and are put into place by your toastmaster.
A recent example of working with a toastmaster…
I provided the entertainment just a couple of weeks ago for Helena and Duncan's wedding reception, over which Toastmaster Ronnie Booth was presiding.
I have to say that although I've worked with many MC's and toastmasters in the past, Ronnie stands out as a true professional with his relaxed yet professional manner of working.
Ronnie was at the venue as I arrived, and quickly introduced himself. As a fellow supplier, it's always nice to know of any last minute changes to the day's events and he was quick to fill me in on those.
As the day progressed, he was my eyes and ears as a supplier as to what the bride and groom wanted from the entertainment side of things (and also the photographers, videographer, Photo Booth supplier and evening buffet supplier). He coordinated everything!
When it came to spotlight moments such as the tossing of the bouquet, the cutting of the cake, and the introduction to the first dance, we worked together and indeed worked brilliantly to ensure the bride and groom could remember their big day for all the right reasons.
Although I've spotlit Ronnie on this occasion, I've worked with a lot of members of the Guild of Toastmasters in the past, and they only have one concern on the day….that you as newlyweds are having the time of your lives!
To conclude…
In a nutshell, your toastmaster is the missing link between you, your guests and your suppliers. They work tirelessly to ensure that your big day goes exactly the way you've always dreamed it would and are worth their weight in gold when it comes to the organisation of you wedding reception.
If you haven't considered hiring one, it's worth a second look.