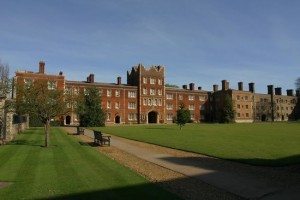 Jesus College in Cambridge boasts a history dating back over 400 years when it was founded as a training college for Priests by the then Bishop of Ely.
Until the late 19th Century it was one of the smallest and poorest of the University Colleges – it's now one of the biggest.
As well as educational facilities, the College is also able to host private and corporate functions, and weddings.
One such space for these functions is the Brewery room, which as the name suggests houses the College's very own brewery. Suitable for functions of up-to 130 guests, there is also an upstairs area and terrace where you can take in the views across the college sports fields. As it's name would suggest, the room obviously has it's own well stocked bar.
From a DJ perspective, access to the Brewery Room is a bit of a nightmare, with the equipment having to be manually carried across the rugby pitch and then downstairs into the room itself. The setup area lends itself to a small but modern setup and despite the tiled walls, the acoustics are surprisingly good.
If you're holding a function at Jesus College in Cambridge and need an experienced DJ, why not get in touch for a no obligation chat about your requirements.
The contact details for Jesus College Cambridge are:
Jesus College
Cambridge
CB5 8BL
Are you looking for a DJ for YOUR wedding or adult party at Jesus College?
Why not get in touch and let's have a chat about how I can help you to make YOUR party one to remember.