So, you're in the throes of planning your big day. Like around 80% of couples, you're probably looking to hire a DJ for your evening reception so that you can let your hair down to your favourite tunes with your friends and family.
Did you realise some of us are able to entertain for your entire wedding day though?
Admittedly, there are DJs out there who won't even consider the idea of being there for the entire duration. After all, it's a very long day (around 16-18 hours believe it or not!)
And those of us who do offer such a service often provide a lot more than just music. We also tend to specialise in providing the soundtrack to your special day rather than just turning up for the evening reception.
Let me explain…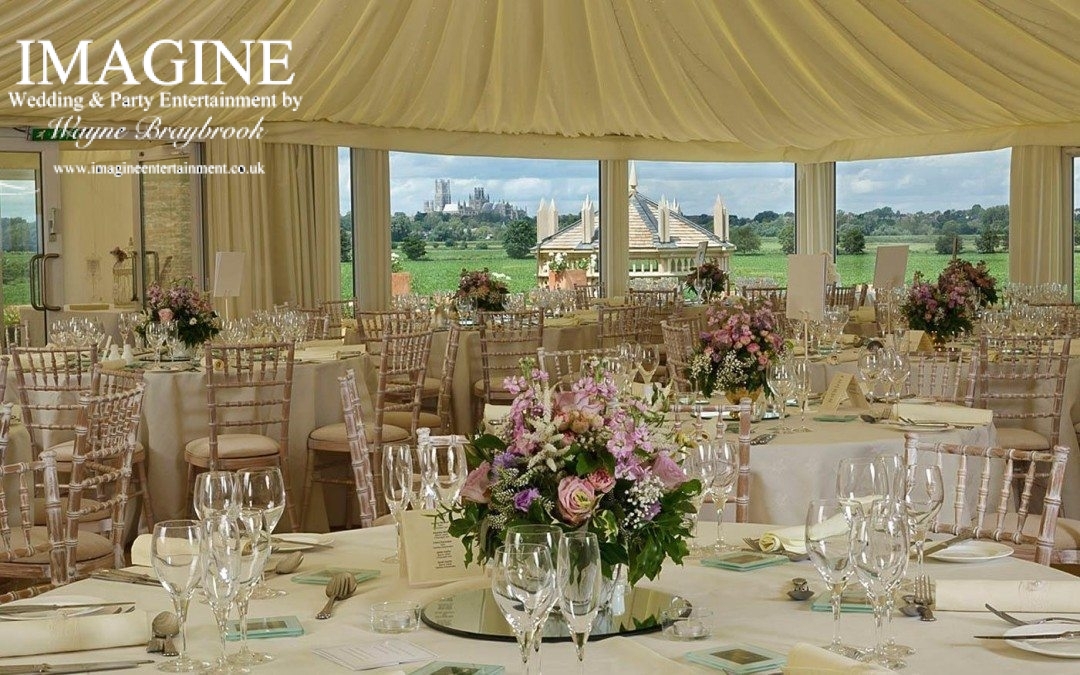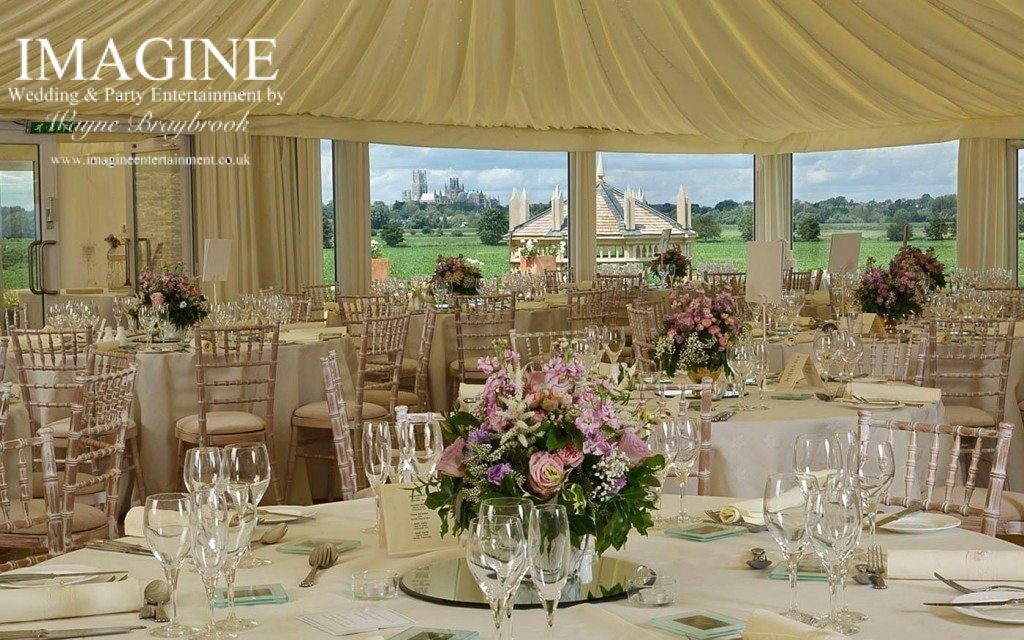 It's probably easier to break your day down into the three distinctive parts to explain what could happen and when.
The most important part of the day.
Whether you're marrying indoors or outdoors, it's usual to have music for certain parts of the ceremony.
Will all of your guests hear the music though and more importantly, will they hear you making your vows to one another?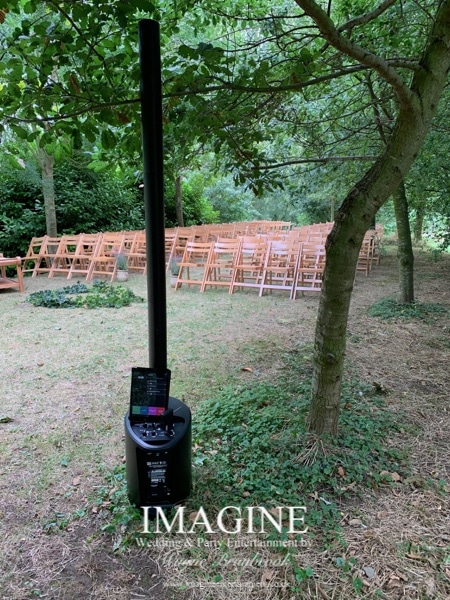 I can help with that!
Using battery powered equipment for where power supplies could be a problem, plus lapel microphones where required, I can ensure that each and every one of your guests will hear those special words and the "I Do's".
I can also provide the music of your choosing for:
Guest arrival
Your walk down the aisle
The signing of the register
Your walk back up the aisle as a married couple
Depending on where and who is performing your ceremony the music you choose can be completely to your tastes. Obviously civil registrars have rules which must be obeyed and they'll be happy to take you through what they will and won't allow. 
A Humanist Celebrant however will normally have no restrictions on music selections.
This part of your day has the potential to be a lot of fun!
A lot of afternoon receptions are sadly accompanied by the sound of cutlery scraping against crockery and awkward conversations.
But how about doing things a little differently?
How many times have you sat down at a wedding reception only for a member of the venue staff tap a spoon against the side of a wineglass and awkwardly introduce the newlyweds into the room?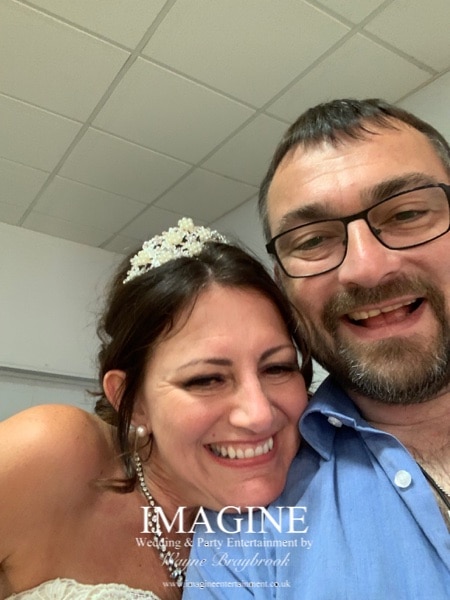 How about something a little different?
Imagine the fun as you enter your reception venue to a roar of laughter and applause, feet stamping and napkins being held aloft to an upbeat track of your choosing?

Take a look at the example below. It's not shot from the best position but it'll give you an idea of the sort of thing I'm talking about.
Or as I like to call it, dining elegance!
Most venues will offer to play "background music" whilst your guests enjoy their meal. It's normally a standard CD of love ballads or lift music though.
Would you like something a little bit different? Something that gets your guests tapping their toes, singing and even DANCING before the evening party starts?
Of course it's all down to your preferences. Something I like to do during the dining part of your reception though is to gradually build the tempo of the music through the different courses, with songs that your guests will know and react to. Of course, this is all provided at levels which still allow for conversation (we're not into the evening party yet!)
Between the courses, I'll also be going around and chatting to your guests, finding out any musical preferences for the evening party, getting to know them and making sure everything's OK.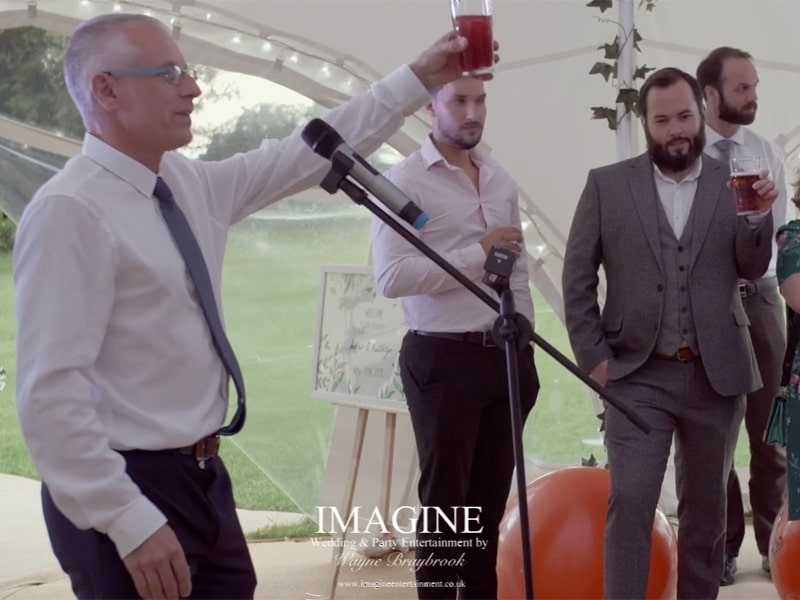 Probably my favourite part of the afternoon – I've witnessed some absolute belters of Best Man speeches, many of them too rude to repeat in public!
Speeches by the way can happen at any time during the afternoon, or even not at all (it's all down to you). There are no hard and fast rules and I certainly won't make you stand up to speak!
Using high quality wireless microphones (on stands if it's easier for you), you can be sure your guests will hear every last word of your speech in crystal clarity! 
I'll introduce each speaker, encourage a warm welcoming round of applause, and retire to a safe distance to enjoy. If needed, I can even assist the speaker with any particular music requirements they may need (I've been known to provide Karaoke tracks in the past as well as memorable tracks which mean something to the couple)
Let's involve your guests in making the afternoon fun with table top fun such as Pearls of Wisdom, or maybe even a sweepstake on the first dance or honeymoon destination.
Pearls of Wisdom
It's a simple concept. Cards are placed on the tables for your guests to complete with useful advice for the newly married couple. If you wish, I can read several of the results out to your guests towards the end of the breakfast, even getting some of the guests to explain why they offered the advice they did.
I'll then bind the cards into a professional album and send it to you after your wedding as a keepsake of your day.
Sweepstakes
We all know how these work. Guests pay a nominal fee (normally around £1) to guess something such as the first dance track or the destination of your honeymoon. The first WINNING guess pulled from the hat takes the pot.
Mr & Mrs (aka the newlyweds game because it's not always Bride and Groom!)
If you're old enough to remember Derek Batey on day-time TV you'll get the concept of this one!
How well do you actually KNOW each other?
I have a bank of around 50 question cards ranging from the very sensible to downright dirty. During the afternoon, a guest of your choosing (make sure it's someone you trust!) will be asked to pick around 10-12 cards for use in the game.
During the game, you'll be sat back to back so that you can't see each other (no cheating allowed). You'll each have two paddles, one to represent YOU, and one to represent your partner. The American version of this game uses shoes and if you want to do it that way – you're more than welcome.
I'll ask the questions. There are only two answers – you, or your partner. Simply raise the appropriate paddle to indicate your response and wait for the laughs from your guests!
Confused? Here's a brief example (the mother of the bride chose the questions for this one)
Your evening guests have arrived and it's nearly time to party.
This is usually the time to cut your wedding cake (it can be done at any time by the way!)
I'm able to introduce the cutting of the cake to ensure your guests are ready with their cameras (and also assist your official photographer for the all important album shots), to make things just that little bit less formal!
Cake cutting done, and it's time for the special dances.
Not everybody does a first dance, father & daughter dance, mother and son dance. It's completely optional whether you do any or all of them. What you can be assured of is that they'll be properly introduced so that everyone knows what's happening.
A couple of examples of how these are done:
Father & daughter dance
As a dad myself, I hope to be able to dance with my daughter on her big day. This one happens a lot. Sometimes dad knows about it, other times he doesn't!
It's a song that should be special to both of you, and maybe invokes memories of growing up.
If you wish, I can make this even more special. How about recording some words of love for dad before the day (memories of him during your childhood maybe) and I'll edit these over the track. The emotions this alone can bring to the dance floor are unbelievable!
Mother & son dance
A lot rarer for some reason, but exactly the same concept and the Father & daughter dance above.
Your first dance as newlyweds
It's a tradition dating back centuries when the party host would "open" the 'floor to dancing during stylish balls!
It does't have to be the first dance of the evening and in fact, you don't even have to do one!
It doesn't even have to be a slow and slushy song!
Many couples are nervous of "wobbling" around for 4-5 minutes in front of their guests, but you don't have to be there alone for the duration if you don't want to be!
My "usual" (because every wedding is different) routine for the first dance is to wait for you photographer to indicate that they've got the shots that they want, and then fire off a confetti cannon which indicates to your guests that they can join you on the dance floor.
An example? (the dance floor stayed full like this all night by the way!)
How do you END your evening reception?
The bit between the special dances and the end of the night are what I excel at! Your guests will have the time of their lives dancing to the songs that they know and love!
But, all good things must come to an end, and that includes your big day.
So – how to go out on a bang?
I like to use something called the "circle of love". It's a simple concept and it works each and every time!
The penultimate track of the night will normally be a reprise of your first dance. In the days of old, a disco would always finish on a couple of slow dances (it doesn't happen so much these days).
Let's leave them wanting more!
All of your remaining guests are on the dance floor with you, it's the last song of the night – let's create a circle of love!
"What's that?" I hear you ask. Watch the video below and you'll understand what I mean.
Check my availability for YOUR wedding day