Each and every wedding reception is different in it's own way, and that's because I give all of my couples a massive choice in what is and more importantly ISN'T played during the evening!

There's an oft mentioned misconception that wedding DJ's play "wedding cheese". 
Firstly, that's really NOT a thing. Whilst I rarely scrape the levels of Superman and Agadoo, the definition of "cheese" when it comes to music is very blurry.
In a nutshell though, it tends to mean the often overplayed "classics" such as Summer of 69 and Livin' on a Prayer!
Important note here, those tunes are "classics" because they've stood the test of time. 99 times out of 100, guests will fill the dance floor when these tracks are played and that's my job, isn't it?
Presenting – the "Do Not Play" list!
I'm a little bit different from the rest
I give YOU full control of the evening's playlist, and that includes the music.

I WON'T play the music you really don't want to hear!
Let me explain a little further….
I give every customer access to an online event planning system, allowing them to plan a playlist (amongst a lot of other things) for their special occasion.
One of the features of the planning system is the "Do Not Play" list. If something's been put in there before your special day trust me….it won't be played no matter how much your guests beg! The ONLY person who can allow the "Do Not Play" songs to be played on the night is….well….YOU!
There are MANY reasons for DO NOT PLAY requests...and I get that!
Music is a powerful thing which can evoke a lot of memories.
It may be that a long-passed relation loved a particular song
It might be that a particular song was important in a previous relationship 
It's possibly true that it's just a song you absolutely hate!
Whatever the reason, I won't ask questions. If you've asked for a song not to be played, then it absolutely WON'T be!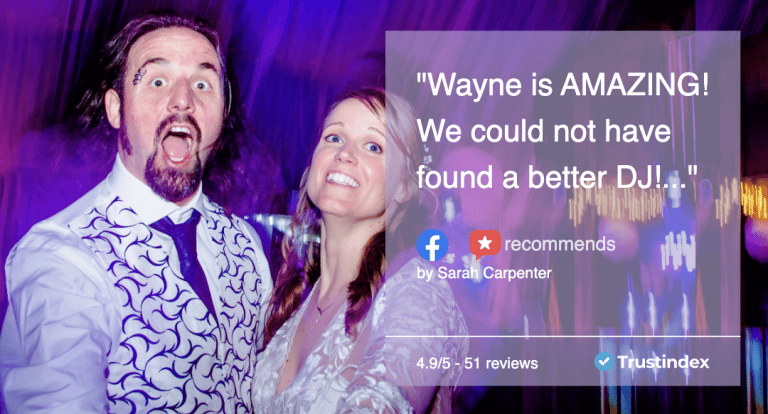 Do you still have questions about YOUR wedding reception music?
I'm here to help!
Whether you looking for an evening of the floor filling "classics" or something a little different – I can do that! YOU have full control of the playlist…it's YOUR day after all!