Regular readers will know that I absolutely LOVE working in barns, and the barn at Burleigh Hill Farm is probably my favourite of them all.
Set in the middle of a truly rural backdrop (it's actually a working farm!), this is a venue I've been to many times before and indeed have bookings still to come in there for this year and next.
Emily & Chris's wedding reception there had all the perfect ingredients with a warm summer's day, guests who wanted to party, and a barn whereby you can have entertainment with both double doors open to allow for airflow (and trust me, that's a rare luxury with many of the venues I frequent due to local noise complaints….but that's a story for another day).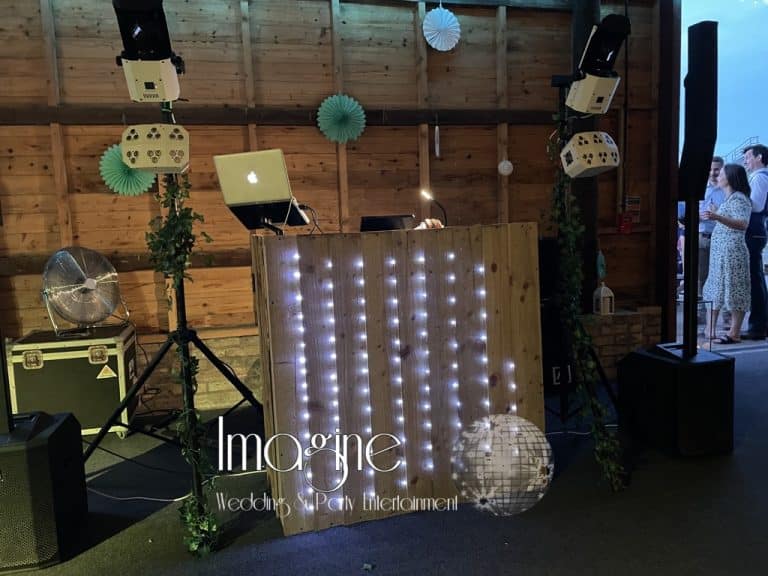 Their day had started with a Humanist ceremony at the farm, all photographed by one of my fave photographers in the business, Daniel Ackerley.
This was a short evening reception for me. Whereas I normally arrive for around 6pm for a 7pm(ish) start, I was following a band on this occasion.  My part of the evening was from 10pm to midnight.
It was also a very last minute booking as well. Their previous DJ had let them down with less than two weeks to go before the wedding! Happily I could fit them in and with a venue as gorgeous and fun to work in as Burleigh Hill Farm, it was a pleasure to step in and help.
Because of the fact that the band would be working before I arrived, I opted for the smaller of my rustic booths for this one.
When I arrived, the band were already in full swing and the dance floor was packed – a good sign that guests were wanting to party.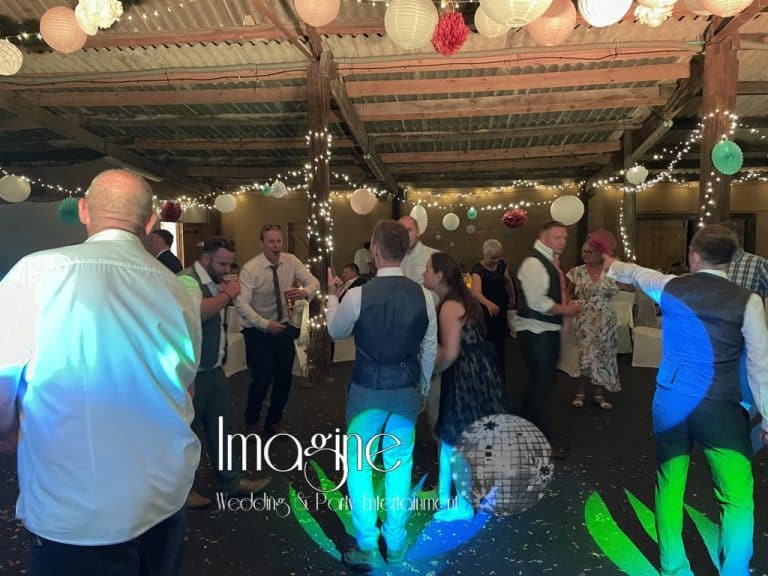 10pm soon rolled around and the band handed over to me to finish the evening. I must admit –  it was jolly nice of them to warm the crowd for me 🙂 
I'd been given just a handful of pre-requests for the evening, with the rest of the selections up to the guests, and wow did they make some good selections between them. 
They certainly kept my dance floor busy for the duration!
How busy was the dance floor?
Here are just a few photos of my portion of the evening
And the playlist that created this much dancing?
As already mentioned, I was given a handful of pre-requests by Emily and Chris with the rest of the evening's selections coming either from guest requests or my knowledge of what's working well at the moment. 
My only instruction was not to play songs along the lines of the Macarena (absolutely no problem at all)
Whitney Houston – I Wanna Dance With Somebody
Earth, Wind & Fire – September
Average White Band – Let's Go Round Again
Jacksons – Can You Feel It
Barry White – You're The First, The Last, My Everything
Al Wilson – The Snake
Frank Wilson – Do I Love You Indeed I Do
OutKast – Hey Ya!
Jazzy Jeff & The Fresh Prince – Boom! Shake the Room
House Of Pain – Jump Around
Fresh Mode Vs Montell Jordan – This Is How We Do It
Chris Brown feat. Benni Bernassi – Beautiful People
Swedish House Mafia feat. John Martin – Don't You Worry Child
Rihanna – We Found Love
BodyRockers – I Like The Way
Pitbull – Give Me Everything
The Killers – Spaceman
Ike and Tina Turner – Proud Mary
Bryan Adams – Summer of ´69
Bon Jovi – Livin On a Prayer
The Fratellis – Chelsea Dagger
The Jam – Town Called Malice
Oasis – Wonderwall
The Killers – Mr Brightside
Frank Sinatra – Theme From New York, New York
Are YOU holding your wedding at Burleigh Hill Farm Barn?
If so, why not get in touch for a chat about your plans? I'd love to be a part of your celebration.
To check availability of Burleigh Hill Farm and their current prices, please visit https://www.facebook.com/profile.php?id=106511966154304 for more information