I'm not going to lie – I was absolutely terrified when I arrived at Hockwold Hall last Thursday for Katy and David's evening reception!
This was my first wedding since February 2020 due to Covid lockdowns and restrictions. Would the kit still work? Would I still be able to do my "thing"? What would it be like being in a room full of people again after being told to avoid crowded situations for so long? A million and one things were going through my head as I drove up the long and winding driveway to the venue!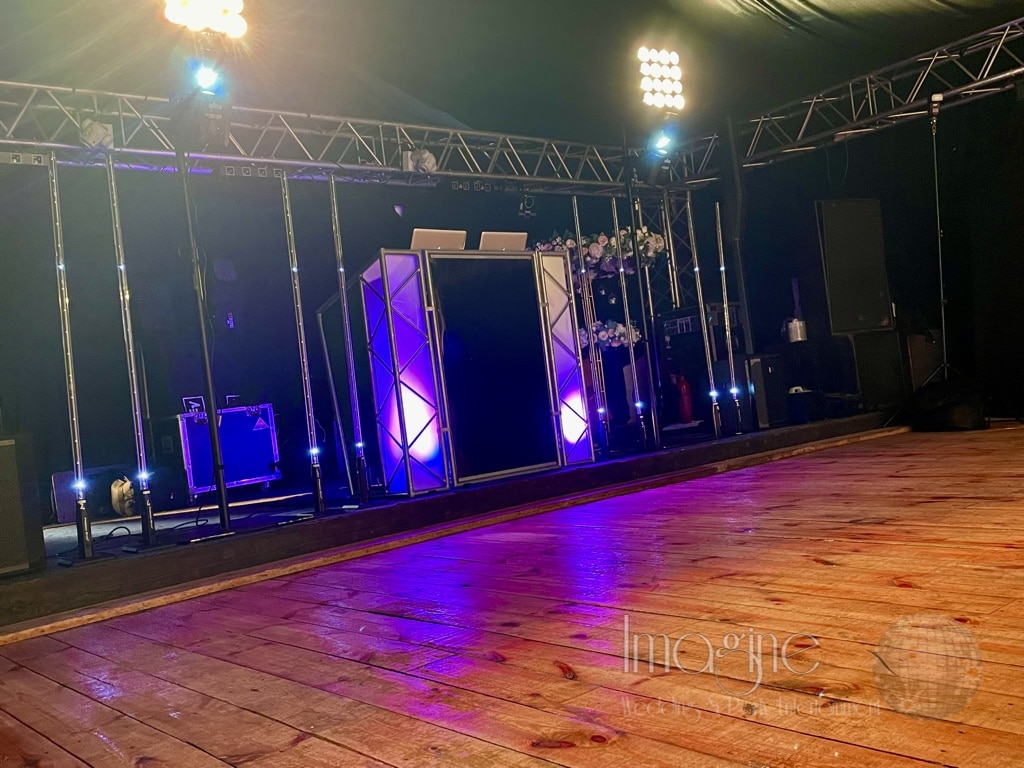 I really shouldn't have worried!
Now dear reader, let me explain something before I tell the tale of the evening and show photos of guests dancing…
Although the wedding happened during phase 3 restrictions, the venue itself is classified by the local licensing authority as an "outdoor setting" due to the fact the main marquee sides are rolled up for the duration. To this end,  dancing IS allowed (there's no specific dance floor…the wooden floor IS the floor throughout the venue)

Confused? That's how the rules have been at times!
Anyway….to the evening….
Katy and David were due to be married last year at the start of lockdown 1.0 at a completely different venue. And then for one reason or another, had to move venue and indeed date. I worked with them as I have with all of my couples through the recent turmoil and managed to fit them in.
The "Classic Black" with "sticks" setup was used due to the black lining of the marquee in the setup area and it was quite emotional to see it all setup and illuminated after such a long time off the road.
Then came a terrifying request from the venue….could I announce the cutting of the cake?
In normal times this is something I do week in, week out. This was my first time at opening up a microphone in front of guests in 18 months. Yes, I'll admit I was just a little bit nervous.
It's then onto the first dance, Don't Stop Believin' by Boyce Avenue. Because of the classification of the venue as an "outdoor setting" I was able to invite Katy & David's guests to join them midway through – it was like a touch of normality!
And then the party started!
Now it must be said, I didn't know what to expect from the rest of the evening. 
Guests haven't seen each other in absolutely ages due to the various restrictions, some folk are still nervous of being in a crowded space with others, and under the restrictions in force at the time of Katy & David's wedding, guest numbers were limited to a percentage of the venue's maximum capacity – so not as many as usual.
That didn't stop those that were there from partaking in a little moving around in a rhythmic manner in front of me (the playlist is further down the page).
Finishing time came around far too quickly and we ended with the remaining guests joining Katy & David on the floor to Journey's rendition of Don't Stop Believin' followed by Sweet Caroline (a MUST PLAY requested by David!)
All in all, a nerve-racking first night back after 18 months off the road, but at the same time a relief to me that I can still do the job I love so much.
In fact I must have done things right because Katy & David left me a message on my Google reviews page!


So in the usual style....some photos of the evening
And finally - the playlist
The entire set from First Dance to last dance was only 31/2 hours long with many of the requests coming directly from the guests themselves as always
Boyce Avenue – Don't Stop Believin'
The Foundations – Build me up Buttercup
Bee Gees – Stayin' Alive
Earth, Wind & Fire – September
Whitney Houston – I Wanna Dance With Somebody (Who Loves Me)
Michael Jackson – Billie Jean
Diana Ross – Chain Reaction
Avicii – Levels
Walk The Moon – Shut Up And Dance
Bryan Adams – Summer of ´69
Bon Jovi – Livin On a Prayer
The Fratellis – Chelsea Dagger
O-zone – Dragostea din tei
Vengaboys – We Like To Party (The Vengabus)
DJ Ötzi – Sweet Caroline
Dexys Midnight Runners – Come On Eileen
Madness – Baggy trousers
Madness – One Step Beyond
Yolanda Be Cool & Dcup – We No Speak Americano (UK Radio Edit)
Safri Duo – Played-A-Live (Radio Cut)
Darude – Sandstorm
Faithless – Insomnia
The Chemical Brothers – Hey Boy Hey Girl
Galantis – Peanut Butter Jelly
Queen – Don't Stop me Now
Stevie Wonder – Superstition
Wild Cherry – Play That Funky Music
Kool The Gang – Ladies Night
Luise Fonsi & Daddy Yankee feat. Justin Bieber – Despacito
Jason Derulo – Take You Dancing
Paul Simon – You Can Call Me Al
Whitney Houston – I Wanna Dance With Somebody (Who Loves Me)
The Weather Girls – It's Raining Men
Rick Astley – Never Gonna Give You Up
A-ha – Take On Me
B-52's – Love Shack
LMFAO – Sexy and I Know It
LMFAO – Party Rock Anthem
David Baddiel, Frank Skinner & The Lightning Seeds – Three Lions
The Killers – Mr Brightside
Kings Of Leon – Sex On Fire
Bill Medley & Jennifer Warnes – (I've Had) The Time of my Life
The Spice Girls – Megamix
Olivia Newton-John & John Travolta – The Grease MegaMix
Spice Girls – 2 Become 1
Journey – Don't Stop Believin'
Neil Diamond – Sweet Caroline
Check my availability for YOUR wedding