Last Friday saw me back at Longstowe Hall just outside Cambridge for Steph & Trevor's afternoon and evening reception, and oh boy! What a day!
I was last at Longstowe at the end of the long and dark days of Covid restrictions when you could have a DJ but not dance. Back then, venues had to remove or cover their dance floors to prevent mass dancing! So it was good to see things as they should be this time around.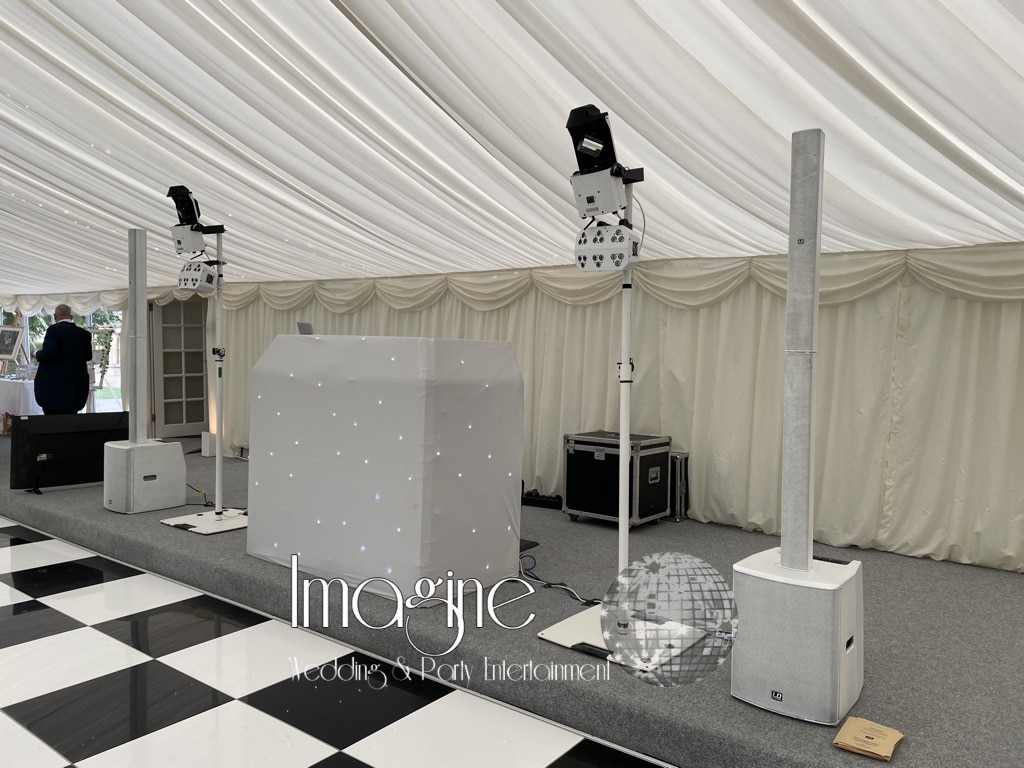 Longstowe Hall is a gorgeous venue with the reception held in a purpose built permanent marquee. Weddings can take place in a pergola by the lake or indoors, and the grounds and house are absolutely stunning.
Add to this the super friendly venue staff and it's an awesome venue to work in.
The marquee itself is really airy and spacious. Add to this the orangery where guests can find a little quiet space during busy evenings and it's the ideal venue.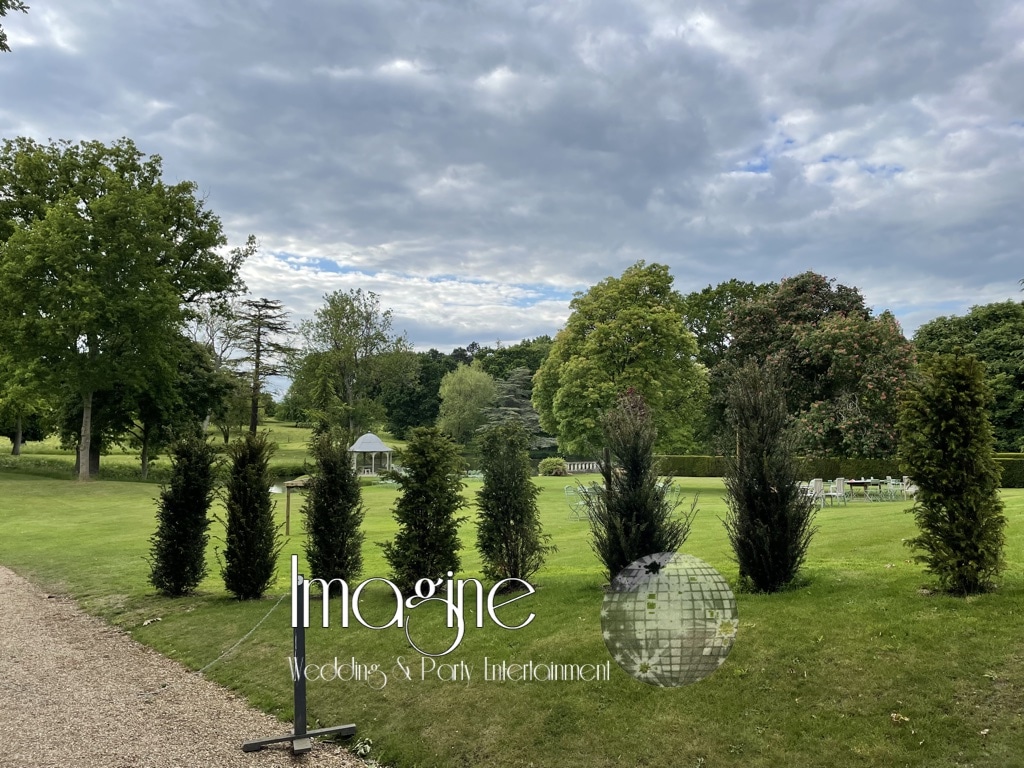 Anyway I digress! Back to Steph & Trevor's big day...
I'd been looking forward to this one for a while!
I was hired to provide the afternoon entertainment and of course, the evening party. 
For the afternoon portion of things, I provided something I've not done for a while….table top fun! This involves leaving cards with games such as "i-Spy" with a camera and "Words of Wisdom". It's a bit of harmless fun for the guests. The i-Spy game prompts guests to take photos of certain things during the afternoon evening to share memories with the happy couple, and the Words of Wisdom cards enable them to leave some humerous messages about the day which they can look back on in years to come.
Eventually with the afternoon music, games and speeches finished, it's time to start the evening's dancing.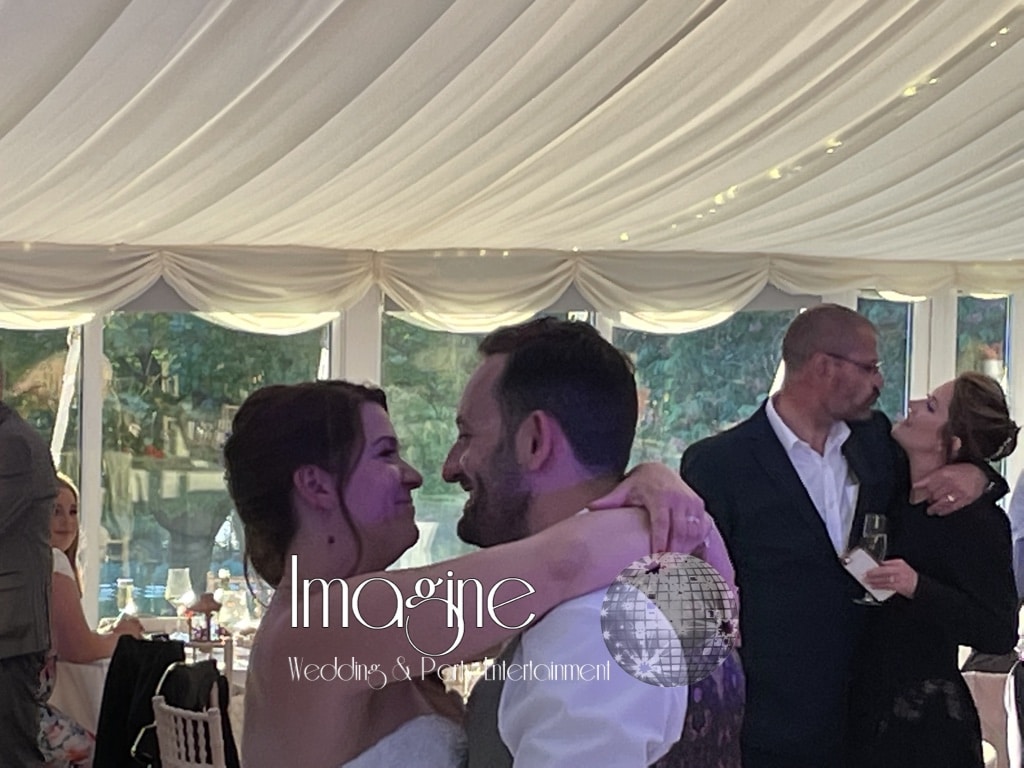 The first dance track was "Wasn't Expecting That" by Jamie Lawson, followed by Steph dancing with her dad to "My Little Girl" by Tom McGraw. 
During the father/daughter dance, their guests were invited to join them on the dance floor and we started the party proper!
And what a party it was! The dance floor never emptied from the start of the night to the last song.
I had a short list of suggested songs from Steph and Trevor, and a LOT of guest requests on the night, which helps to keep the party flowing.
Sadly the end of the night came around far too quickly and it was soon time to play the last song of the night and turn everything off, happy that it'd been a really good night.
So, some photos of the day then...
As usual, these are only photos shot on my phone. I'm not a photographer by any means and it's not what I'm there to do. But it's always nice to grab a couple of quick images to remember the day by.
As already mentioned, I had a selection of tracks pre-selected by Steph and Trevor and the rest was down to me and the requests coming in from guests. 
The evening ended up as a real mix of different styles from a little cheese to hard rock and everything in between
Jamie Lawson – Wasn't Expecting That
Tim McGraw – My Little Girl  
Bruno Mars – Uptown Funk
Bodyrockers – I Like The Way  
Icona Pop – I Love It 
Walk the Moon – Shut Up and Dance
Bryan Adams – Summer Of '69
Earth Wind & Fire – September  
Bee Gees – You Should Be Dancing 
The Spice Girls – Megamix
Whitney Houston – I Wanna Dance With Somebody (Who Loves Me)
Cyndi Lauper – Girls Just Wanna Have Fun
Wham! – Wake Me Up Before You Go Go
Aha – Take on Me
Kenny Loggins – Footloose
B-52's – Love Shack
Ike And Tina Turner – Proud Mary
Peter Andre – Mysterious Girl  
Chesney Hawkes – The One And Only
Busted – What I Go to School For
Five – Let's Dance
McFly – Five Colours In Her Hair
Diana Ross – Chain Reaction
Cher – Believe
Eiffel 65 – Blue (Da Ba Dee)
Ram Jam – Black Betty
Fountains Of Wayne – Stacy's Mom
The Rembrandts – I'll Be There For You  
Blue Suede – Hooked on a Feeling
ABBA – Does Your Mother Know
ABBA – Mamma Mia
The Killers – Somebody Told Me
Queen – Don't Stop Me Now
The Fratellis – Chelsea Dagger
Chumbawamba – Tubthumping
Queen – We Will Rock You
Bon Jovi – Livin' On A Prayer
Katrina & the Waves – Walking on Sunshine
Dexys Midnight Runners – Come on Eileen
Rednex – Cotton Eye Joe
Queen – Bohemian Rhapsody
Toto – Africa
Justin Timberlake – SexyBlack
Flo Rida ft T Pain – Low
T-Pain, Teddy Verseti – Church  
DJ Pied Piper, The Masters Of Ceremonies – Do You Really Like It? 
Clara Pedro – 1,2 Step
Van Morrison – Brown Eyed Girl
Elton John – Bennie and the Jets
DJ Ötzi – Sweet Caroline  
Bon Jovi – It's My Life
AC/DC – You Shook Me All Night Long
Billy Joel – Uptown Girl
Queen – Under Pressure
Prince – Purple Rain
Redbone – Come And Get Your Love
Foo Fighters – Times Like These
Arctic Monkeys – I Bet You Look Good On The Dancefloor
Kaiser Chiefs – Ruby
Kings Of Leon – Sex on Fire
The Killers – Mr Brightside
Are YOU planning YOUR wedding at Longstowe Hall?
I absolutely LOVE entertaining there, but dates for the remainder of 2022 and 2023 are running out fast!
Why not drop me a quick line using the form below to see if I'm available for YOUR big day?