My first wedding of the 2022 wedding season and indeed my first wedding with absolutely no pandemic restrictions in place was always going to be special.
The wedding reception of Megan and Shane though will stay with me for a very long time to come as things slowly begin to return to the normal we all know and remember!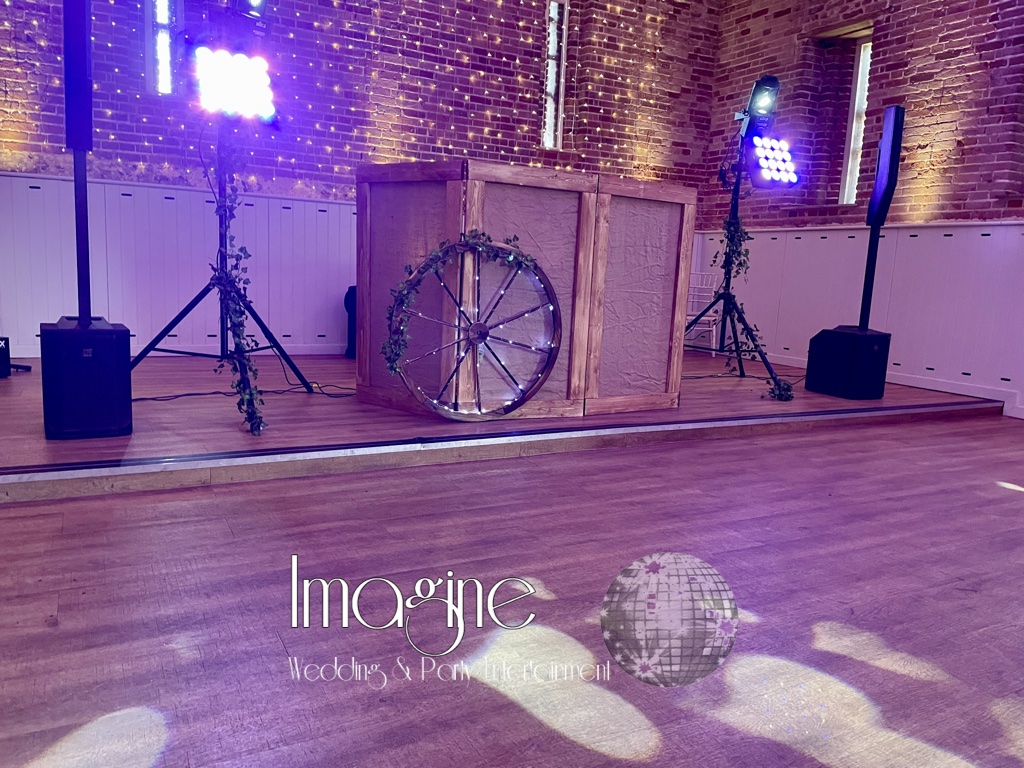 Originally scheduled for March 2021 and then moved to April 2022, this was a wedding I'd been looking forward to.
Set in the gorgeous Great Barn at Manor Mews in Tattersett (I love barn weddings!), the sun shone, the snow and rain held off, and the stage was set for one hell of a party!
Having spoken to Megan and Shane on a video call several weeks beforehand, I knew that the evening party was going to be a real mix, and would definitely be containing some 70s disco and some 90s R&B. Bring it on!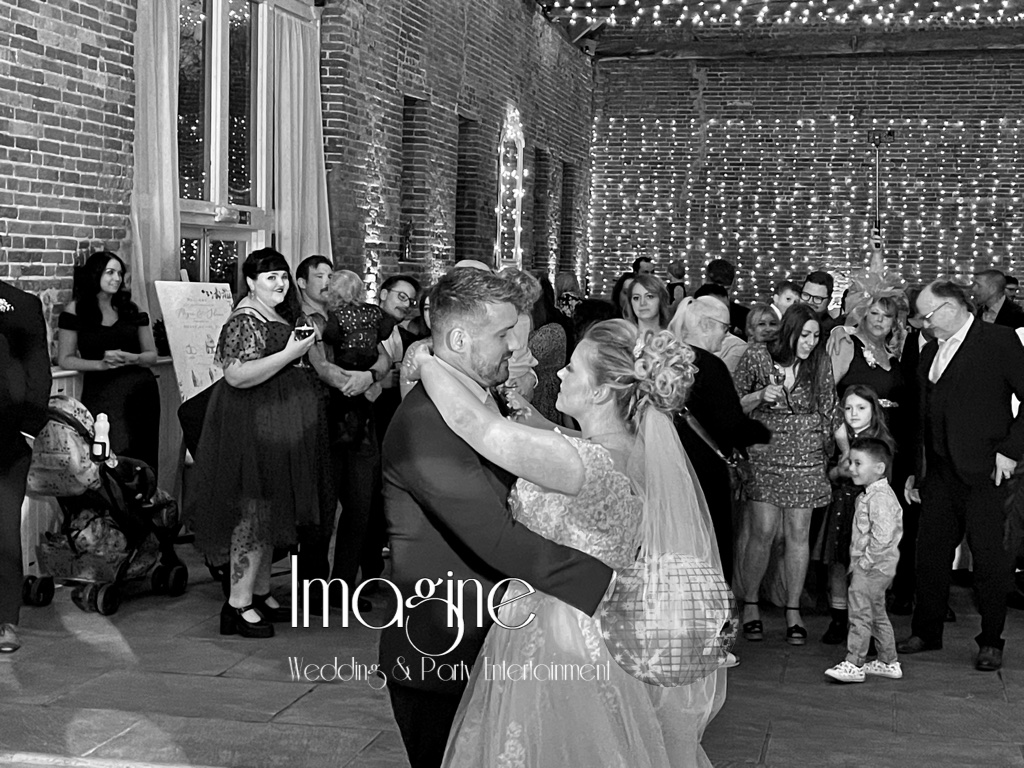 My job for the day was simple…provide background music and the PA for the speeches during the afternoon (a friend was serving as the Master of Ceremonies), and then create the atmosphere for an awesome evening celebration.
The wedding breakfast and speeches went perfectly, and indeed saw yours truly tucking into a generous portion of bangers and mash behind the scenes!
It was a really relaxed atmosphere and having spoken to some of the guests I knew it was going to be an awesome evening reception….they couldn't wait to hit the dance floor!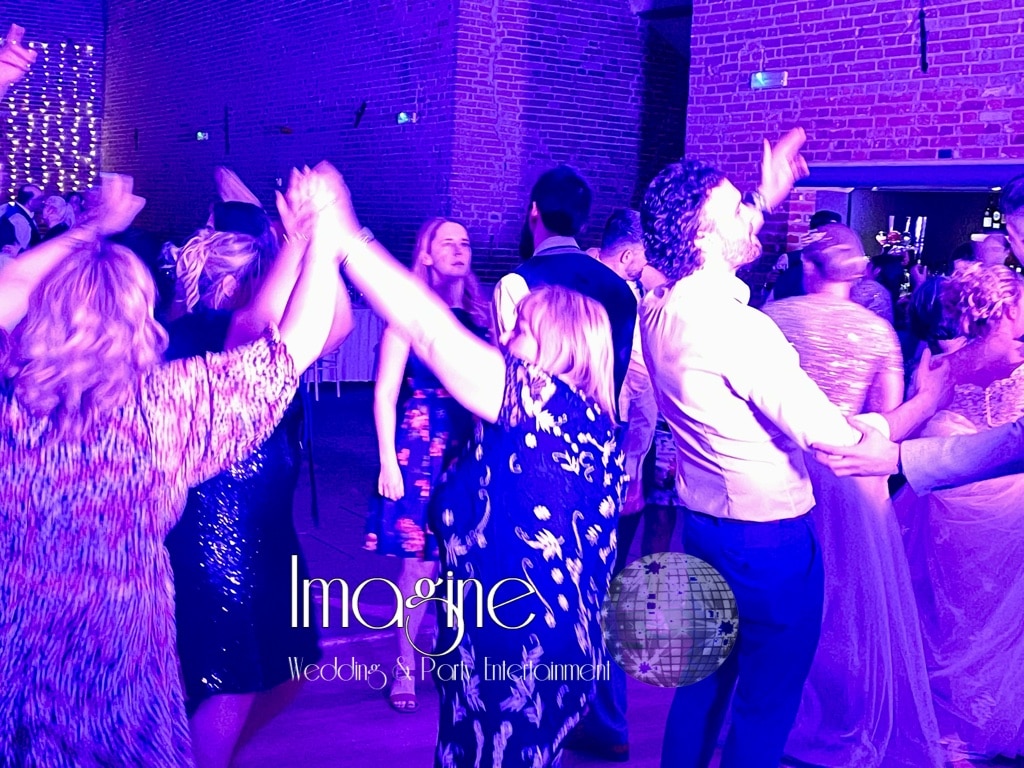 And just like that, we're into the evening party!
When a wedding's going well, it goes really quickly!
The allotted time for the first dance (If I Ain't Got You by Alicia Keys) came and went and we're suddenly into the evening's party.
With very few songs selected by Megan and Shane for this part of the day and the guests obviously keen to get started, I opened up the floor for requests and was soon swamped with a lot of brilliant suggestions!
The dance floor never emptied, even when the evening buffet was called around 30 minutes into the party. 
It was an absolutely AWESOME night with a lot of quick thinking from my side of the decks to try to fit everything in!
Midnight soon rolled around (the venue has to end amplified music at this point), and I knew that I wasn't going to get away with just saying goodnight and turning off the kit.
So….a fake ending is agreed with Megan and Shane whereby I announce the "last song of the night" 5-10 minutes before the end. Once the chants for "one more DJ" inevitably start at the end of the song, I've still got time to play the real last song of the night.
This way, the guests get their one more, I turn off according to the venue's license, and everybody's happy 🙂
Some photos of the evening then...
The usual caveat applies as always to the photos I publish on these pages. I'm not a photographer by any means so some of them may be blurry, incorrectly framed or over-done on colour. I'm there to provide the music and don't have the time to line up and take proper photos
The vast majority of the tracks below where requested by guests during the evening (including Superman which was given the go-ahead by Megan I might add). My job was to assemble them in some sort of logical order and fill the gaps.
Seeing the dance floor pictures above, I think I might have got it right 🙂
Alicia Keys – If I Ain't Got You (First Dance)
Kool The Gang – Celebration
Diana Ross – I'm Coming Out
Chic – Good Times
Mark Ronson Feat. Bruno Mars – Uptown Funk
Shakira Feat. Freshlyground – Waka Waka
Robin S – Show Me Love
Ce Ce Peniston – Finally
Dr. Alban – It's My Life
Rozalla – Everybody´s Free (to feel good)
Destiny's Child – Bills, Bills, Bills
En Vogue – Don't Let Go
Usher feat Ludacris and Lil Jon – Yeah
TLC – Waterfalls
Montell Jordan – This is how we do it
Billy Ocean – Love Really Hurts Without You
Kim Weston – It Takes Two
The Supremes – You Can't Hurry Love
Lionel Richie – Dancing On The Ceiling
Stevie Wonder – Uptight (Single Version)
The Four Tops – I Can't Help Myself
Martha Reeves & The Vandellas – Dancing In The Street
Ike and Tina Turner – Proud Mary
Olivia Newton-John & John Travolta – The Grease MegaMix
Black Lace – Superman
Steps – 5,6,7,8
S Club 7 – Reach
Rednex – Cotton Eye Joe
B Witched – C'est la vie
Bruno Mars – Treasure
Bruno Mars – 24K Magic
Rudimental Feat John Newman – Feel The Love
Darude – Sandstorm
Faithless – Insomnia
Jason Derulo – The other side
Blanco Brown – The Git Up
Chris Brown – Forever
Kanye West – Gold Digger
Flo Rida Feat T-Pain – Low
Madness – Baggy trousers
Madness – One Step Beyond
The Selecter – On My Radio
The Specials – A Message To You Rudy
Backstreet Boys – Everybody (Backstreet's Back)
NSync – Tearin' Up My Heart
Five – Everybody Get Up
Peter Andre – Mysterious Girl
Will Smith – Gettin' Jiggy Wit It
Kris Kross – Jump
Vengaboys – We Like To Party (The Vengabus)
LMFAO – Sexy and I Know It
LMFAO – Party Rock Anthem
DJ Ötzi – Sweet Caroline
Kings Of Leon – Sex On Fire
The Killers – Mr Brightside
The Fratellis – Chelsea Dagger
Chumbawamba – Tubthumping
Calvin Harris Feat. Rihanna – We Found Love
Calvin Harris, Sam Smith – Promises
Kygo & Whitney Houston – Higher Love
Disclosure Feat. AlunaGeorge – White Noise
Drake – Started From the Bottom
Rihanna feat. Jay-Z – Umbrella
Oasis – Live Forever
Blur – Song 2
Wheatus – Teenage Dirtbag
Earth Wind & Fire – September
Abba – Mamma Mia
Ariana Grande – One Last Time
Westlife – When You're Looking Like That
The first wedding of 2022 didn't disappoint. If every one of my weddings for this year are THIS good, I'm going to be a very happy DJ indeed!
Want YOUR evening reception to look something like Megan and Shane's? Why not use the form below to let me know your plans?