Regular readers will know how much I love working at Old Hall Ely, and Megan and Dan's evening reception is probably one of the best I've ever worked at there!
From an AWESOME couple, to absolutely brilliant guests and a little surprise between Megan and myself that we had to pull off at the end of the evening (more on that towards the end of the post), it was the type of night we DJs dream about!
Something a little different...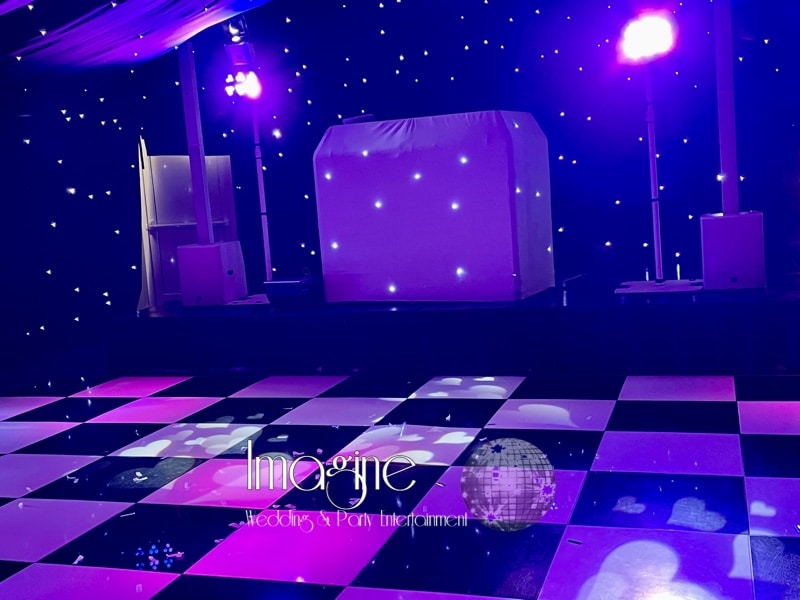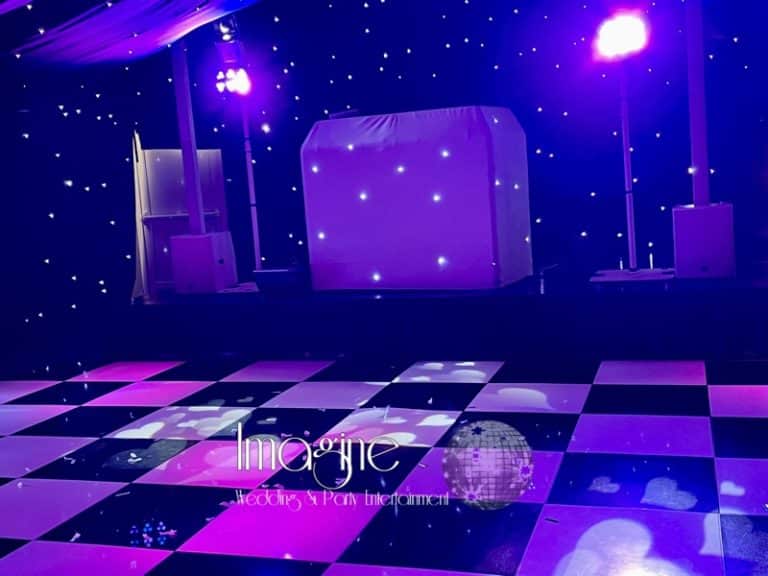 I'm a bit of a creature of habit, and you'll normally see me working in Old Hall Ely either behind my set of LOVE letters, or one of my black booths (it's a black marquee after all).
Megan and Dan asked that I use my "Classic White" setup with the sparkly star-cloth. Who am I to argue? I had my doubts that it would look too stark against the in-house black drapes but was pleasantly surprised. I'll be taking that setup to Old Hall Ely again in the future!
A surprise for the First Dance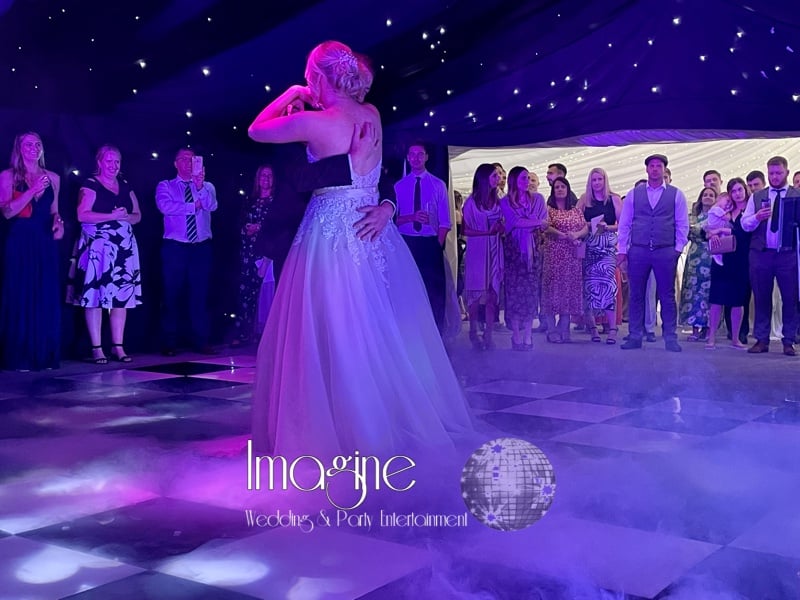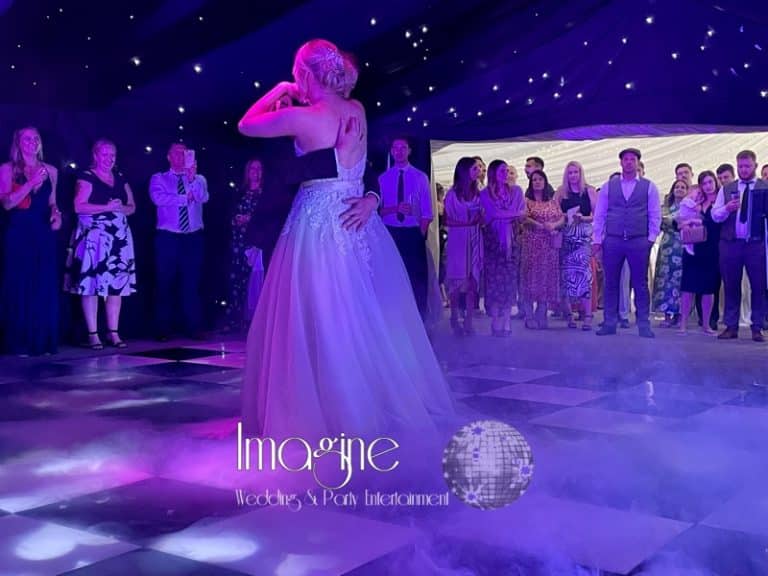 Megan had mentioned a "dancing on the clouds" effect for her and Dan's first dance.
Now whilst it's more than possible, it's also a prohibitively expensive option at around £70 a minute (dry ice ain't cheap!). It's the reason I don't actually offer this effect.
BUT….not one to disappoint – I remembered I'd got a similar effect machine hiding in my storage unit. It doesn't use dry ice, instead it uses a special low-lying smoke fluid which is chilled with standard ice cubes. The warning words here are "smoke fluid". Many venues won't allow the use of smoke or fog. 
Happily, Old Hall Ely isn't one of those venues so I took the machine along and set it off as a surprise, not really sure whether it was going to have the desired effect or not.
Megan and Dan LOVED it.
The fog clung to the floor during the first dance before eventually rising into the air to give a proper night-club feel. Another thing I'll be using in the future! The photo above was taken before the effect had fully filled the 'floor….during the first dance I'm trying to do many things all at the same time and taking photos isn't the main priority so I'm glad I managed to capture this one.
And a romantic surprise for the end of the night too!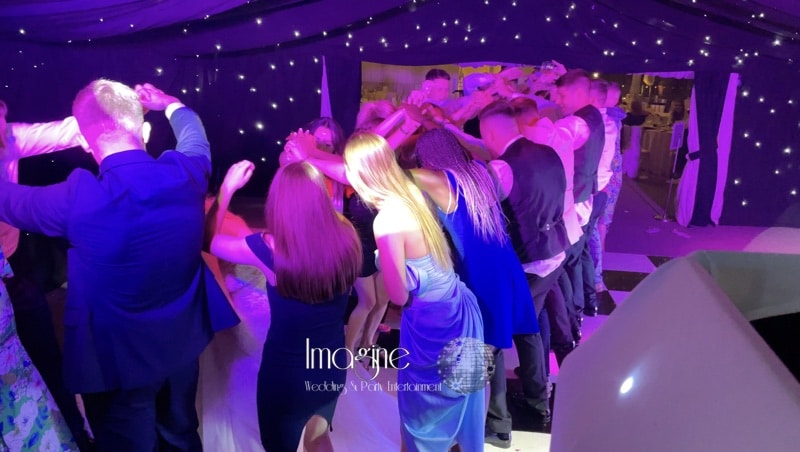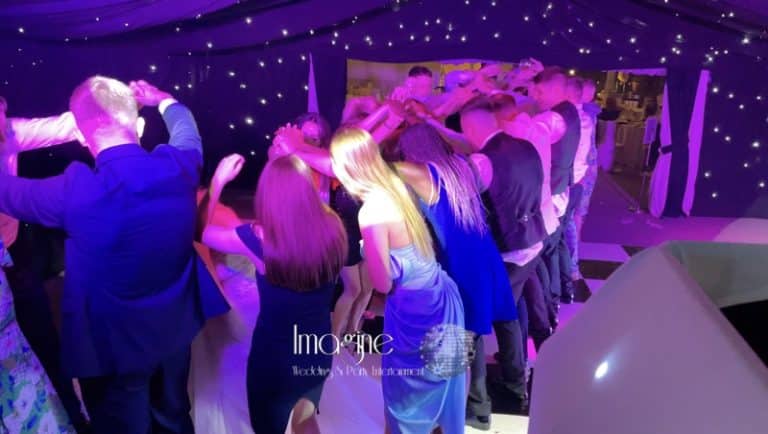 When I saw the playlist suggestions for the evening, the last song of the night stuck out like a bit sticky-out thing!
Here are the actual words from the playlist request form in my booking system…


And no, I don't have a problem with the song. The problem was the bit about "when everyone else has left the marquee".
You see dear reader, it's virtually unheard of for me to say my goodnights in Old Hall Ely and everyone just leave the dance marquee…it's really not a thing! Instead it's normally chants for "one more song" and guests lingering and singing. They certainly don't just take their leave and go to bed!
So….I came up with a few suggestions for Megan to think about, and we decided on an early exit for her and Dan via a "tunnel of love" whereby all the guests form a massive arch to the back door of the marquee though which they'd leave.
After that, a simple case of saying goodnight, ignoring the pleas for "one more song" and along with the staff at Old Hall Ely, gently herding the guests from the dance marquee to the dining marquee and closing the curtain between them.
From there, John Legend was cued and Megan and Dan enjoyed their last dance alone whilst I went and stood guard to stop guests coming back in.
Why finish early I hear you ask? It's a simple one…amplified music MUST end at midnight there – there are no if's, buts or exceptions….it's sadly a condition of their entertainment license and has to be adhered to.
So some photos of the evening then
This was an absolute blast of a party with the dance floor only really emptying when the evening buffet was opened.
Considering the heat of the day (the guests were flagging at times), the photos say it all about just how busy the dance floor was from start to finish!
And the playlist that caused this much dancing?
I'd been sent a long list of requests by Megan and Dan before the day, but it wasn't a rigid list to be played. They wanted a full dance floor so whilst I played most of their requested songs (I would have probably played 99% of the selections anyway), I also mixed in a lot of the tracks I though would work too.
And work they did. By the end of the evening there were definite squeals of delight coming from the dance floor as guests recognised the next track coming into play!
Lukas Graham – Love Someone (Piano Demo) – First Dance
Ben E King – Stand by me
Jacksons – Blame It On The Boogie
Whitney Houston – I Wanna Dance With Somebody
Cyndi Lauper – Girls Just Wanna Have Fun
Jermaine Stewart – We Don't Have To Take Our Clothes Off
Whitney Houston – How Will I Know
Shania Twain – Man, I Feel Like a Woman
The Beatles – Twist and Shout
The Contours – Do You Love Me
Ike and Tina Turner – Proud Mary
Abba – Dancing Queen
Abba – Mamma Mia
Kenny loggins – Footloose
Wham – Wake me up before you go go
A-ha – Take On Me
Dexys Midnight Runners – Come On Eileen
Sean Paul – Temperature
Rihanna – Don't Stop The Music
Black Eyed Peas – I Gotta Feeling
One Direction – What Makes You Beautiful
Busted – Year 3000
McFly – Five Colours In Her Hair
Katrina & The Waves – Walking On Sunshine
Scissor Sisters – I Don't Feel Like Dancin'
Tina Turner – The Best
Backstreet Boys – Everybody
Bryan Adams – Summer of ´69
Bon Jovi – Livin On a Prayer
Guns N Roses – Sweet Child O Mine
Queen – Bohemian Rhapsody
The Fratellis – Chelsea Dagger
Kaiser Chiefs – I Predict A Riot
Arctic Monkeys- I Bet You Look Good On The Dancefloor
Scouting For Girls – She's So Lovely
Plain White T's – Hey There Delilah
Wheatus – Teenage Dirtbag
Oasis – Wonderwall
Chumbawamba – Tubthumping
The Killers – Mr Brightside
Kings Of Leon – Sex On Fire
Walk The Moon – Shut Up And Dance
Nirvana – Smells Like Teen Spirit
Smash Mouth – All Star
Supergrass – Alright
Cornershop – Brimful Of Asha (Norman Cook Remix)
Gala – Freed From Desire
Eiffel 65 – Blue
Chemical Brothers – Hey Boy, Hey Girl
Montell Jordan – This Is How We Do It
Sean Paul – Get Busy
50 Cent – In Da Club
House Of Pain – Jump Around
Ini Kamoze – Here Comes The Hotstepper
Will Smith – Gettin' Jiggy Wit It
Flo Rida Feat T-Pain – Low
Pitbull feat. Ne-Yo, Afrojack & Nayer – Give Me Everything
Jennifer Lopez ft. Pitfall – On the floor
Pitbull – Hotel Room Service
Nicki Minaj – Starships
Rihanna Feat. Calvin Harris – We Found Love
Swedish House Mafia feat. John Martin – Don't You Worry Child
DJ Ötzi – Sweet Caroline
Oasis – Don't Look Back In Anger (Last song for the guests)
Beyonce feat. Jay-Z – Crazy In Love (Tunnel of Love exit song)
John Legend – All of Me (Private last dance song for Megan and Dan)
Lots of thanks and hugs at the end of the night, not least of all from Megan and Dan. I was literally grinning from ear to ear all the way home after this one because nights like this are the ones that make my job such fun.
Are YOU planning a wedding at Old Hall Ely?
If you are – let's talk about your plans for the evening reception! I'm a regular at Old Hall Ely, know what is and isn't allowed and how things work there. 
It's also not unusual to see the dance floor as full as the photos above when I'm up on the stage!