WOW! What a day! What a stunning location! What an awesome wedding!
Get the impression I enjoyed this one a lot?
Emma and Paul had booked me for their all day wedding at Rectory Farm in Cambridge a while back and the planning process has always made me believe this was going to be a wedding to remember!
This was a long day, so let's start at the very beginning…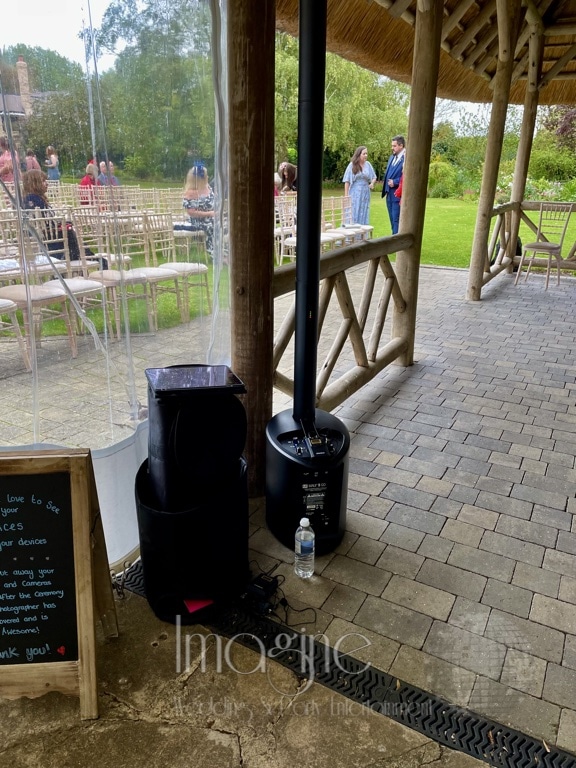 This was one of the main parts I was looking forward to. Due to Covid, it's been a very long time since I've been there to help with the "I Do's" at a wedding and this was my first ceremony since the shutdowns. Let's just say I was more than a little bit nervous!
In the event, everything went flawlessly. The ceremony PA system (completely wireless and battery operated) worked like a charm, the Registrar was nice and helpful with her cues (and it's the Registrar that ultimately runs how things work during this part of the day), and the photographers that I was sharing the "backstage" area with were a delight to work with.
During an all-day wedding, this can either be one of the hardest parts of the day with the inclusion of games and fun, or one of the easier parts where only background music is required. Emma and Paul's reception at Rectory Farm was the latter with a relaxed vibe after the speeches whilst their guests dined.
Emma and Paul had also booked a little surprise for their guests in the form of a singing waiter…this actually took a little bit of coordination with me allowing the waiter company to plug into my PA system to save space and time. I don't generally mind doing this but will ALWAYS have the final say over the levels going out through my system….it costs a lot of money and I don't let just anyone plug things in!
As the tables were being cleared, a previously unseen waiter walked across the room, snagged, and fell with a tray full of cutlery. Nearby guests were quickly on their feet to try to assist, only to have the waiter get to his feet, switch on a microphone and start singing! Absolutely AWESOME.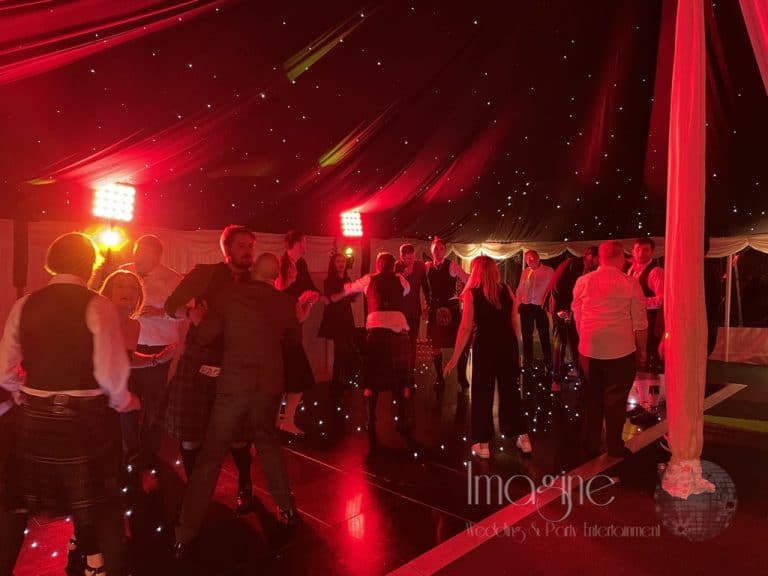 And then onto the evening of dancing
First Dance (Jackson by Johnny Cash) done and dusted, it's onto the evening party.
The pre-request list I'd been sent was refreshingly short for this part of the day which left me to engage with the guests, play their requests and get the dance floor moving fairly quickly. What I wasn't entirely sure of is how the pre-requests were going to work….songs such as the Cha Cha Slide, The Macarena and Oops Upside Your Head were high on the list of tracks Emma & Paul had requested.
They actually went down an absolute storm, so most of the evening followed with songs of a similar vain….completely unlike me. It worked and the dance floor was full pretty much all night!
What I haven't mentioned yet is that there was a MASSIVE contingent of Scots (Paul's family). There was only ever one way this wedding was going to end, and that's with Runrig's Loch Lomond (it's the traditional wedding ending song North of the borders). The guests linked arms in Auld Lang Sync style for the first part (it's slow and quiet), before erupting for the rest of the track….a brilliant way to end the evening.
It's really good to see weddings back to how they used to be before the pandemic hit. From the early days after lockdown where guests were reluctant to dance to the most recent weddings I've been at where dance floors have been packed again has been a long journey….but a worthwhile and very rewarding one!
Some photos of the evening
Remember….I'm not a photographer and these are taken with my phone during the evening. They're not edited so may be a little fuzzy or out of focus! Hopefully they give some idea of how the evening went though.
Check my availability for YOUR wedding plans at Rectory Farm